Beyaz Ada Dental Clinic
Best Dental Clinic in Antalya Turkey for Smile Reconstruction
Fener Mh. Tekelioglu Cd. Astur Ceylan Sitesi c blok no:80/1 d:1 Muratpasa, Antalya, Turkey

Focus Area:

Beyaz Ada Clinic Dental Clinic in Antalya, Turkey | Dental Implants | Dental Veneers | Dental Crowns | Root Canal Treatments | Smile Design
Beyaz Ada Dental Clinic Profile Overview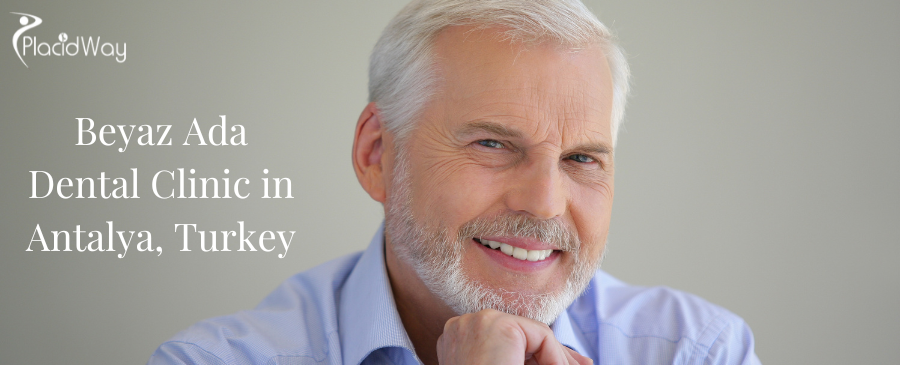 Beyaz Ada is a polyclinic of oral and dental health located in a spectacular summer resort - in Antalya, Turkey. The clinic has provided dental treatment to local and international patients since 2013.
The team at Beyaz Ada aims to provide the ultimate care in dental procedures with highly experienced dentist specialists. They use top-quality materials from famous brands in dentistry and advanced technology. All procedures follow the latest sterilization and disinfection protocols and adhere to EU standards.
At Beyaz Ada clinic you'll find a comprehensive range of treatments, including teeth cleaning, whitening, fillings and extractions, dental implants, crowns, veneers, full and partial dentures, orthodontics, and others. Diagnostics services are performed with an initial examination and panoramic x-rays to provide safe and adequate treatment for your specific needs and dental problems.
The Beyaz Ada team of highly qualified dental surgeons and oral healthcare experts includes founder Dr. Ismail Kargın, an implant and aesthetic dentistry specialist, and Dr. Zekeriya Ertan Akyüz, a clinic co-founder and respected dentist.
The clinic is certified by the Turkish Dental Association and the International Team of Implantology. We intend to give long-lasting results and beautiful smiles to all age groups, covering all areas of oral, teeth, and jaw issues.
Clinic Name: Beyaz Ada Dental Clinic
Procedure: Dental Implants, Hollywood Smile, Veneers, Crowns, etc.
Location: Antalya, Turkey
Dentist: Dr. Ismail Kargın, Dr. Zekeriya Ertan Akyüz
Benefits of Choosing Beyaz Ada clinic in Antalya, Turkey
Complimentary patient services (free wifi, x-rays, parking, and drinking water)

Comprehensive dental treatments

Professional and compassionate care

Friendly and warm environment

Post-treatment follow-up

Affordable costs of dental care
At Beyaz Ada, a private oral and dental well-being polyclinic has assisted patients with the ideal treatment at an affordable cost. Dental implants, veneers, crowns, and other dental procedures at Beyaz Ada in Antalya are more affordable than in your home country. For the latest dental treatment prices at Beyaz Ada Dental clinic in Antalya, contact our Customer Care Team.

Dental Treatments at Beyaz Ada Clinic in Antalya Turkey
Porcelain Dental Veneers

Prosthesis Treatment
Best Dentists at Beyaz Ada clinic in Antalya Turkey
Below are the names of two professional and highly skilled dentists in Antalya at Beyaz Ada:
Doctor Name: DT. ISMAIL KARGIN
Born in Krırıkkale in 1984.

Completed his primary school in Kırıkkale MEF

Continued his studies in Kırıkkale where he graduated from secondary school.

He attended college at Ondokuz Mayıs University from 2002 to 2007, where he successfully gained his degree and license in the field of Dentistry.

The founder of Beyaz Ada, serving here since 2013.
Doctor Name: DT. Z. ERTAN AKYUZ
Born in Mersin in 1970.

Completed his primary school in Mersin Namık Kemal,

Continued his studies in Mersin Tevfik Sırrı Gür where he graduated from his secondary school

Attanded college at Gazi University in 1995, where he successfully gained his degree and was licensed in the field of Dentistry.

Ertan Akyüz, one of the founders of Beyaz Ada, has been serving here since 2013.
Book a Consultation for Dental Implants, Veneers, or Root Canal Treatment in Istanbul Turkey, at Beyaz Ada Clinic
You can easily book an appointment at the Beyaz Ada Clinic and get more information about their treatments and services by contacting our Customer Care Team today.
​

---
---
Reviews
Jolanta P

I was scared and shy the condition of my teeths not was good...but the clinic dentist and all team is so friendly and welcoming that you feel safe and in good hands ..they true the process found the best solution to change my smile and life.Im thankful for the experience in clinic.Thank you for your job..you all make big changes in people smile. Thank you

Beyaz Ada Dental Clinic

Dec 06 2022
---
Dentistry Related Packages
Dentistry Related Experiences