Vita Estetic
Best Clinic for Hair Restoration in Istanbul Turkey
Cevizli, Ba?dat Cd. No:547, 34846 Maltepe/?stanbul, Turkey Istanbul Maltepe, Istanbul, Turkey

Specialty:

Cosmetic/Plastic Surgery

Focus Area:

Best Hair Transplant Treatment Clinic in Istanbul Turkey | Hair Restoration | Plastic Surgery | Cosmetic Surgery | Breast Augmentation | Rhinoplasty | Breast Lift | Eyelid Surgery | Face and Neck Lift
Vita Estetic Profile Overview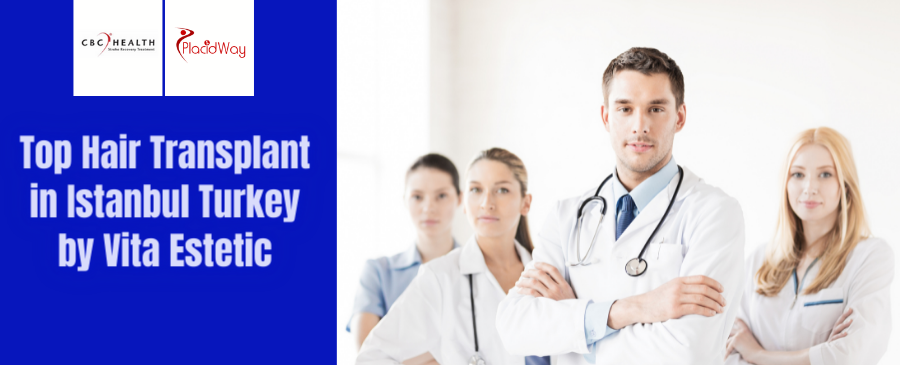 Top Hair Transplant in Istanbul Turkey by Vita Estetic
About Vita Estetic
Vita Estetic is the best medical center for the Hair Transplant treatment in Istanbul, Turkey. You can get best treatment for Hair Transplant, Nose Surgery, and Breast Augmentation at Vita Estetic. You can compare and find your Hair Transplant treatment options here.
Vita Estetic is situated in Istanbul, Turkey. It offers DHI Hair Transplantation, Rhinoplasty, and Breast Augmentation administrations, to neighborhood and global patients. Develop your certainty with a hair transplant at one of the main hair transplant centers in Turkey. Vita Estetic just works with solid medical clinics and specialists that are certify and guaranteed by global associations, like the Joint Commission International (JCI), so you are guaranteed of getting therapy you can depend on and results to be glad for.
The facility offers DHI (Direct Hair Implantation), a procedure that includes the transplantation of hair unites from a benefactor region directly into the beneficiary region utilizing a CHOI-PEN apparatus for accuracy. It is the most ideal choice for hair transplants, permitting hair follicles to develop normally, without dropping out. The treatment can be utilized on the scalp, yet in addition for different regions, including eyebrows, whiskers and mustaches.
The activity is finished by Doctor Kinyas Dusunmez, who is a pioneer in the field of DHI hair transplant, and he practices exclusively in DHI. By utilizing best in class techniques created over 8 years of training assists the specialist with understanding the patients' requirements, to where he even comprehends their feelings of dread and questions which others will be unable to get a handle on. He graduated Medical Faculty in 2013 and has been doing hair transplant utilizing DHI method from that point forward.
In contrast to other people, Dr Kinyas consistently plays out the activity without help from anyone else with his collaborators and ensures each unite is embedded with accuracy and never leave a task half done. This is one reason why Dr Kinyas is one of the most favored hair transplant specialists in Istanbul. Book a meeting with Vita Estetic for your hair transplant online conference with Medical Departures to get the surefire best costs and recapture your certainty
Facilities at Hair Transplant in Istanbul Turkey by Vita Estetic
Here are several facilities patients can get from Hair Transplant in Istanbul Turkey by Vita Estetic:
Using advanced DHI technique.

24/7 Online Reservations.

Responsive Customer Support.

Shuttle facilities from the airport to the hospital for overseas patients.

Food for patients.

Private room/VIP Room for patients.

High Speed Wi-Fi, Laboratory, etc.
Advantages of Using Hair Transplant in Istanbul Turkey by Vita Estetic
Check below for some advantages that you can find at Hair Transplant in Istanbul Turkey by Vita Estetic:
Experienced hair transplant service for local and international patients.

All specialists are accredited and certified by international organizations, such as the Joint Commission International (JCI).

Assure your satisfaction with Professionalism, Reliability, and Customer loyalty.

Affordable cost of hair transplant treatment.

All medical staffs equipped with expertise in their field, and several years of experience.
Top Doctors at Vita Estetic in Istanbul Turkey
Here are some top doctors available that can perform Hair Transplant in Istanbul Turkey by Vita Estetic:
Dr Kinyas Dusunmez - DHI Hair Transplant Surgeon
Trichologist Umut Yukselen - FUE Hair Transplant Surgeon
Op. Dr. Emre Baygöl - Plastic Surgeon - Breast Implants Specialist
Op. Dr. Onur Akman - Plastic Surgeon - Rhinoplasty Specialist
List of Procedures at Vita Estetic, Istanbul, Turkey
Check below for more information about list of procedures you can find at Cosmetic/Plastic Surgery and Hair Transplant in Istanbul Turkey by Vita Estetic:
Hair Transplant Surgery

Lip Lift

Forehead Lift

Bichetomy

Lip Filler

Botox

Tip Plasty
Price Lists for Hair Transplant in Istanbul Turkey by Vita Estetic
Hair Transplant in Istanbul Turkey by Vita Aesthetics is well-known as one of the favorite destinations for patients who want to get the best quality hair transplant. In addition, you will be able to get treatment here at a friendly price! For more information on pricing, please click the button below and get in touch with a Customer Representative:

Book Hair Transplant in Istanbul Turkey by Vita Estetic Now!
Enjoy all the conveniences of making a Hair Transplant reservation in Istanbul Turkey by Vita Estetic right now, and get the best price offer if you make a booking today. Please contact Customer Support for the latest information regarding the available treatments, and if you want to consult with a reliable specialist right now, please start by pressing the button:

---
---
Reviews
Mufleh

Had hair transplant with these guys 9 month ago usually i need to wait 12 months to see full results but i gotta say even right now results look outstanding. FINALLY i am able to live my life without worrying about my hair every day this is what real freedom feels like. Thank you all at vita clinic for such wonderful job

Google

Aug 20 2020

Hamed

My experience with Vita Estetic was excellent! They are a very professional, caring and friendly team. I'm happy with the accommodation and the surgery. I definitely recommend this clinic !

Google

Jul 30 2020

Jinan

My husband did the surgery and the entire team was great! I am really glad that we have chosen to come Turkey and to Vita Estetic to do the surgrey!
My husband was truly happy with this whole experience.
We recommend all of our friends to come to Vita Estetic !

Google

Jul 21 2020
---
---