Facelift in Turkey
Reduce Facial Wrinkles with Rhytidectomy in Turkey
Facelift Surgery in Turkey is one of the most popular cosmetic procedures among foreign patients. This is due to its affordability, quality, and high standards of medical professionalism. 
If you want to undergo facelift surgery, here are the promising reasons to pick Turkey
Cost-savings of up to 60% compared to prices back home;

Your facial skin will be smooth and young-looking;

The advanced technology used in reputable clinics;

World-recognized specialists that are well-trained abroad;

Luxury facilities provide safe and cozy stay and recovery;

Stunning scenery and historic sites in Turkey are worth exploring before your surgery.
We discuss these topics in detail below. Continue reading to learn more about rhytidectomy in Turkey.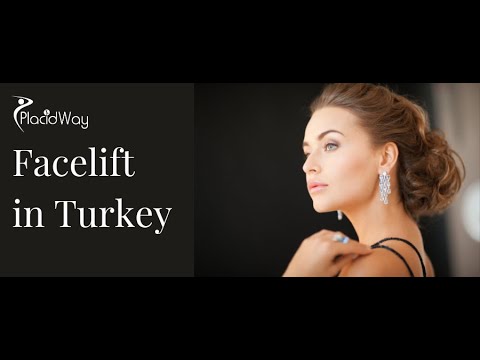 ---
All-Inclusive Facelift Packages in Turkey
We offer a wide range of all-inclusive packages for facelift surgery in Turkey at prices you can afford. If you opt for a face and neck lift in Turkey, you'll pay only $3,500, while only a facelift in Antalya cost $2,460.
The facelift packages in Turkish clinics usually include
Medical and Hospital Fees
Medication
All consultations
Transportation
Hotel stay (as required)
If you want to book some of the following packages, contact our Customer Care team.
---
How much is a facelift in Turkey?
Facelift surgery cost in Turkey from $3,500 to $4,800 at our partner providers. The price of a facelift in the West can be over $6,000, for example, in the USA it's $8,000, and in the UK $6,000 or more.
Of course, the final price will depend on the type and complexity of the procedure, but Turkey's facelft remains between 30% and 60% more affordable than in other countries.
Look at the following table to compare the facelift costs between Turkey, Canada, America, and Britain.
Face Lift Centers Cost Comparison in Turkey
| Provider | Procedure | Price |
| --- | --- | --- |
| Hermes Clinics | Face Lift, Cosmetic/Plastic Surgery | $4780 |
| Dr. Sibel Atalay International Clinic | Face Lift, Cosmetic/Plastic Surgery | $3500 |
Face Lift Cost Comparison in Turkey

| Country | Procedure | Price |
| --- | --- | --- |
| Canada | Face Lift, Cosmetic/Plastic Surgery | $11000 |
| Turkey | Face Lift, Cosmetic/Plastic Surgery | $4200 |
| United States | Face Lift, Cosmetic/Plastic Surgery | $8000 |
| United Kingdom | Face Lift, Cosmetic/Plastic Surgery | $6000 |
---
Best Clinics in Turkey for Rhytidectomy
Prestigious Turkish hospitals have JCI certification (Joint Commissions International) and are on par with international institutions. Good quality infrastructure, strict hygiene protocols, and professional staff adorn Turkish clinics.
As a medical tourist, you will benefit from the quality and affordable prices with top-notch services in Turkey. The medical team is highly skilled in providing you with the finest treatment and care throughout your medical journey.
We have a list of the top 6 facelift clinics in Turkey for you to see more and decide on one that suits your needs best.
---
Before and After Cosmetic Surgery in Turkey Video Testimonial
Watch our video testimonial from a patient who has undergone plastic surgery in Turkey at reputable clinics.
---
Plastic Surgery in Turkey Reviews by PlacidWay Patients
---
6 Most Asked Questions about Facelift Surgery in Turkey
Read below our answers to your most asked questions about the cost and clinics for facelifts across Turkey.
---
Best Doctors in Turkey for Rhytidectomy
Best Turkish facelift doctors are well-qualified in cosmetic surgery and have treated thousands of international patients so far. They boast the following credentials:
Specialty in Plastic, Reconstructive, and Aesthetic Surgery
Over 20 years of experience
Speak English fluently
Members of the Turkish Plastic Reconstructive Aesthetic Surgery Association, among others
Provide a video consultation before the surgery
Here is our list of top 5 plastic surgeons in Turkey:
---
Is Turkey good for facelifts?
When it comes to having a low-cost but top-quality facelift surgery in state-of-the-art clinics and a vacation prior to the surgery, then Turkey is definitely worth considering. With the help of highly experienced plastic surgeons in Turkey, you'll get a rejuvenated, youthful, and natural-looking face. In addition, facelift surgery costs are much cheaper here than in your home countries, like the USA and UK.
You will only need about two hours of flight to Turkey to experience quality surgery, a nice holiday, and cost savings.
Our cosmetic surgery clinics are based in Adana, Istanbul, Antalya, and Izmir. Here is what you can explore in each:
Adana is situated in southern Turkey, on the Seyhan River, where the Roman-built, 21-arched Stone Bridge lies. Here you'll try delicious street food like famous. kebab and enjoy stunning historic architecture, such as astonishing mosques and ancient buildings.

Izmir is another famous medical tourism city. The exquisite combination of an old and new culture is attractive to tourists.

Istanbul is the largest city in Turkey and is visited by millions of tourists every year. Aya Sofia and Blue Mosque, Bosphorus strait, and Topkapi Palace are just a few of many other places you can visit while here for bariatric surgery.

Antalya - A famous tourist resort thanks to its nice weather, beautiful beaches, and luxury resorts. Here you can enjoy visiting the old parts of the city in Kaleici, the Ruins of Termessos, and the Yivli Minaret. Or relax at white-sand Konyaalti Beach.
---
How Can I Book My Facelift Surgery in Turkey?
If you are ready to book your facelift in Turkey, just simply contact our Customer Care Team via email, free call, or chat.
And to require a fast quote, fill out the form on your right. We are here to help you prepare for your medical trip to amazing Turkey!
---