Surecell Medical Clinic
Top-Rated Clinic for Stem Cell Therapy in Pattaya Thailand
389/480 M12, Pratumnak Soi 6, Nongprue, Bang Lamung Chonburi 20150, Thailand, Pattaya, Thailand

Specialty:

Stem Cell Therapy

Focus Area:

Stem Cell Therapy in Pattaya Thailand | Platelet-Rich Plasma | Cosmetic PRP | Orthopaedic Stem Cell Therapy | XCELL Therapy | Genital PRP
Surecell Medical Clinic Profile Overview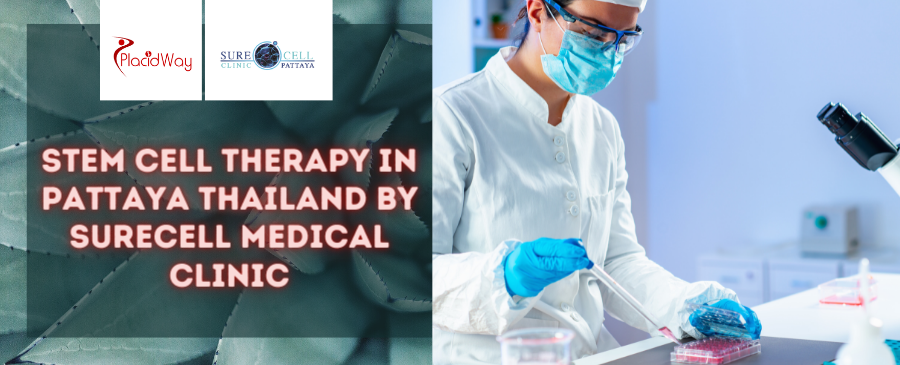 Surecell Medical Clinic provides best Stem Cell Therapy in Pattaya Thailand. Book online now Cosmetic PRP, XCell Therapy, and Genital PRP at PlacidWay. Our Center deals with Nobel Prize technology called Induced Pluripotent Stem Cells (iPS Cells) and exosomes for patients having any underlying condition or diseases.
Surecell Medical Clinic or SMC is the best hospital for stem cell therapy in Pattaya! They have successfully treated patients with various conditions, and are committed to providing the highest quality of care possible. If you are looking for a safe and affordable stem cell therapy option, Surecell Medical Clinic offers the best stem cell therapy around! We're committed to providing our patients with the best possible care.
Here are several advantages you can find from Stem Cell in Thailand by Surecell Medical Clinic:
Check below for information about list of procedures available at Stem Cell in Thailand by Surecell Clinic:
PRP is an autologous blood subsidiary - it is a component of blood from the very quiet that it is utilized to treat. PRP is a protected and normal option in contrast to medications and surgery.
Cosmetic PRP
Restorative PRP, otherwise called the popular 'Vampire Facial', is a revolutionary corrective treatment that revives the skin, bringing about an energetic
Orthopaedic Stem Cell Therapy
Stems cell therapy is a state of the art treatment that is being utilized in orthopaedic and sports medication. The procedure includes utilizing a patient's own stem cells, which have the extraordinary property of having the option to form into various cell types, to treat sports wounds and joint inflammation.
XCELL Therapy
XCell therapy is a revolutionary treatment that utilizations blood-determined stem cells to advance mending. It can treat numerous ailments and improve appearance and wellbeing.
Genital PRP
Reasonable for people, PRP can be utilized to treat conditions related with genital function. These conditions incorporate erectile dysfunction, vaginal dryness and urinary incontinence.
Hair Restoration
PRP therapy is a new, normal, non-surgical procedure for patients encountering balding. The cells and development factors in PRP supports the development of hair follicles.
Hyperbaric Oxygen Chamber
Hyperbaric Oxygen Therapy raises the degree of oxygen in the blood to animate recuperating processes, increment endurance and perseverance, advance relaxation and that's only the tip of the iceberg.
General Practice
Our Armadale practice offers quality patient consideration in a casual, family-accommodating environment. Our accomplished medical professionals are devoted to taking care of you and your overall wellbeing.
It's time for you to improve your quality of life, and get improvement from the health problems you are experiencing through the latest breakthrough in regenerative therapy. We will provide you with information about the latest Cost of Stem Cell Therapy in Pattaya Thailand by Surecell Medical Clinic. Contact our Customer Representative for more information:

Here you can find information about best for Stem Cell Doctors in Thailand at Surecell Medical Clinic:
Doctor Name:

Dr. Peter Lewis, MBBS, FAARM, Dip. Sports Med - Medical Director and Founder
Australian Registered Medical Practitioner since 1983

Bachelor of Medicine and Surgery graduate from Monash University

In 1988, he completed a post-graduate diploma in Sports Medicine

Expert in the field of sports medicine, including platelet-rich plasma (PRP)

Chairman of the Australian Ringside Medical Association

Presiding doctor for most boxing and kickboxing fights in Victoria

CEO of Central Melbourne Institute

Lecturing and educating on the topics of PRP and Stem Cell Therapies in Australia and worldwide.
Other Specialists:

Dr. Patrick - FRACGP
Need safe and cost effective Stem Cell Therapy in Pattaya Thailand? Surecell Medical Clinic in Thailand is the perfect place to get it! Contact us today to learn more about best Stem Cell Packages available and how we can help you.

---
---
Reviews
Dinukshi D

One of the few medical clinic left where Doctors stand by their oath to FIRST do no harm.

Surecell Medical Clinic

Jan 30 2022

Leo R

Absolutely phenomenal clinic. I cannot speak highly enough of Amir, not only is he super caring and provide great service - he is also incredibly knowledgeable and insightful. Would definitely recommend! 5/5.

Surecell Medical Clinic

Jul 23 2020

Lorelle W

I am deeply indebted to the knowledgeable and caring Dr Peter Lewis and his team at Surecell for my regained physical fitness levels and pain free movement. Following an unsuccessful arthroscope and subsequent prognosis of needing 2 knee replacements, I pursued the PRP (Platelet Rich Plasma) route. After just 3 sessions, in 3 weeks, I was able to bushwalk again (first time in 3 years)! I know that this does not work for everybody, but success rate hovers around 80%. It worked brilliantly for me....I am a convert.

Surecell Medical Clinic

May 30 2022
---
Stem-Cell-Therapy Related Packages
Stem-Cell-Therapy Related Experiences