AG Clinic
Dr. Asli Can - AG Clinic Cosmetic Surgery in Izmir, Turkey
Sair Esref Bulvard Alsancak Isik Apt. No:41 Floor:3 Konak Izmir, Izmir , Izmir, Turkey

Specialty:

Cosmetic/Plastic Surgery

Focus Area:

Plastic Surgery in Izmir Turkey | Liposuction | Breast Reduction | Rhinoplasty | Abdominoplasty
AG Clinic Profile Overview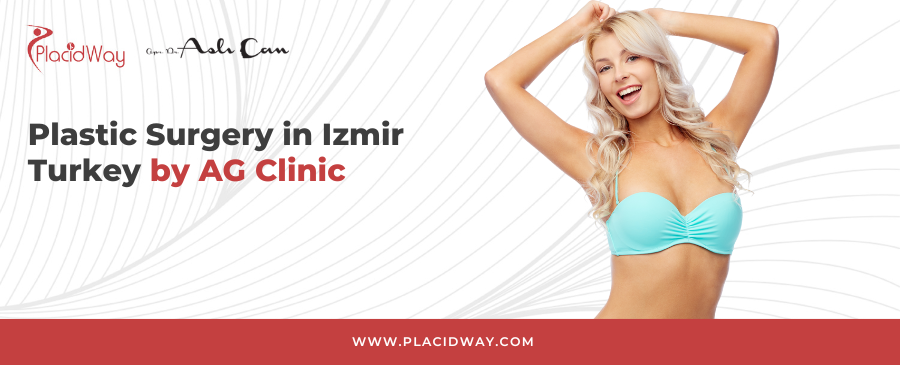 Visit the Best Hospital for Plastic Surgery in Izmir Turkey to Enhance Your Appearance
AG Clinic provides best plastic surgery in Izmir Turkey. Book online now Liposuction, Rhinoplasty and Breast Reduction at PlacidWay. Welcome to AG Clinic! We are proud to offer the best plastic surgery in Izmir, Turkey. Our experienced surgeons, Dr. Aslı CAN and Dr. Günay CAN, provide a wide range of services, including Liposuctions, Rhinoplastys, and Breast Reduction (ear surgery).
We are dedicated to providing our patients with the highest level of care and service possible. We believe in a "patient-focused" approach to plastic surgery, and we are proud to say that we have been very successful in providing this type of care. Moreover, we believe in using the latest technologies and techniques to ensure that our patients receive the best possible results.
At AG Clinic, we understand that each patient is unique and special; thus, we strive to provide a personalized treatment plan for each of our patients. We also offer a range of payment options for both local and international patients, to ensure that all our patients have access to the best treatment available.
From initial consultation to post-operative care, we go out of our way to ensure that each patient receives the highest quality of care. If you are considering plastic surgery, we encourage you to contact us today to schedule a consultation. We look forward to meeting you and helping you achieve your goals!
Clinic Name: AG Clinic
Procedure: Rhinoplasty, Breast Reduction, Liposuction, and Abdominoplasty
Location: Izmir, Turkey
Doctor: Dr. Asli Can and Dr. Gunay Can
It's time to make your appearance more beautiful and attractive. We provide information about the price of plastic surgery in Izmir Turkey by AG Clinic as a reference for you. Check our price list table below for more details:
| | |
| --- | --- |
| Procedures | Cost |
| Vaginoplasty | $1,800 |
| Labiaplasty | $900 |
| Brazilian Butt Lift | $3,500 |
| Liposuction | $2,499 |
| Tummy Tuck Surgery | $3,000 |
| Eyelid Surgery | $2,200 |
| Nose Surgery Rhinoplasty | $2,800 |
| Breast Implants | $3,750 |
| Breast Lift | $2,600 |
| Breast Augmentation | $3,750 |
Note: Price can change and vary depends on complexity of the procedure and patient condition. Click free quote button below for more information:

Here are several benefits of selecting Plastic Surgery in Turkey by AG Clinic:
Here are list of procedures available at Plastic Surgery in Izmir Turkey by AG Clinic:
Surprisingly, liposuction can offer a number of benefits beyond simply improving your appearance. By removing excess fat from areas like the thighs, abdomen, and arms, liposuction can help to contour your body and give you a more flattering silhouette. In addition, liposuction can also help to improve your self-confidence and body image.
The benefits of breast reduction surgery are many. For some women, the surgery can provide relief from back and neck pain. It can also help improve posture and reduce feelings of self-consciousness. Many women report an increase in confidence and a boost in self-esteem after the surgery.
Many people feel that this surgery can improve their appearance and confidence. Additionally, it can also help with breathing difficulties.
Abdominoplasty can contour the abdomen for a more flattering look. Another benefit is that it can help to remove excess skin and fat from the area, which can help to improve appearance and confidence. In addition, abdominoplasty can also help to tighten the abdominal muscles, providing a more toned appearance.
Before and After Breast Augmentation in Izmir, Turkey by AG Clinic

Check below for information about top surgeon for plastic and aesthetic surgery in Turkey:
Dr. Asli Can

Dr. Gunay Can
Would you like to book a consultation for plastic surgery in Izmir, Turkey? AG Clinic offers a variety of options to choose from! Whether you're looking for a simple procedure or something more complex, our team of skilled surgeons can help you achieve your desired results. Contact PlacidWay today to get started!

---
---
Reviews
Bhani L

Bhani Lavelle sent Direct Email

Nov 01 2022

Motorcu G D

I would recommend the AG Clinic.

AG Clinic

Feb 23 2022

Saziye B A

Our doctor with excellent care and knowledge. We are always grateful.

AG Clinic

May 03 2022
---
Cosmetic/Plastic-Surgery Related Packages
Cosmetic/Plastic-Surgery Related Experiences