Clinica de Urologia Dr Uriel Ayala
Best Urologist in Tijuana, Mexico - Dr. Uriel Ayala
paseo del centenario 9580 zona urbana rio Tijuana baja california norte, Tijuana, Mexico

Specialty:

Cancer Treatment, Robotic Surgery, Urology

Focus Area:

Urology Surgery in Tijuana Mexico | Dr. Uriel Ayala | Prostate cancer | Erectile dysfunction | Male infertility | Vasectomy | Robotic surgery | Kidney cancer
Clinica de Urologia Dr Uriel Ayala Profile Overview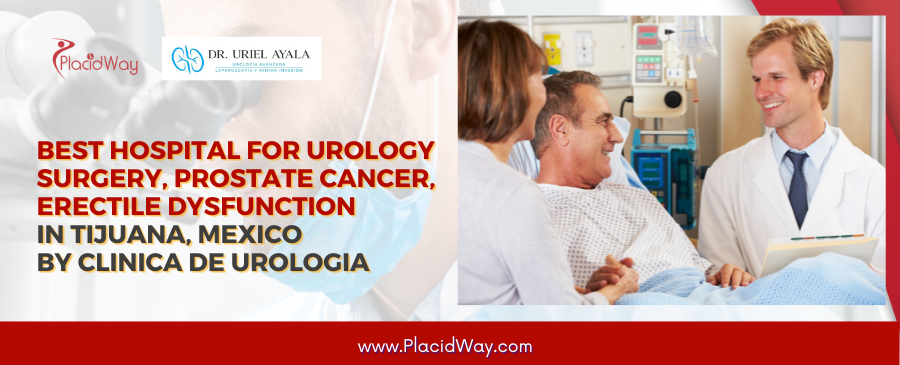 Clinica de Urologia is located in the border town of Tijuana, Mexico. The clinic provides safe and effective urology surgery, Prostate cancer, Erectile dysfunction, Stones in the urinary tract, Kidney cancer, and Robotic Surgery. Board-certified doctors use advanced and high-quality techniques to diagnose and treat male infertility, urology cancers, and more. Dr. Uriel Ayala and his qualified team apply an action plan to suit the patient's needs.
Clinica de Urologia is conveniently located on the Mexico-US border where hundreds of American and Canadian patients go for cost-effective urology treatment. A team of health care professionals works together to provide a full range of treatments and services for patients suffering from prostate or kidney cancer as well as erectile dysfunction. Clinica de Urologia's medical team aims to relieve pain and improve a patient's overall quality of life.
Clinic Name: Clinica de Urologia
Procedure: Prostate cancer, Erectile dysfunction, Stones in the urinary tract, Kidney cancer

.

Location: Tijuana, Mexico
Doctor: Dr. Uriel Ayala
Table of Content
• Cost • Procedures • Advantages
• Doctors • How to Book
Here are several advantages of selecting a Top-Rated Clinic for Urology Surgery and Male Infertility in Tijuana at Clinica de Urologia:
JCI Accredited clinic

Utilize advanced technology and robotic surgery

Maintain the high-quality standards of healthcare service and hygiene

Committed to providing safe care for all patients

State-of-the-art facilities for patient comfort
The following procedures can be found at Clinica de Urologia in Tijuana performed by Dr. Uriel Ayala:
Prostate cancer

Erectile dysfunction

Stones in the urinary tract

Kidney cancer

Varicocele

Premature ejaculation

Testicular cancer

Bladder cancer

Benign prostatic hypertrophy (hyperplasia)

Stress urinary incontinence

Penile cancer

Penile warts

The curvature of the penis

Phimosis

Complicated urinary tract infection

Male infertility
Clinica de Urologia in Tijuana offers affordable prices for Prostate cancer, Male infertility, Erectile dysfunction, Stones in the urinary tract, Kidney cancer and other urology treatment procedures. The cost of urology surgery in Tijuana, Mexico can vary depending on the type of treatment, the technology used, and your general health. For more information, feel free to contact us by clicking the button below:

Dr. Uriel Ayala is a specialist in advanced urology, laparoscopy, and urological procedures. He performs surgery in a comfortable, safe, hygienic facility with high-end technology and equipment.
Dr. Ayala is a certified urologist surgeon working at his private clinic Clinica de Urologia in Tijuana, Mexico, and Tecate. His credentials and certifications include:
Certified by the Mexican College of Urology

Member of the Mexican and American Society of Urology

Specialist in diagnosing and treating genitourinary disorders in both men and women.

Professional in endoscopic, laparoscopic, and laser minimally invasive management of benign prostatic hypertrophy, urinary lithiasis, and genitourinary cancer

Experienced in treating urinary tract infections, genital warts, sexually transmitted diseases, and erectile dysfunction.
Languages: Spanish, English
Clinica de Urologia provides effective, safe, and affordable Prostate cancer treatment, Male infertility, Erectile dysfunction, Stones in the urinary tract, Kidney cancer treatment, and other urology procedures to help patients be and feel healthier. PlacidWay can help you connect with Dr. Uriel Ayala urology specialist in Tijuana, Mexico! Get in touch with us by clicking the button below:

---
---
Reviews
Jesus Q

Excellent urologist highly recommended.

Clinica de Urologia Dr Uriel Ayala

Jun 15 2022

Manuel B Z

Very good urologist very professional.. highly recommended.

Clinica de Urologia Dr Uriel Ayala

Jul 14 2022

Pepino R

Excellent urologist explains everything very well in detail, very professional and affordable prices 100% recommended.

Clinica de Urologia Dr Uriel Ayala

Jan 19 2022
---
Cancer-Treatment Related Packages