Atrys Oncology by IMOR and IOA
Oncology and Radiotherapy Clinic in Barcelona, Spain by IMOR Institute
C/ Escuelas Pias nº 81, 08017, Barcelona, Passeig Manuel Girona, 23, 08034, Barcelona, Barcelona, Spain

Specialty:

Cancer Treatment, Radiology/CT Scans

Focus Area:

Atrys Oncology | Barcelona | Spain | Cancer Treatment | Radiology
Atrys Oncology by IMOR and IOA Profile Overview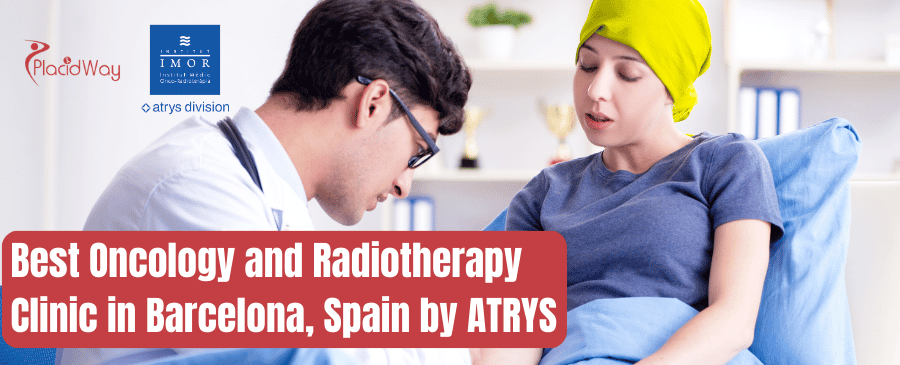 Cutting-Edge Cancer Treatment Clinic Barcelona
Atrys Oncology Clinic in Barcelona, Spain is dedicated to providing cutting-edge cancer treatment options to patients. The clinic strives for excellence and prioritizes patient well-being. The committed staff, including doctors, nurses, administrators, and technicians at Atrys Oncology by IMOR Institute, work together to ensure rigorous and personalized care for each patient. Continuous training and accreditation guarantee the highest quality of service, while the clinic's infrastructure allows for seamless collaboration and individualized attention.
Advanced Treatment Options
Atrys Oncology Clinic in Barcelona offers a comprehensive range of advanced treatment options for cancer patients. These include 3D radiotherapy, Frameless Fractionated Stereotactic Radiosurgery, IMRT (Intensity Modulated Radiation Therapy), IGRT (Image-guided radiotherapy), VMAT (Volumetric Modulated Arc Therapy), SBRT (Extracranial radiosurgery), 4D Radiotherapy, and Intraoperative Radiotherapy. With these state-of-the-art technologies, the clinic aims to provide patients with the most effective and targeted treatments available.
Patient-Centered Approach
At Atrys Oncology Clinic in Barcelona, patients are at the center of everything they do. The radiotherapy clinic in Barcelona Spain emphasizes personalized care and ensures that each patient's unique needs and preferences are met. The dedicated team of healthcare professionals collaborates closely with patients to develop tailored treatment plans and provide comprehensive support throughout their cancer journey. The patient's well-being and satisfaction are paramount in every aspect of their care.
Multidisciplinary Oncologists in Barcelona, Spain
Atrys Oncology Clinic in Barcelona boasts a team of highly skilled and experienced oncologists. Led by Dr. Benjamin Guix Melcior, the Director of the Institut IMOR and specialist in Radiation Oncology, the multidisciplinary team includes Dr. Ferran Guedea Edo, Dr. Manuel Algara Lopez, and Dr. Ivan Garcia Zamora. With their expertise in various aspects of oncology, the team collaborates to provide comprehensive and integrated care, ensuring the best possible outcomes for patients.
State-of-the-Art Facilities
Atrys Oncology by IMOR Institute is equipped with state-of-the-art facilities to support advanced cancer treatment. The top cancer treatment Barcelona at Atrys features cutting-edge medical technologies and modern infrastructure, providing a comfortable and efficient environment for both patients and healthcare professionals. The facilities are designed to optimize the delivery of care, enabling accurate diagnoses, precise treatments, and enhanced patient experiences.
Leading Oncology Research
Cancer treatment clinic in Barcelona, Spain by ATRYS is actively engaged in leading oncology research. The clinic is committed to advancing cancer treatment through ongoing research and collaboration with renowned institutions. By staying at the forefront of medical knowledge, the clinic strives to offer the latest innovations and contribute to the continuous improvement of cancer care. Patients at the clinic benefit from access to groundbreaking treatments and emerging therapies.
International Patient Services
Best oncology clinic Spain by Atrys specialized services for international patients seeking cancer treatment. The clinic understands the unique needs of patients traveling from abroad and offers comprehensive support to facilitate their care journey. From assistance with travel arrangements and accommodation to language interpretation services, the clinic ensures a seamless and comfortable experience for international patients. The dedicated international patient services team is committed to providing personalized care for cancer therapy in Barcelona, Spain and addressing the specific needs of patients from around the world.

---
---