Baltic Vein Clinic
Varicose Vein Removal, Treatment of Trophic Ulcers, Treatment of Hemorrhoids, Removal of Cosmetic Defects, Sclerotherapy, Laser Surgery, Riga, Latvia

115 K. Barona Street, Riga, Latvia

Specialty:

Heart Care/Surgery, Laparoscopic Surgery, Laser Surgery, Spine Care/Surgery, Vascular Surgery

Focus Area:

Varicose Vein Removal | Treatment of Trophic Ulcers | Treatment of Hemorrhoids | Removal of Cosmetic Defects | Sclerotherapy | Laser Surgery | Riga, Latvia
Baltic Vein Clinic Profile Overview
Welcome to Baltic Vein Clinic
Baltic Vein Clinic is the largest and most experienced medical facility in Baltic States which offers comprehensive vein diagnostics and treatment. Customers highly appreciate our work already since 1999. The expanded vein diagnostics and treatment using all modern methods, including bioglue vein closure method, and their combinations applied in the world all are available in Baltic Vein Clinic. Accurate duplex ultrasound for blood vessels with the latest Premium class USG equipment, computed tomographic phlebography as well as wide range of other laboratory, visual and functional diagnostic methods used by our specialists assures great result in vein treatment.
Baltic Vein clinic has opened the Foreign Patient Service, whose main objective is to provide support to patients from abroad in planning, organizing and coordinating treatment services.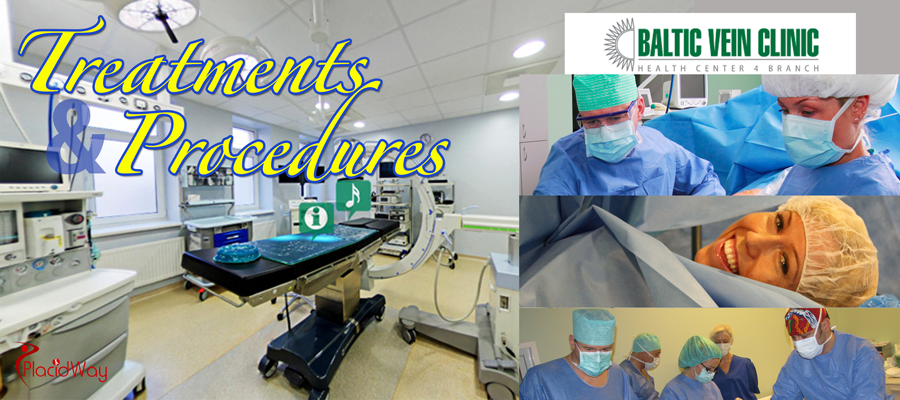 Treatments and procedures
Sclerotherapy
Varicose vein removal
Treatment of trophic ulcers
Compression treatment
Treatment of hemorrhoids
Removal of cosmetic defects
For more information about the Baltic Vein Clinic or to get a free quote, please contact us!

---
---
Reviews
ReGe

Good clinic and doctors, with reasonable prices and friendly attitude thank you!

Facebook

Oct 05 2020

Yaroslava

A very professional approach ... kind helpful staff, clean rooms.. Super!!! I am really glad I turned here. Not only professionals in their field, but also people who have not lost their humanity. Dr. Peteris Gerke and the sisters who were with me during the surgery are Super People!!! Highly Recommended!!!

Facebook

Sep 16 2019

Milana

We want to express gratitude to Dr. Georges Zhaburs very friendly doctor and sisters
The operation was successful.

Google

Apr 30 2020
---
---