Due to to the increase in cancer cases around the world, effective diagnosis and treatment are in high demand, therefore, specialty centers that focus on the treatment and diagnosis of different types of cancer are sought after all over the world.
Neolife Oncology Center, Turkey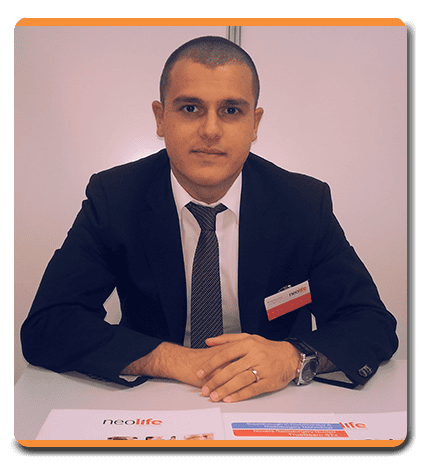 "Neolife was founded from this very necessity, and is structured as a reference oncology center where we feel privileged to use the most innovative and up-to-date treatment protocols for treating patients"   says Ahmet Deniz Yurt,  Manager of International Relations Department at Neolife Turkey.  
We caught up with Mr. Ahmet Deniz Yurt, Neolife's Manager of International Relations Department, who gave us some insight about their "boutique" medical center that focuses on treating all types of cancer.
He helped us shed some light on this area of medical tourism, and explained how Neolife has created a path to accessible cancer treatments for all medical tourists.
Interview with Ahmet Deniz Yurt - Neolife, Turkey
PlacidWay: To being with, which is Neolife's most sought after treatment/therapy and why?
A. D. Yurt: We, at Neolife Medical Center, have more than one sought after treatment because each individual cancer patient has a condition that requires a specific approach.
Therefore, Radiotherapy, Radiosurgery are very popular in the Oncology department especially the TrueBeam STX Technology, which is one of the most recent innovations in Cancer Care.
It is faster and more powerful, so that doctors can navigate the complexities of cancers even the tumors found in the brain, spine, lung, liver and prostate. 
PlacidWay: Can you please mention how is Neolife Oncology Center perceived domestically as well as internationally in general?
A. D. Yurt: In the local market (Turkey), our company is perceived as the most experienced facility in the oncology field.
Due to our high standards and expertise, we also manage oncology units in various Turkish clinics.
As for the international market, we are regarded as a unique facility in the region and a reference oncology center.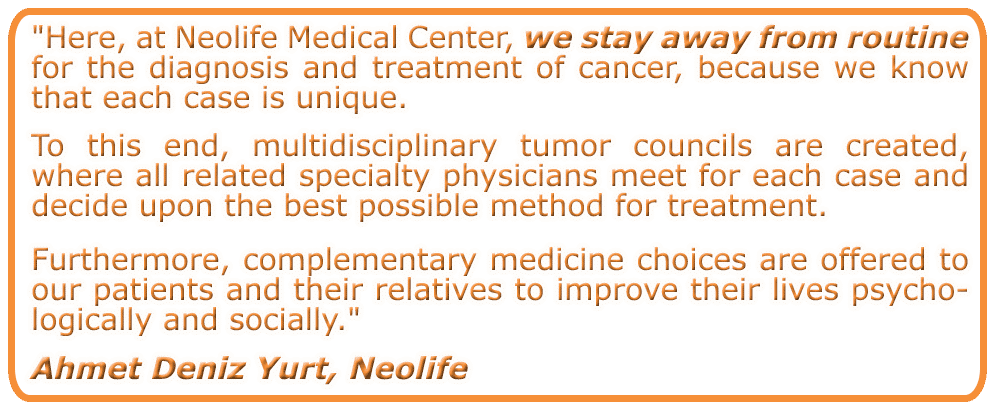 PlacidWay: How do the patients you cater to benefit when choosing Neolife?
A. D. Yurt: Apart from getting the best care and oncology treatments, our international patients get access to previous success stories in cancer treatments - similar to the condition that they suffer from, detailed information about how they will be treated, all in their native language for a better understanding - English, Russian, Arabic, Bulgarian, Azerbaijani and Romanian.
We also provide support in other languages if necessary. In this case, some additional minor fees may apply.
PlacidWay: Today, Medical Tourism has become highly competitive. How do you set Neolife apart?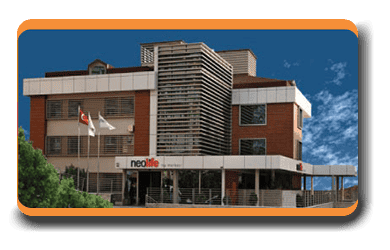 A. D. Yurt: For us, it is an advantage to be a "boutique" oncology clinic, because our specialty focus brings us closer to the patient.
It is by far the most important tool we possess - having a closer doctor-patient relationship when compared to general hospitals.
Furthermore, each staff member at Neolife is in a constant contact with the patient to cater to his or her every need and comfort.
PlacidWay: What are the challenges and risks involved in your business, specifically from Medical Tourism perspective?
A. D. Yurt: As the medical tourists come from all over the world, it is crucial for us to have all the information at hand before they arrive to Neolife.
The information consists mainly of tests and patient age, medical history, depending on the case.
This is very important for both sides because we need to make a correct estimate of the costs and insure that the right treatment is put in place for the patient's specific condition.
Insufficient medical information can cause a change in the treatment and, in some cases, in the price as well.
This is also the reason for which we have a great collaboration with translators and PlacidWay as well – to make communications as easy as possible to ensure that the patient receives what he or she expected from the beginning: the best cancer treatment and care!
PlacidWay: What kind of additional services do you offer and what should the patient pay for (not included in the stay – meals, transport, all inclusive).
A. D. Yurt: After receiving the medical report, we give the patient the 100% exact price quote for the treatment.
This includes all transfers (Airport Shuttle), interpretation, first examination and the treatment itself.
Accommodation in a hotel for the patient and/or relatives and flights are not included but we do help our patients in finding the most suitable hotel/flat option.
PlacidWay: A few words on your clientele – is it more of insurance, corporate clients (employer sponsored), or more individuals?
A. D. Yurt: We have a great collaboration with Ministries of Health from various countries for treating their patients at our clinic, whether it is because of the lack of specialty cancer treatment or if the prices are higher.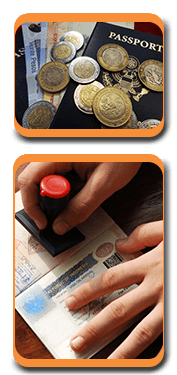 We also have individual patients flying to Neolife from different parts of the world.
PlacidWay: What issues have you encountered since entering the medical tourism market?
A. D. Yurt: Medical tourism is a global phenomenon so our patients come from all over the world, but, in some cases, the geo-political situation is against healthcare globalization.
I am referring to the Visa proceedings that affect the patients coming from a country that has a particular difficult relationship with the Turkish Government or from countries that are facing some other problems within the international community.
We are hoping that a solution will soon be found, both for the medical tourists worldwide trying to access better healthcare and for the Turkish hospitals and clinics that are still experiencing a powerful impact on the business flow because of the Visa issues.
PlacidWay:  What do you think the patients should know when opting to travel for health to your facility?
A. D. Yurt: International patients who need cancer treatments should know that we are a high-standard international facility – this means that they will be taken care of in a private clinic that deals with oncology cases only and experienced doctors focused on oncology research and treatment.
All the cancer cases are evaluated during a tumor council that consists of doctors from different branches and with different approaches.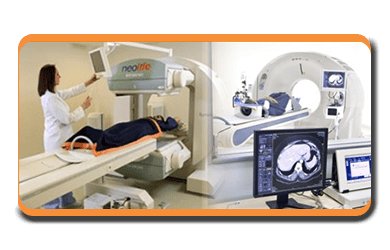 PlacidWay: Finally, a few words on your most recent developments/therapies/services that are very unique to Neolife.
A. D. Yurt: TrueBeam STX is our newest addition in technology - a very important medical device that we use for treating different types of cancer.
When compared to rival devices it is more comfortable for the patient due to the shorter treatment sessions and higher success rates.
With the help of the Truebeam STX we now have the possibility of treating patients that are as young as 3 year children.
In terms of techniques, our experienced medical staff members and physicians are always concerned with the needs of our patients.
Therefore, they monitor closely the developments and treatment methods within the oncology field.
If you want to learn more about
the Cancer Treatments at Neolife Oncology Center, Turkey
click the button below and ask us!