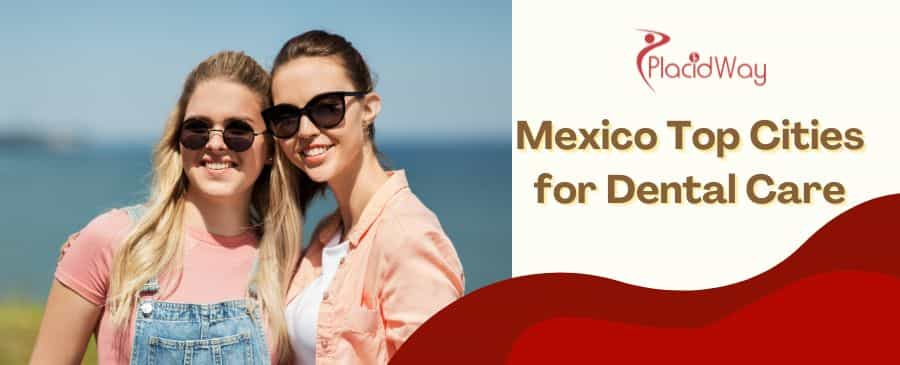 Mexico has emerged as one of the top destinations for Dental Care, attracting thousands of patients from around the world. The country offers a wide range of high-quality dental services at affordable prices, making it an ideal choice for individuals seeking dental treatments. In this article, we will explore the top cities in Mexico for dental care and why they are highly recommended by patients and professionals alike.
Mexico is renowned for best dental tourism in the world and there are more than 46 cities that specialize in different dental procedures and treatments, We gather list of 8 top dental cities in Mexico that specialize in dental care and where most of the abroad dental patients visits every year.
Dental care refers to the practice of maintaining oral hygiene and treating dental issues to ensure the health of teeth, gums, and overall oral health. It involves a range of preventive, diagnostic, and treatment measures performed by dental professionals.
Dental care includes regular check-ups, cleanings, X-rays, and treatments such as fillings, root canals, extractions, and cosmetic procedures like teeth whitening or dental implants. Good dental care is essential for preventing dental diseases, maintaining healthy teeth and gums, and promoting overall well-being.
8 Best Cities in Mexico For Dental Work
Los Algodones, Tijuana, Mexicali, Cancun, Guadalajara, Hermosillo, Mexico City, and Puerto Vallarta are the best places in Mexico for dental work. These cities have a high number of dental clinics and practitioners who are experienced and skilled in providing quality dental care. Dental services in these cities tend to be more cost-effective compared to many other countries. Patients can often save a significant amount of money by getting dental work done in Mexico while still receiving excellent care
Among the cities of Mexico, Los Algodones is one of the best city in Mexico for dental work and it is known for dental capital in the world and also has the most number of international dental clinics. There are over 300 clinics and over 900 dental practitioners in Los Algodones alone, hence nicknamed the Molar City.  Aside from dental care costs that are affordable by 70%, there are 50 dental laboratories that can provide high quality bridges, crowns and dentures in less than 3 days. The dental specialization expertise of Los Algodones is very extensive. They are known to provide 
Offered Procedures
1. Dental Implants
2. Cosmetic and Laser Dentistry
3. Root Canal 
4. Gingivitis
5. Periodontitis Treatments
6. Bone Regeneration
7. Dental Complications
8. Oral Surgery and Rehabilitation.
International Dental Clinics in Los Algodones Mexico

Tijuana is famous as a border city at the same time booming dental tourist destination. In Tijuana, expect savings of up to 80% when it comes to dental treatments and procedures. Aside from providing high-quality, accessible and affordable dental care, Tijuana's specializations include general, specialist and cosmetic dentistry to international clients from US, Canada and Europe. Also, specializations in Pediatric Dentistry, Orthodontics (bite, braces and aligners), Periodontics (gingivitis and periodontitis treatments), Endodontics (Root Canal, dental trauma and cracked teeth), and Biological Dentistry (uses natural therapies in combination with conventional treatment modalities to diagnose and treat diseases of the oral cavity) are also practiced extensively in Tijuana.
Top Dental Clinics in Tijuana

Situated close to the U.S - Mexico border and only a few hours away from major cities such as San Diego, Mexicali is becoming a popular destination for dental tourism in Mexico. Dental tourists seeking affordable yet high quality treatments are flocking to Mexicali for specialized care that typically costs far less than in the U.S or Canada – with savings of up to 70% compared to typical North American prices. Dental professionals here provide a wide range of restorative services including porcelain veneers, implants and tooth whitening services – all at considerably lower prices than elsewhere in the world. Patient safety and exceptional service standards are also gaining increasing recognition, making Mexicali an even more attractive medical tourism destination.
Best Cosmetic Dentistry in Mexicali

Known for its spectacular beach destinations and resorts, Cancun is also proud of its expertise in dental care. Most dentists in Cancun specialize in Prosthetic Dentistry, Implant Dentistry, Periodontics, Pediatric Dental Care, Cosmetic Dentistry, Operative Dentistry, Orthodontics and Endodontics. The most common procedures they perform include dental implants, veneers, crowns, teeth whitening, tooth extraction, root canals, braces and aligners, gingivitis (bleeding gums) and periodontitis treatments.
Best Cosmetic Dentistry in Cancun

Clinica Franklin S.C. and Renouvele Medical Spa are most popular dental franchises in Mexico is also sharing is dental expertise in Mexico City. Clinics in Mexico City is known for its expertise in different dental specialties which include: Veneers, Dental Bonding, Fillings, Brite Smile®, BioMET3 implants, Dental Crowns, Dental Bridges, Restorations, Partial, Complete & Implant-Supported Dentures, Prevention, Oral Health, Diagnosis, Gum Disease Treatments, Fixed Braces, Removable Braces, and Invisible Aligners.
Affordable Dental Clinics in Mexico City

Like Cancun and Acapulco, Puerto Vallarta is a beach resort destination, renowned all over the world as The Friendliest City. It has a lot to offer aside from its beach resorts, clubs and tourist spots. Puerto Vallarta is also booming in its dental tourism. Dental clinics Smile Vallarta? and PV Smile offers expertise in Cosmetic, Restorative and Implant Dentistry. They also offer one of the best cosmetic dentistry packages on high quality dentures and Veneers Lumineers.
Best Dental Clinics in Puerto Vallarta

Renowned as Mexico's cultural capital and home of Mariachi music, the city of Guadalajara also has dental hubs worthy of availing dental care. Their expertise includes placements of dental crowns, implants and root canal treatments. 
Affordable Dental Clinics in Guadalajara

One of the best healthcare institutions in Hermosillo is the Allianza Medica Global. Aside from general medicine and surgery, Allianza's expertise in Cosmetic dentistry is also noticed by medical tourists. Other procedures performed are placement of dental implants and crowns.
Best Dental Clinics in Hermosillo
Alianza Medica Global | MCMX , Hermosillo, Mexico
9. Metepec
The city of Metepec is home to Ubedental, one of its specialty clinics that have expertise in CEREC and CAD/CAM. CEREC is a computerized mechanism used to create full ceramic restorations such as ceramic full crowns and fixed bridges, inlays and onlays, partial crowns, and veneers. Other expertise include Cosmetic Dentistry and Orthodontics.
Top Cosmetic Dentistry in Metepec
UBEDENTAL Dental Clinic , Metepec, Mexico


Dental Work in Mexico Reviews From Patient
A Patient Sharing Her Emotional Testimonial
Read the frequently ask questions answers to know more about the dental work in Mexico
How to pay for dental work in Mexico?
You can pay through credit card or cash for dental work in Mexico. Here are some steps to follow when paying for dental work in Mexico:
1. Decide on the type of treatment you need and find a clinic that offers those services.
2. Request a quote from the clinic and make sure that it includes all the treatments you need.
3. Check the clinic's accreditation and licensing status to ensure that they are reputable.
4. Make sure you have travel insurance in case of an emergency.
5. Pay for the treatments in advance if possible, or bring enough cash with you to cover the cost.
6. Make sure to keep copies of all your invoices and receipts in case you need to claim them back from your insurance company later on.
Is it safe to get dental work in Mexico?
It is estimated that over one million Americans cross the border into Mexico each year in order to receive dental care. And while the cost of dental work in Mexico can be up to 80% cheaper than in the US, many people wonder if it is safe to receive treatment in another country. The answer is that it depends. There are many reputable and qualified dentists in Mexico, but there are also a number of unlicensed practitioners who offer substandard care.
To ensure your safety, it is important to do your research before choosing a dentist in Mexico. Look for someone who is certified by the Mexican Dental Association and make sure they have experience treating foreign patients. Once you have found a qualified dentist, you can rest assured that you will receive safe and affordable dental care.
How much can I save by getting dental care in Mexico?
The cost savings can vary depending on the type of treatment and the city you choose. On average, patients can save up to 70% or more on dental procedures compared to prices in the United States or other developed countries.
Are the dentists in Mexico qualified and experienced?
Yes, many dentists in Mexico undergo rigorous training and have extensive experience in their respective fields. It is crucial to choose a licensed dentist who is a member of recognized dental associations.
Will I be able to communicate with the dentists in Mexico?
Many dental clinics in Mexico have English-speaking staff to ensure effective communication with international patients. It is advisable to inquire about language assistance before scheduling an appointment.
How do I choose the right dental clinic in Mexico?
When choosing a dental clinic in Mexico, consider factors such as reputation, qualifications of dentists, cleanliness, technology used, and patient reviews. Researching online and seeking recommendations can help you make an informed decision.
What precautions should I take after dental treatment in Mexico?
After dental treatment in Mexico, it is essential to follow the post-treatment instructions provided by your dentist. This may include avoiding certain foods, maintaining oral hygiene, and attending follow-up appointments.
If you're looking for affordable and high-quality dental care, explore the top cities in Mexico - Mexico City, Cancun, Tijuana, Guadalajara, and Monterrey. Experience exceptional dental treatments while enjoying the rich culture and attractions these cities have to offer. Take the first step towards your dental journey in Mexico today!
If you have queries on the best city in Mexico for Dental Work, please do not hesitate to contact us for further details!