10 Steps to Find the Best Fertility Treatment in Europe
Europe is a place that offers a wide range of options when it comes to fertility treatments. While other parts of the world legally restrict these procedures, most European countries encourage couples and singles to fulfill their dream of becoming parents.
Searching for the best fertility treatment abroad is, indeed, a time-consuming process. But, if you stay organized, nothing can get out of control. Apply the following rules and get closer to choosing the best fertility treatment in Europe.
1. Do your research
Think about the fertility treatment you want to undergo and see which countries have clinics that offer this kind of procedure. Make a list of trustworthy fertility medical centres from each and every country and start comparing. Compare facilities, distance, prices, doctors' certifications and credentials, treatment packages.  
Europe hosts plenty of renowned fertility clinics, which feature specialized research teams and advanced technology. The amount of information can be overwhelming at a first view, but, with proper, in depth research anyone can craft a list with the most suitable alternatives.
Don't forget to check out all the options you've included on your list.
2. Search for other patients' similar experiences
The World Wide Web is a wonderful place. You can easily find other patient's stories and opinions regarding their fertility treatments in Europe.
Look for testimonials from people who undergone a similar treatment. Note their recommendations. See what they have to say regarding the country, the clinic, the doctors, the equipment, the procedure and the results.
You'll end up being more informed and prepared for your upcoming experience.

3. Get in touch with a medical tourism company
Choose a trustworthy medical tourism company and ask for information and guidance.
Such organizations are specialized in offering you specific and relevant details about the European countries, clinics and doctors performing fertility treatments. Also, require information about procedures, prices, credentials and travelling plans.
4. Contact several fertility clinics and doctors
Get in touch with the clinics and doctors you're considering seeing abroad. Ask for details about the treatment, previous success stories, procedure satisfaction, risk factors etc.
Ask them if they usually work with international patients, if they have a waiting time, if there are any 24/7 contacts to call in any emergency situations, if they work during the weekends and holidays, if they encountered language barriers while treating foreign people.
You can do that either yourself, or with the help of your medical tourism company.
5. Find out everything about aftercare services, follow-up treatments and medications
In order to make sure that you choose the best fertility treatment in Europe, don't forget to find out details regarding the entire process, including preparation and aftercare.
Check which are the steps you need to take so that you'll be completely prepared (prior tests, vaccinations and documentation) and which are the post treatment phases you'll need to follow. Be aware of the medications you will need, also. No clinic will start a fertility treatment without HIV and Hepatitis B & C test. If you're a couple, this applies for both of you.
As these are important parts of your overall fertility treatment, don't neglect them.

6. Check the clinics' credentials
Investigate which are each clinic's pregnancy rates. This is a good hint in revealing a medical centre's level of experience, research and performance.  
The program length is another aspect you should be informed about. Before choosing any treatment package, you should know how much time you are expected to spend in the hospital and how long will your entire trip (including before and after time spent with tests, examinations and aftercare) be.
Last but not least, check the doctors' certifications. Education, research activity, trainings, experience and professional societies/associations memberships – all of these will help you with deciding if a doctor is or is not meeting your expectations.
7. Compare treatment packages
Make a comparison between the treatment packages you've shortlisted. Analyze every aspect: inclusions, prices, duration, doctors' qualifications, clinics' facilities, and so on and so forth.
Draw the line and, together with the medical tourism company's staff, choose the package that best fits your needs.
8. Ask for the doctor's indications
After you've decided for the package you're going for, get in touch with the doctor and ask for a detailed set of instructions to be followed before the treatment.
Follow the advice and, if you have further questions or you face any kind of issues, contact the medical team with no hesitation.

9. Get to know the country you're traveling to
 You've decided for a destination, clinic and a treatment package. Now start researching about the country's climate, currency, international flights, transport, required documentation, hotels etc. and get properly ready for the upcoming trip.
10. Relax and think positive
You're nearly there, so get mentally ready! Something wonderful is about to happen. Stay positive, chill out and be confident.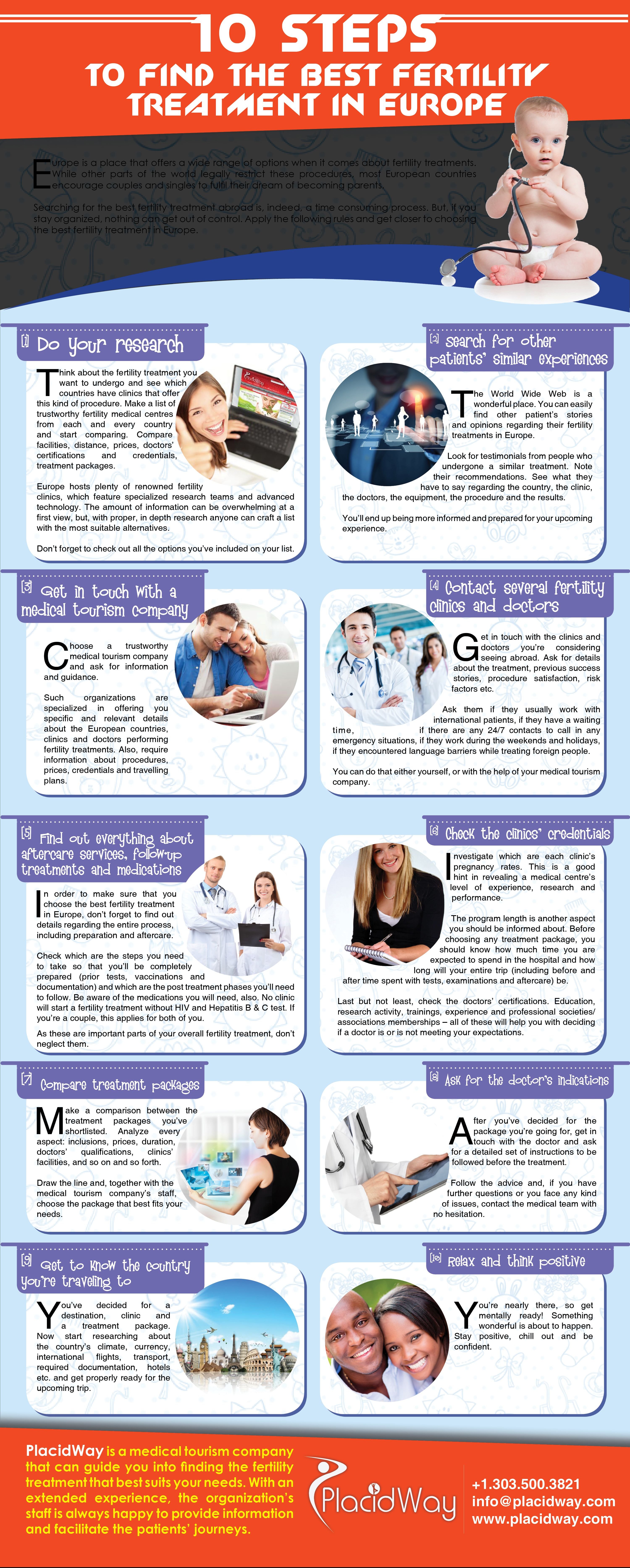 In brief, choosing the best fertility treatment in Europe depends on a solid research and trustworthy partners (medical tourism company, clinic, medical team). The more you know about it, the more chances you have to opt for the best alternative. And, as long as there are specialized people out there, eager to help you, don't hesitate asking for assistance. Use all the resources mentioned above and look forward to a new life.
PlacidWay is a medical tourism company that can guide you into finding the fertility treatment that best suits your needs. With an extended experience, the organization's staff is always happy to provide information and facilitate the patients' journeys.