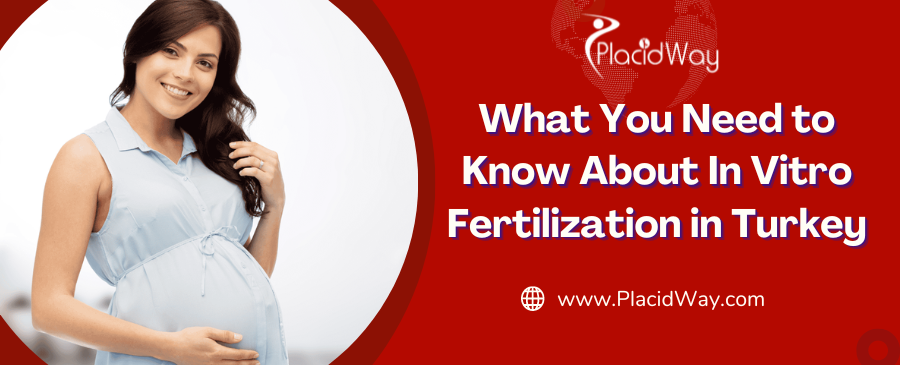 Are you and your partner struggling to have a baby? You are not alone. In the United States alone, about 15% of couples are infertile. Infertility can be the result of problems with you or your partner. Fortunately, fertility treatments can significantly improve your chances of getting pregnant. 
If you are having trouble getting pregnant, you may want to look into other options such as IVF treatment. Read on to learn more about IVF in Turkey and how it can help you and your partner become parents. 
What is Infertility?
Infertility is the inability to stay pregnant after more than a year of unprotected sexual intercourse. Infertility can be caused by various factors both in women and men. 
Causes of female infertility can be 
Ovulation disorders 

Uterine or cervical abnormalities 

Fallopian tube damage or blockage, 

Early menopause 

Cancer and its treatment 
Causes of male infertility include 
Abnormal sperm production or function 

Problems with the delivery of sperm  

Overexposure to certain environmental factors 

Cancer-related damage and its treatment 
Infertility may result from one or more of these problems. Fertility treatments like in vitro fertilization can be a helpful solution.
What is In Vitro Fertilization (IVF) treatment? 
In vitro fertilization is a complex series of procedures that treat genetic problems, fertility and assist with the conception of a child. 

During IVF treatment, a doctor collects mature eggs from ovaries and fertilizes them with sperm in a lab. The fertilized egg (embryo) or eggs (embryos) are transferred to the uterus. One full cycle of IVF takes about three weeks. IVF is the most effective form of assisted reproductive technology (ART).  
How to assess the status of couples prior to treatment?  
After the thorough examinations, a doctor in Turkey will let you and your partner know what the procedure and process that will be performed for IVF treatment are. You can also book a video consultation with a Turkish doctor and have detailed interview to discuss available options before traveling to Turkey. And worry not, because PlacidWay will help you in this process.  
Some pre-treatment evaluations include a semen analysis, a tubal evaluation, and ovarian reserve testing. After this, a doctor decides on the type of treatment and number of sessions needed for your infertility problem.
What fertility process is applied in IVF centers in Turkey? 
There are eight steps involved in IVF treatment in Turkish centers: 
1. Treatment Preparation 
You will prepare for the treatment after having an initial consultation with your doctor and tests. 
2. Stimulation and Growth Monitoring
You'll receive fertility medications to produce the multiple eggs that IVF requires. During this time, your doctor will perform regular blood tests and ultrasounds to monitor egg production to know when to retrieve them. 
3. Trigger Shot
A final trigger shot is given by injection for eggs maturation once the eggs reach 17-18 mm in size. 
4. Egg retrieval 
Your doctor will use an ultrasound wand to guide a needle through your vagina, into your ovary, and an egg-containing follicle. The needle will suction eggs and fluid out of each follicle. 
A doctor suction Eggs with a special needle and sends them to the embryology lab. During this process while you will be under anesthesia. A sperm sample from a male partner is retrieved through ejaculation or TESA/PESA procedure. 
5. Laboratory 
A single sperm is picked up with a needle and injected directly into each egg. Embryos are formed as a result of eggs fertilization. 
6. Transfer 
Embryo(s) are transferred into the uterus after 3 to 5 days of fertilization. 
7. Implantation and Pregnancy Support 
Medications to support the endometrial lining and the implantation of embryos are provided. 
8. Pregnancy Test 
A doctor checks the pregnancy with a blood test 2 weeks after embryo transfer. 
What Tests are required for IVF in Turkey? 
Before having an In Vitro Fertilization procedure, the following lab tests are required for you and your partner to obtain: 
Female tests: 
Cycle day 2 hormone levels: FSH, LH, Prolactin, TSH, AMH, Estradiol. 

Ultrasound scan. 

HIV, Anti HCV, HBsAg. 
Male tests: 
Sperm count. 

HIV, Anti HCV, HBsAg. 
Your chosen doctor will provide you with more information about the laboratory tests needed prior to your IVF treatment. 
What is the success rate of IVF? 
Couples who want to try assisted reproductive technology (ART) to stay pregnant, are hoping for the best results. However, the success rate of IVF treatment depends on various factors putting the age of a female patient as most important one. 

The younger female patient is, the higher the success rate of IVF treatment will be. In women under the age of 35 there is a 55% chance of staying pregnant after first IVF cycle. Especially if they are of good overall health.  
While women at 35 and older have around 43% chance of becoming mothers.  
But don't be discouraged by the statistics. After all, you'll discuss all your concerns with an experienced doctor and thus know what to expect beforehand. 
Factors that affect the IVF success rate
Your hopes in IVF procedure can help in successful pregnancy. Unfortunately, some couples experience failure due to negative factors affecting the positive outcome of IVF treatment. 
Some of the factors that cause in vitro fertilization failure include 
Age of the woman, 

The cause of your infertility, 

Poor ovarian reserve, 

Uterine issues, 

Thin inner layer of womb during treatment cycle, 

Low sperm quality, 

Smoking, 

Alcohol, 

Being overweight or underweight, 

Egg retrieval skills, 

Number of eggs retrieved, 

Egg quality and egg quantity, 

Embryo developmental rates, embryo quality
However, a skilled doctor will let you know your options before the treatment and whether you are eligible for IVF or not.
4 Best IVF Clinics in Turkey
Hospitals in Turkey specializing in IVF services have helped numerous couples worldwide to become happy parents. The quality of medical care and services provided are at the same level or even higher than in the USA or UK hospitals.  
The Turkish healthcare system has improved in the last couple of years, resulting in high demand for IVF treatments in international patients. Although the lower cost of fertility care in Turkey is an advantage over Western countries, the higher success rate of IVF procedure gives preference to Turkish clinics. 
Let's see some of the reputable fertility centers in Turkey where you can have a successful IVF: 
IVF in Turkey Reviews from Satisfied Couples 
Ersen
"The success of Nilgün and her team in the work they brought great happiness to our lives. I had 2 attempts to vaccinate in a different hospital but had a negative result. We are very pleased that his attitude is also smiling. Absolutely reliable, experienced and successful"
Muna 
"Finally past the 3 months period. I am happy that the Dr Senoz helped me become a first time mum to be after years of fertility problems. Dr did for me test/exams required and not unnecessary things. He will get straight to the point and reassure you if needed. I would definitely recommend this doctor to anyone trying to conceive. Just trust him."
Aysha
"Dr. Turhan is a great doctor. She's very understanding. I highly recommend her to anyone looking for an IVF specialist in Istanbul, Turkey"
Fadumo
"I highly recomend jinepol hospital i got my dauhter with the support of Dr Selim Sentoz also he did for me delivery of C-section, now my daughter is 2years and seven months' Alhamdulilah."
Why do foreign couples choose IVF treatment in Turkey? 
IVF is very expensive in the US, UK and most European Countries. As couples may need several IVF treatments to stay pregnant, most of them can't afford more than one attempt.  
This is why thousands of couples prefer going to Turkey for IVF treatment where they can obtain up to three IVF sessions for the same price as one in Western countries. 
This increases your chances of becoming pregnant and reduces financial stress. 
Other advantages of your IVF Treatment in Turkey are 
No long wait lists. 

Cost savings of up to 70% with all-inclusive packages. 

The latest and advanced technologies used in fertility services. 

Professional staff guides you through every step of the process, ensuring that you fully understand the benefits, risks, costs, and chances of a successful pregnancy.  

Doctors in Turkey offer free online consultation to couples coming from abroad. 

The high success rate of the treatments. 
How Much Cost of IVF in Turkey? 
IVF treatment in Turkey cost around $3000 on average which is between 40% to 70% less than in most European countries and the USA. Couples who visit Turkey for IVF treatment seek to pay less and receive the high-quality care such as they would at home.  
Luckily, Turkish fertility centers adhere to international standards of services and safety while offering more affordable costs for IVF procedure. You can look at our cost table below to compare the prices in your country with Turkey's average price. 
| | |
| --- | --- |
| Locations | Costs |
| Turkey | $3000 |
| United Kingdom | $12000 |
| United States | $14000 |
What are the Requirements for In Vitro Fertilization in Turkey? 
Turkish Law holds specific requirements that foreign patients and Turkish centers must adhere to for fertility treatment in Turkey. Here are some of them: 
Marriage is a legal obligation. Unmarried couples cannot have children with in vitro fertilization in Turkey.  

Spouses should be unable to have children by normal means due to sexual intercourse. Obstetricians can document this issue. 

Before entering the IVF process, it is necessary to be informed by the relevant doctors. At the same time, it is mandatory to obtain the spouses' approval. 

It is mandatory to use the spouses' genomes when performing the treatment. It is forbidden to receive a genome as a donation from a third party. 

There is no age limit as the upper limit for this treatment. However, there is only a share of support provided by Social Security Insurance (SGK) until the age of 40 in this process. 
Start a Family with In Vitro Fertilization Treatment in Turkey
We hope you found all the information you need about IVF treatment in Turkey. Now you can start planning a family again and rest assured that your treatment will be carried out by professional Turkish doctors. 
PlacidWay will assist you in finding the right doctor and fertility center in Turkey at the price you can afford. Contact us today to know more!