Prof. Dr. Nilgun Turhan Fertility Clinic
Dr. Nilgun Turhan Fertility Clinic in Istanbul, Turkey for In-Vitro Fertilization
Nisbetiye Mh. Aytar Cad. Basluk Sokak No:1/B 34340 Besiktas / Istanbul / Turkey, Istanbul, Turkey

Specialty:

Fertility Treatment, Gynecology Treatment

Focus Area:

Dr. Nilgun Turhan | IVF | Infertility, Monitoring | Intrauterine Insemination | Egg Freezing | Sperm Freezing | Hysteroscopic Surgery | Gynecologic Surgeries | In-Vitro Fertilization in Istanbul Turkey
Prof. Dr. Nilgun Turhan Fertility Clinic Profile Overview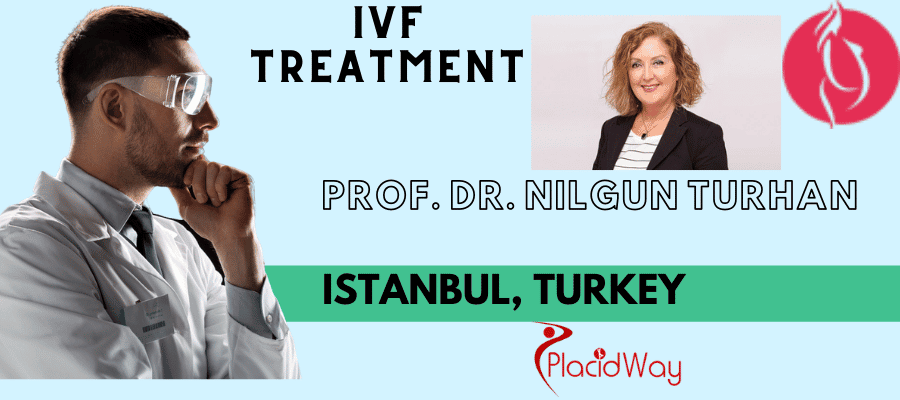 Prof. Dr. Nilgun Turhan, MD has been working in Obstetrics and Gynaecology and IVF for over 30 years. She is a renowned expert in the field of infertility and assisted reproductive technologies (IVF). She has extensive experience in IVF and provides a highly individualized approach to patients, tailor-made treatments to achieve the highest pregnancy rates. She is specialized in patients who have had previously failed fertility treatments or who are considered poor responders to IVF treatment.
Besides the patients who have infertility problems and those who need IVF, she is also dealing with the patients with any Gynaecologic and Obstetrics problems. She has expertise in gynecological ultrasound scans and the management of early pregnancy problems including recurrent miscarriage. She has vast experience in advanced laparoscopic surgery for the treatment of endometriosis, adhesions, fibroids, ovarian cysts, benign gynecological conditions, and hysteroscopic management of uterine abnormalities, adhesions, polyps, and myomas.
Their patient relations" team is helping international patients for their accommodation and transfers and make them feel comfortable during their fertility journey. They can provide a list of hotels that suit patients' choices. As per a patient's preference, they can contact the hotel for them. Along with that, they can also arrange Airport - Hotel - Clinic transfer services.
Reasons to Choose

Prof. Dr. Nilgun Turhan for Fertility Treatment in Istanbul:
Prof. Dr. Nilgun Turhan is a highly respected and experienced medical professional who is known for her exceptional patient care and cutting-edge treatments. Patients who choose Prof. Dr. Turhan as their healthcare provider can expect a number of benefits, including:
Comprehensive care: Prof. Dr. Turhan takes a holistic approach to healthcare and is dedicated to understanding each patient's individual needs and medical history.

Expertise in her field: With years of experience and a wealth of knowledge, Prof. Dr. Turhan is an expert in her field and is highly regarded by her peers.

Personalized treatment plans: Prof. Dr. Turhan tailors her treatment plans to each patient's specific needs and works closely with them to achieve their desired health outcomes.

Access to cutting-edge technology and treatments: Dr. Turhan stays up-to-date on the latest medical advancements and is committed to providing her patients with the most effective and innovative treatments available.

Compassionate and understanding: Dr. Turhan is known for her compassionate and understanding approach to patient care. She takes the time to listen to her patients' concerns and works with them to find solutions that work for them.
Patients who choose Prof. Dr. Nilgun Turhan can expect a level of care that is both comprehensive and personalized, with a focus on the latest medical advancements and a commitment to patient comfort and well-being.
Fertility Procedures offered by Dr. Nilgun Turhan Clinic in Istanbul, Turkey:
IVF

IVF treatment stages

ICSI

Blastocyst transfer

Assisted hatching

Embryo freezing

Genetic diagnosis

Frozen embryo transfer

PESA, TESA and MESA

TESE and Micro TESE

Infertility

Monitoring

Intrauterine Insemination

Egg Freezing

Sperm Freezing

Hysteroscopic Surgery

Gynecologic Surgeries
Book Appointment with Dr. Nilgun Turhan for Fertility Treatment in Istanbul, Turkey
Making the decision to seek fertility treatment can be difficult, but Dr. Nilgun Turhan and her team in Istanbul, Turkey are here to help. Dr. Turhan is a leading expert in fertility treatment and has helped countless couples achieve their dream of starting a family. With years of experience and a passion for her work, she will work closely with you to develop a personalized treatment plan that meets your unique needs.
During your initial consultation, Dr. Turhan will take the time to get to know you and your medical history. She will then perform a physical exam and order any necessary tests. Once all of the test results are in, she will sit down with you and go over all of your options. If you decide to move forward with fertility treatment, she will work with you every step of the way to ensure that you have the best possible chance of success.
If you are ready to take the next step on your journey to parenthood, please contact us today to book an appointment with Dr. Nilgun Turhan.
For more details about treatments and procedures, please click the button below:

---
---