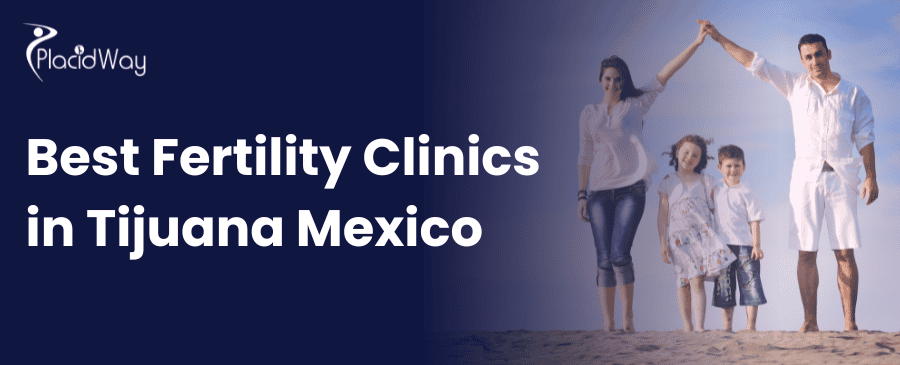 Tijuana, Mexico, renowned for its vibrant culture and rich heritage, has also emerged as a hub for medical tourism, particularly in the field of fertility treatments. The city's top-rated fertility clinics offer a blend of advanced medical technologies, experienced healthcare professionals, and personalized care, making them a sought-after destination for couples and individuals seeking fertility assistance. With an eye on both affordability and quality, these clinics provide a range of services, from in vitro fertilization (IVF) to egg donation and surrogacy, tailored to meet the diverse needs of their international clientele. This convergence of expertise and compassionate care positions Tijuana's fertility clinics among the best, offering hope and support to those on their journey to parenthood.
Details of 4 Best Fertility Clinics in Tijuana Mexico
Here's a detailed overview of each of these top fertility clinics in Tijuana, Mexico:
1. Centro de Fertilidad del Prado
Centro de Fertilidad del Prado stands out for its state-of-the-art facilities and a team of highly skilled fertility specialists. The clinic is renowned for its personalized approach, ensuring that each patient receives a treatment plan tailored to their specific needs.
The clinic offers a comprehensive range of fertility treatments including IVF, ICSI (intracytoplasmic sperm injection), and genetic testing of embryos. They also specialize in fertility preservation techniques like egg freezing for patients undergoing medical treatments that might affect fertility.
One of the clinic's key strengths is its advanced laboratory, equipped with the latest technology to increase the chances of successful pregnancy. Their empathetic and supportive staff also plays a crucial role in providing a comfortable and reassuring environment for patients.
2. Dr. Felix Atondo Clinic - Fertility Beyond Borders
Dr. Felix Atondo Clinic, operating under the banner 'Fertility Beyond Borders', is renowned for its international standards of care and innovative fertility treatments. Led by the esteemed Dr. Felix Atondo, the clinic has a reputation for excellence in patient care.
This clinic specializes in a range of assisted reproductive technologies including IVF, egg donation, and surrogacy services. They are also known for their expertise in dealing with complex fertility issues.
Dr. Atondo's clinic is particularly noted for its high success rates and its individualized treatment protocols. The clinic also offers comprehensive counseling and support services, ensuring that patients are well-informed and comfortable throughout their treatment journey.
3. Advance Health Medical Center
Advance Health Medical Center is a modern fertility clinic known for its cutting-edge technology and a multidisciplinary team of fertility experts. They focus on providing a holistic approach to fertility treatment, integrating both medical and emotional support.
Their services include traditional fertility treatments like IVF and IUI (intrauterine insemination), as well as advanced procedures like PGS (preimplantation genetic screening) and assisted hatching.
The center prides itself on its innovative approach, utilizing the latest advancements in reproductive medicine. They also offer a serene and welcoming environment, which helps reduce stress and anxiety often associated with fertility treatments.
4. CONCIBO Reproductive Clinic
CONCIBO Reproductive Clinic is known for its comprehensive and compassionate approach to fertility care. The clinic offers a blend of top-notch medical expertise and a warm, caring environment, making it a popular choice for patients.
Alongside traditional fertility treatments, CONCIBO excels in offering specialized services such as LGBTQ+ family building options, fertility preservation, and endometriosis treatment.
A key feature of CONCIBO is its commitment to personalized care. Each patient's journey is attentively managed by a dedicated team, ensuring a tailored approach to treatment. The clinic also emphasizes on continuous research and education, staying ahead in the field of reproductive medicine.

Top 10 reasons why fertility treatment in Mexico is popular
The bliss of "motherhood" is something that cannot be explained in merely words but almost every woman dreams of that day when she would conceive a child. There is a dark side to this dream, which is infertility. It is a medical condition that may make it almost impossible for a woman to conceive and in the modern age, this condition can also exist in men.
In more medical terms, infertility is termed as the biological inability of an individual to contribute to conception. In several countries across the world, infertility refers to a condition where a couple has failed to conceive even after regular sexual intercourse for a period of 12 months without using contraception.
Infertility is a scary condition and more often than not, it affects the psyche of person deemed infertile. It can lead to trauma and depression as well. According to the Centers for Disease Control and Prevention (CDC), almost 1 million married women in the USA falling in the age group of 15-44 are infertile. This is not all, there are almost 6.9 million married women in the US who have used infertility services.
In fact, there are more and more people from US and Canada traveling to Tijuana, Mexico for fertility treatments. Why this trend of traveling across to another country?
Tijuana, Mexico – A New Lease of Life for Infertile Couples!
Tijuana, a dynamic city on the Mexican border, is rapidly gaining recognition not just for its vibrant culture and cuisine, but also as a leading destination for medical tourism, particularly in the field of fertility treatments. In recent years, Tijuana has transformed into a beacon for couples seeking high-quality fertility care. This peninsular city is home to numerous specialized clinics, each committed to offering the highest standard of treatment and care in a welcoming and supportive environment. Let's explore why people from all corners of the globe are drawn to Tijuana, Mexico, for their fertility treatment needs.
Will I end up paying higher costs in Tijuana, Mexico?
Cost of a fertility treatment like In vitro fertilization (IVF) are quite high in the USA and Canada as it is not a single procedure but a series of complex procedures that assist with the birth of a child. It includes collection of mature eggs from the ovary of the woman in question and is fertilized by sperms in a lab. The fertilized egg also known as the embryo is then implanted in a woman's uterus. Hence, the cost attached to this laborious process can vary in the US or Canada anywhere from $12,000 to $20,000 and even more. This is where Tijuana clinics have played an integral role in ensuring IVF doesn't impact people on the financial plane. The cost of IVF's in Mexico can vary from $5,000 to $7,000. The "cost" of the treatment is the numero uno factor why so many people from US and Canada travel to Tijuana, Mexico each year just to get fertility treatments.
Are there any hidden costs?
You are probably wondering, there must be some hidden costs somewhere! After all, how can clinics in Mexico really offer such an intensive treatment in under $8,000? The truth is that there are clinics in Tijuana that might come up with hidden costs when you are paying your bills but this won't happen if you approach a medical center through a trusted medical provider like PlacidWay.
Am I really going to get high quality care within this cost?
Most definitely! When the cost of a treatment is lower than expected then that is bound to raise doubts. Are they going to offer me high quality treatment? Do they have a reputed gynecologist on board? The list of questions just goes on. So, here's some good news to take away your worries. There are several fertility clinics in Tijuana, Mexico but if you visit one of the high-end clinics in Tijuana then you can be rest assured that you will get nothing less than the best treatment available out there. Don't just take our word for it - check out the patient feedback!
The equipment are must be updated!
The equipment used by IVF clinics in Tijuana, Mexico are all state of the art. The top clinics have invested in highly advanced IVF laboratory equipment including an Isolette. This is a type of incubator where embryos are kept in a Petri dish as it ensures humidity and temperature control as well as proper supply of oxygen. Some of the other equipment used in clinic laboratories includes advanced stereo microscope, incubators, inverted microscope, embryo freezers and storage tanks meant for keeping surplus IVF embryos safe.
What about the gynecologists? Are they qualified?
The fertility clinics in Tijuana, Mexico are committed towards excellence when it comes to fertility treatment and care. The top clinics have dedicated medical professionals working together to make dreams come true and this includes a highly energetic and qualified team of gynecologists, geneticist, biologists, psychologists, Andrologists, Nutritionists, nurses, and lab technicians among others.
Is IVF the only fertility treatment available in Tijuana, Mexico?
IVF or In vitro fertilization is the most commonly opted for process among other fertility treatments across the world. Most people travel from the USA and Canada to get IVF treatment as it is well within their budget and is quite safe. The IVF clinics in Tijuana do offer other fertility treatments as well and they are either standalone treatments or an integral part of the IVF process. Some of the treatment processes available in Mexico include:
Intra-cytoplasmic sperm injection (ICSI)

Embryo Vitrification (Freezing)

Intrauterine Artificial Insemination (IUI)

Testicular sperm retrieval (TESA)

Preserving Fertility through cryopreservation of sperm

Assisted Hatching

Egg Donation

Gender Selection
Is IVF fertility treatment in Tijuana Safe?
IVF is quite a safe procedure in Tijuana Mexico as most of the treatment takes place outside the body. As a part of the in vitro fertilization (IVF) procedure, eggs (woman) and sperm (man) are retrieved from the people concerned and kept together in a laboratory glass dish that allows the fertilization process to take place. One of the advantages of using IVF in Mexico is that you will always have the freedom to use any combination of your own eggs as well as sperm. Post IVF, one or more fertilized eggs will be placed in your uterus and this is also a simple procedure.
Will the fertility treatment be any different from IVF clinics in Chicago or Toronto?
The fertility treatment in Tijuana, Mexico will be the same as is offered in high end IVF clinics in Chicago or Toronto. It goes through simple 6 steps, which are:
Ovarian Stimulation: You will be given fertility medication to enable proper stimulation of your ovaries. This will increase the chances of collecting several eggs. Multiple eggs are collected because not all eggs get fertilized.
Collection of Eggs: Top medical professionals in Tijuana clinics will perform a minor surgical procedure to retrieve eggs.
Collection of Sperm: Semen sample containing sperm is obtained from the male partner or a sperm donor. They are then prepared through a laboratory process for fertilization.
Insemination: There are two different types of insemination processes, IVF standard insemination or ICSI (Intracytoplasmic Sperm Injection). This process involves injecting a single sperm into the egg and left in incubators that promote fertilization.
Embryo Culture: Once fertilization takes place the fertilized eggs are considered as 'embryos'. They are grown in the laboratory for a period of 6 days from egg retrieval.
Embryo Transfer: Once, medical professionals have assessed your embryos, they are likely to pick up the most advanced embryo for transfer into the uterus. The embryo is placed into the uterus using a soft thin plastic tube and this procedure is quite simple.
The embryos once placed in the uterus will continue to grow until they implant.
Do I have to stay in Tijuana for a month?
It is a quick treatment that will not take more than 6-8 days. There is a two week or 14 days waiting period after embryos have been implanted in the uterus. This waiting period does not have to be necessarily in Mexico because it involves a small pregnancy test, which you can do right at home.
Where do I stay in Tijuana during treatment period?
There are hundreds of staying options in Tijuana, Mexico since it is a popular tourist destination. Apart from this, if you opt for a fertility treatment package then the medical tourism provider can get you clean and safe accommodation at a discounted price. Some of the clinics also offer travel to and from the airport or hotel without any extra cost.
These are the top 10 reasons why more and more people from US and Canada are traveling to Tijuana, Mexico for fertility treatments. There are many couples, who travel not just to take advantage of the fertility treatment but also to enjoy a well deserved romantic holiday at this beach city!
If the information here is not enough you can ask us a question, or maybe you need assistance, let us know by using the button below.