Package Details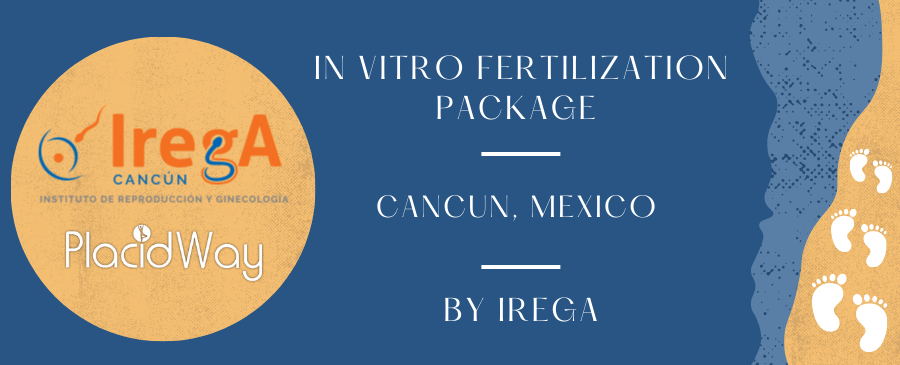 What is In-Vitro Fertilization?
In Vitro Fertilization is an assisted reproduction procedure for couples who have trouble conceiving naturally. Its main goal is to fertilize the eggs outside the uterus. The procedure is performed in controlled-environmental conditions that simulate the womb. These conditions feature temperature, humidity, oxygen concentration, carbon dioxide, and much more.  
Once the eggs are fertilized, they are kept in incubators. This step is called embryo culture and it lasts up to 5 days. It also requires extensive care. During that period, the healthiest embryos are transformed into the uterus.  
Cost of In Vitro Fertilization Package in Cancun, Mexico by IREGA
At IREGA Clinic in Cancun, Mexico, the In Vitro Fertilization package costs $9000 which is affordable while USA and Canada price is much high which you can see in the table below: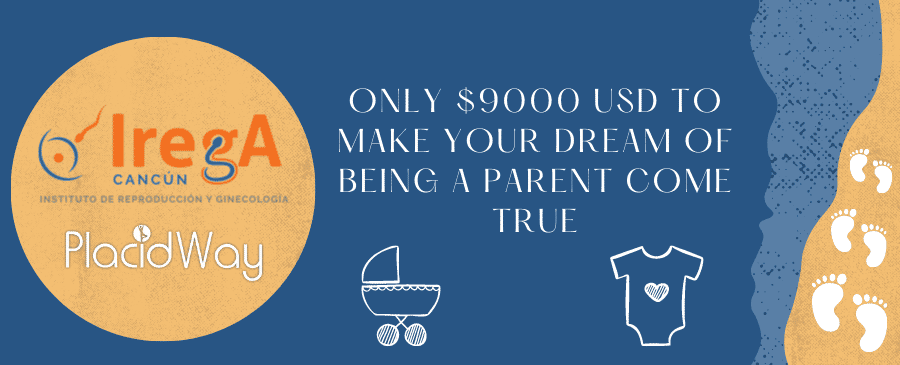 Payment Options Available: Cash, Credit Card, Bank Transfer. 
Note: The clinic might require you to deposit money after agreeing to book the In Vitro Fertilization treatment.
Inclusions for IVF in Cancun Mexico Package by IREGA
Medical care

Laboratory work. 

Constant observation

Monitoring

Medical fees

Follicular aspiration

Embryo retrieval/transfer
Exclusions for IVF in Cancun Mexico Package by IREGA
Medications at home

Hotel or recovery house

Airfare
List of Pre-Op Test in In Vitro Fertilization Package in Cancun, Mexico by IREGA
Before beginning In Vitro Fertilization treatment, a lot of tests are needed, such as:  
Ovarian reverse testing tests the level of follicle stimulation hormone. 

Uterus examination using an ultrasound. This will determine the state of the uterus and the best way to implant the embryos. 

Sperm testing. 
Note: Pre-op tests should be done somewhere around 2 to 4 weeks before In Vitro Fertilization treatment. The specific tests are recommended later after the actual assessment of the patient.   
Procedure of In Vitro Fertilization in Cancun Mexico at IREGA
In Vitro Fertilization is an uncomplicated procedure that consists of 5 steps: 
Stimulation of ovulation
After injections of hormones, the ovaries stimulate ovulation. The injections used are follicle-stimulating hormone (FSH) and luteinizing hormone (LH). This procedure can last between 10 and 12 days under ultrasound monitoring and follicles growth evaluation. 
Follicular aspiration
Once the ovulation is stimulated, it's time to extract the eggs that are inside the follicles. A needle is inserted through the vagina. This procedure can take between 20 to 30 minutes under general or local anesthesia depending on the patient. 
Fertilization
After the extraction of the eggs, the sperm can enter the egg. This fertilization requires the incubation of each egg with already-trained sperm. The result can be seen by microscopic visualization of pronuclei (male and female), 16-20 hours after incubation of both gametes. 
Embryo Culture
When the eggs are fertilized, they are kept in an incubator for up to 5 days depending on their quality. 
Embryo transfer
The final step is performed without analgesia or anesthesia. It takes about 15 minutes in the operation room. This procedure features the entry of a thin tube through the cervix. Once inside, the embryos are placed in the uterine cavity. After this step, the eggs should continue their development until they begin implementation. 
Advantages of Getting IVF Treatment in Cancun Mexico from IREGA
Along with the low cost, you'll get a lot of advantages when you undergo In Vitro Fertilization at IREGA, such as:
High success rate. 

Friendly team and doctors 

Comfortable experience 

Diverse IVF procedures (donor egg+own sperm, donor egg+donor sperm, and more) 
Patient Reviews about IVF in Cancun, Mexico by IREGA
"After trying in other clinics in Mexico, I reached IREGA Cancun and I got my pregnancy on the first try. And now I enjoy my little beloved ones that have enlightened my life. Thanks to Dr. Bry'an and all the IREGA Cancun team."  

"Because of IREGA, now I have the privilege of being a mom, thanks!" 

"We are very pleased to have made the best decision to put our case in the hands of IREGA Cancun. We now have a beautiful nine-month-old princess and that is priceless. Thank you!" 
IVF Specialist in Cancun, Mexico at IREGA Hospital
Dr. Bryan A. Oliveros Galeana: Director of IREGA and head of the Reproductive Medicine Service. 
Why Choose IREGA Hospital in Cancun Mexico for Ferility Treatment?
At IREGA, the success rate of getting pregnant and giving birth to a healthy baby through In Virto Fertilization is: 
40% in women under 35 years. 

Between 27-36% in women aged 35-37 years. 

Between 10-13% in women over 40 years. 
All Important Questions Asked about In Vitro Fertilization with Answers
Below you can see all important frequently asked questions with answers about In-vitro fertilization:
Are babies born through IVF Treatment live a healthy life?
Intensive studies show that infant development is normal in babies born through In Vitro Fertilization. 
How can I prepare my body for In Vitro Fertilization treatment?
It is recommended that you should prepare your body for treatment by eating healthy, taking prenatal vitamins, having a healthy weight, stopping smoking, drinking alcohol, and recreational drugs. 
What food should I avoid if I'm going through IVF treatment?
It's better to avoid fizzy drinks such as soda, along with refined sugar, high GI carbohydrates, trans fats, processed meat, and ready meals. 
What should I not do during In Vitro Fertilization treatment?
It's recommended to avoid CrossFit or any high-intensity training.
How to Book In Vitro Fertilization Packages in Cancun, Mexico
You can start your In Vitro Fertilization treatment now by booking an appointment with IREGA. Contact us for more information! 
Related Experiences:
IVF Fertility Treatment in Mexico - Affordable and Safe
IVF Fertility Treatment in Georgia: Affordable Fertility Care
IVF Fertility Treatment in Colombia - Successful IVF Treatment
IVF Fertility Treatment in India - Hope for Family
Get Pregnant with IVF Fertility Treatment in Costa Rica
IVF Fertility Treatment in Cyprus - Affordable IVF Treatment