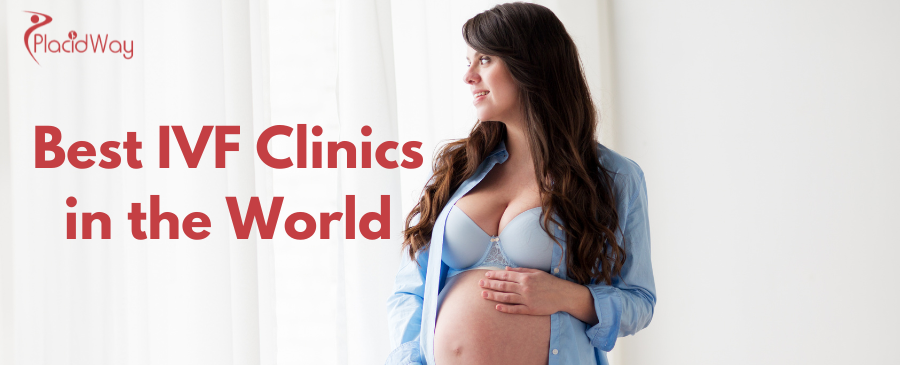 Are you looking for the best IVF clinics in the world? With an ever-changing fertility landscape and advances in medical technologies, making the right choice is difficult. To help patients decide which clinic to trust with their care, here's a curated list of this year's top International Fertility Center IVF Centers. This blog post will offer an overview of some of the premier fertility destinations around the world, specially selected by our team here at IFCC based on safety standards, quality protocols and patient outcomes. We want to give everyone access to only the highest caliber facilities available today so that you can be sure you are choosing from among highly experienced professionals whose goal it is to make your dream of becoming a parent possible.
| | |
| --- | --- |
| Clinics | Countries |
| | Mexico |
| | UAE |
| | Mexico |
| | Cyprus |
| | Dominican Republic |
| | Turkey |
| | Thailand |
| | Costa Rica |
| | Georgia |
| | USA |
Details of 10 Best IVF Clinics in the World 2023
1. Neorigen Fertility Clinic
Neorigen is a full-service medical center that specializes in Fertility and Regenerative medicine. It has several branches across Mexico, including Guadalajara, Mazatlan and Tijuana. The leading specialties at Neorigen Clinic are Gynecology and obstetrics, fertility, prenatal exercises, traumatology, physical therapy and rehabilitation, clinical spa, and medical aesthetics.
2. Dr. Mazen IVF Clinic
Fertility Center of Dr. Mazen Dayeh will provide you with reliable fertility solutions with IVF and Gynecology. With the presence of this Fertility Clinic, of course, it can increase the opportunities for couples who want to have a baby soon. With the skills and experience of Dr. Mazen Dayeh and his team, you will be able to get the best medical services you need.
3. Family Hospital
Family Hospital offers a wide range of fertility procedures to help our patients achieve their desired results. Whether you are looking for IVF, gender selection, egg and sperm feezing, Family Hospital have the experience and knowledge since 2003 to help you achieve your goals.
4. Kyrenia IVF Hospital
Kyrenia IVF Hospital is home of the most advanced IVF clinic centers located in Kyrenia, Cyprus. This Cyprus IVF Clinic Center is tackling the challenges that couples are facing to have a child since more than 20 years. Their reliable treatments and methods within a meticulous medical platform always thrive for excellence.
5. Dr. Nicolle Martinez Clinic
Dr. Nicolle Martinez provides best IVF in Dominican Republic. Treatments available are ICSI, Egg Freezing, and IUI  and more by Dr. Nicolle Martinez. Dr. Nicolle Martinez Clinic aims to give the best medical attention to patients seeking for infertility treatment. Make sure that you choose IVF in Dominican Republic which can provide you with the best convenience and experience. With Dr. Nicolle experience in treating local and overseas patients, Dr. Nicolle Martinez and her team will be ready to provide safe and effective treatments. 
6. Medicana IVF Center
Medicana International IVF Center, is a renowned fertility clinic in Istanbul, Turkey, with extensive experience with In Vitro Fertilization. Most fertility specialists at this center have been educated and trained in the EU or the USA, and have many years of experience working with foreign couples. The center offers the latest Assisted Reproductive Technologies such as ICSI, IMSI, PGD, IVF and many more, performed with modern medical equipment.
7. Takara IVF
Takara IVF specialists and professionals are highly skilled and take care of every step in the journey to parenthood. With their availabilities of internationally accredited facilities and medical professionals who specialize in IVF/ICSI and 24 chromosome PGS-NGS, Takara aims to provide the best solutions.
8. Azul Fertility Experts
Azul Fertility Experts is one of the few clinics in San Jose, Costa Rica that have made an exception with world-class fertility treatment. Till date, the clinic has helped over thousands of patients across the world to get rid of infertility-related problems. It can be a reliable place to get comprehensive fertility services at an affordable price.
9. Beta Plus Fertility
Beta Plus Fertility clinic in Tbilisi Georgia  is a Best Fertility Clinic. You can get various medical services such as IVF, Egg Donor, Gestational Carrier, as the best solution for couples around the world who are struggling with infertility. Present with professional doctors and also a qualified medical team, you will get the best and effective solution for the fertility you desire.
10. Fertility CARE IVF Center
Fertility CARE IVF Center is one of the longest established IVF programs in the Winter Park – Orlando, Florida area.  IVF Center mission is to provide accessible, affordable, patient-centered, and advanced reproductive treatment so all patients have the opportunity to build their family. 
The success of the IVF Program at Fertility CARE is due to our scientific and technological excellence coupled with our compassionate and highly personalized approach to patient care. 
Fertility CARE is committed to each couple's success by providing individualized and supportive care along the way.  We consider each couple part of our family as we attempt to help them create their own.
11 Questions You Should Ask a Fertility Doctor before a Treatment Abroad
Finding out that one person in a couple could be having a fertility problem is not an easy revelation to accept. However, there are different types of fertility treatments today which can help you conceive and the answer should be in one of those treatments. Depending on where you live, some of those treatments might be unavailable or might be much cheaper abroad, which is why a lot of people decide to leave their home countries for a fertility treatment.
When going abroad for a fertility treatment, you have to choose a clinic wisely. To this end, we propose asking questions to the doctor that works in that clinic and note down the answers. Once you do this, you will have the information required to compare and make the right decision. The following questions will help you get as much information as you should need.
1. Why aren't we able to conceive?
This is the question on all couple's minds when they find out that they can't conceive. The problem is that there is no single answer to this question, as there are a lot of factors involved. The doctor would have to perform various tests and see what is going on. If you have already done some tests, you could send the results to the doctor in question and see what he or she can tell you from them.
2. Which treatment do you recommend to start with and why?
Once the doctor has looked at the tests and provided an answer to why you aren't able to conceive, you should ask him about the recommended fertility treatment. All fertility treatments should be personalized for each individual couple, as every infertility situation is unique. The doctor should give you an extensive answer as to why they think the treatment they are proposing would work. Take down notes and be sure to ask for a second opinion, in order to be sure.
3. Are there any side effects that we should be wary about?
Each treatment comes with its own possible side effects, which should not manifest on every occasion. The doctor should go through all of them and explain which side effects are mild and bearable and which could have a more serious impact on your health. Ask this for every recommended treatment so that this can be a factor when choosing which treatment you should receive. Also, ask about the chances for multiple births, as some treatments have a higher possibility of having twins or triplets.
4. What is the live birth rate of this treatment?
Notice that you shouldn't ask about successful pregnancies here, but about live births. The thing is that most fertility clinics report success rates as successful pregnancy rates. The problem is that not all successful pregnancies from fertility treatments resolve in a live birth, as there are also cases of stillborn children. A good doctor will be upfront about this and will tell you how things stand. If they refuse to answer, and insist on successful pregnancies rate, then you should seek another doctor.
5. What is the cost of the treatment and how many cycles does that cost cover?
Fertility treatments are usually carried out in multiple cycles to ensure maximum efficiency, or if the previous cycles have failed to produce results. This, of course, affects the price of the treatment. As you are going abroad, you need to know how much money you will need (since going abroad for any treatment is not covered by medical insurance). Make sure that you are properly informed about the costs of the treatment, the number of cycles that will get you, and also ask about the cost of the medications and tests. In some cases there are all charged separately, but there are also treatment packages which include all of these and more.
6. How long ago was the clinic established?
The time that the clinic has been around for shows how much experience in dealing with infertility the clinic has. This does not mean that the newer clinics don't have experts and are not good, but the more the clinic has existed for, the more situations they have been through. Experience is always important, for any treatment, so you should definitely consider it to be an important factor in making your decision.
7. How many treatments does the clinic do per year?
This one is up to your personal taste. Some couples prefer to choose clinics which do a large number of treatments yearly, as it shows that they have experience and that they are highly efficient. On the other hand, other couples prefer smaller clinics, with fewer patients per years, because they feel that they may get an adequate and personalized care there. This one is up to you, there are no bad choices, however, don't be awed if the doctor comes out with a really large number. It might mean that you will not get the attention that you deserve.
8. Does the clinic do screenings for genetically transmitted diseases?
This will show you how seriously the clinic takes its patients. When trying to conceive, you have to worry about what will happen if you do conceive. A lot of clinics have started offering screenings for genetically transmitted diseases, such as Down syndrome, which may not be active with the parents, but it may manifest in the offspring. Be sure to ask whether this will be a part of the treatment. It shouldn't be the decisive factor whether they do or don't do these screenings, but it should definitely make it into your consideration.
9. Will we be treated by the same doctors for the duration of the treatment?
Having the same doctor for the whole duration of the treatment is extremely important. Since most fertility treatments are personalized, it is vital that you have a doctor who will be dedicated to you. This doctor will know all about your situation and it will lessen the chances of something going wrong with the treatment due to human error.
10. What happens if we don't conceive?
If the treatment is unsuccessful, you should know what further options are at your disposal. You should also find out how much time has to pass before you can try again. See if the clinic offers some discount on further cycles and further treatments.
11. Is the treatment legal in your country?
Different countries have different laws about fertility treatments and therapies. Some therapies that are perfectly normal in some countries might be a license-losing offense in others. Be sure to check with the doctor about the legality of the treatment, but also look for other sources, just in case.
Choosing a fertility treatment is a very stressful situation for the couple trying to conceive, especially if it is done abroad. It involves a lot of costs, a lot of research and a lot of nerves about the future. In order to make the right choice, you have to be informed about all the options and about how they can play out. By asking these questions, you will be on the right track. 
If you ever need any other information or help about choosing a treatment abroad or best ivf clinics in the world, we are always there to help, contact us!