Iakentro Egg Donation Agency | Offering Hope
Best In Vitro Fertilisation Hospital, Infertility Center, Affordable IVF Treatment Clinic, Surrogacy Treatment, Intra-Uterine Insemination Cost, Top Qualified Embryo Freezing Doctor, Benefits of In Vitro Fertilisation, Athens, Greece

Iakentro Egg Donation Agency, located in Thessaloniki and Athens, Greece, offers women and couples hope of having a family they've dreamed of for so long. The egg donation agency specializes in egg donation, infertility, IVF treatments, in vitro fertilization and surrogacy procedures that have given thousands of women the joy of success.
Iakentro's motto is, "It's never too late to feel the joy of motherhood."  The facility offers not only high-quality services, but also compassionate and caring staff who has designed specialized and innovative units in multiple in vitro fertilization fields, maternal fetal medicine, molecular biology and genetics.  "We aim to make your dreams come true," states Nikos Prapas, Professor of Obstetrics and Gynecology at the Aristotle University of Thessaloniki.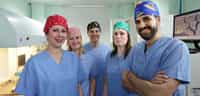 Staff at Iakentro is dedicated to offering the best in fertility treatments to clients, including assisted reproduction technologies, intrauterine insemination, male infertility treatments, and sperm and oocytes donation services. "That's not all that this Greek egg donation agency provides," states Pramod Goel, CEO and founder of PlacidWay, a leading international medical provider and resource. "Iakentro also offers and promotes gestation or surrogacy, biochemical assessment, assisted hatching and in vitro maturation of oocytes, offering enhanced results when it comes to success."
Doctors, researchers and staff at Iakentro are extremely experienced and educated in assisted reproduction procedures, and have high rates of success in many of them, including intrauterine insemination, ICSI (intracytoplasmic sperm injection)  and TESE (testicular sperm extraction with fine needle aspiration) and embryo donation scenarios.
Success rates at Iakentro for women under 35 years of age averages 62% to 63% success rates,  while those between 35 and 37 years of age experience a 48% to 49% success rate utilizing standard in vitro fertilization technologies. Success rates for each age group increase when utilizing oocytes or sperm donation procedures.
Preserving the Future
Professor Prapas has developed a revolutionary method of vitrification of oocytes that produces a viability rate as high as 90%. "This method is applied to women of a young age, when their oocytes are still young and who wish to start a family at a later age due to career obligations or other circumstances," says Prapas. "By applying this method, we are essentially freezing time and giving all women the opportunity to feel complete through childbearing, even if their biological clock has already stopped ticking."
About Iankentro
The fertility treatment center, located in Athens, has expanded activities and services throughout the Balkans in the past few years. Originally starting in Thessaloniki in 1998, the facility has expanded to Athens, Greece, and to Tirana, Albania, extending as far as Sofia, Bulgaria in recent years.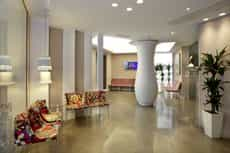 The main facility in Thessaloniki is an ultra-modern, five-story building with state-of-the-art technologies and equipment in in vitro fertilization, maternal fetal medicine, genetics and molecular biology.
It's never too late to enjoy motherhood, and staff at Iakentro is dedicated to offering the best in high-quality care, services and technologies to women and couples who come to them for help.
For more information regarding infertility procedures, egg donation procedures, and fertility specialists at Iakentro, visit PlacidWay.com.
Related Experiences:
IVF Fertility Treatment in Colombia - Successful IVF Treatment
IVF Fertility Treatment in India - Hope for Family
Get Pregnant with IVF Fertility Treatment in Costa Rica
IVF Fertility Treatment in Georgia: Affordable Fertility Care
IVF Fertility Treatment in Cyprus - Affordable IVF Treatment
IVF Fertility Treatment in Dubai - High-Quality Treatment
2012-06-22 / Updated on: 2021-01-08