Selcuk Gozcu, Neurological surgeon - Istanbul, Turkey
Atakent, 4. Cd. No:36, 34307 Küçükçekmece/İstanbul
Istanbul, Turkey
Speciality:
Neurological surgeon,
Focus Area:
Selcuk Gozcu | Istanbul | Turkey | Neurology Doctor | Brain and Nerve Surgery Specialist
---
About - Selcuk Gozcu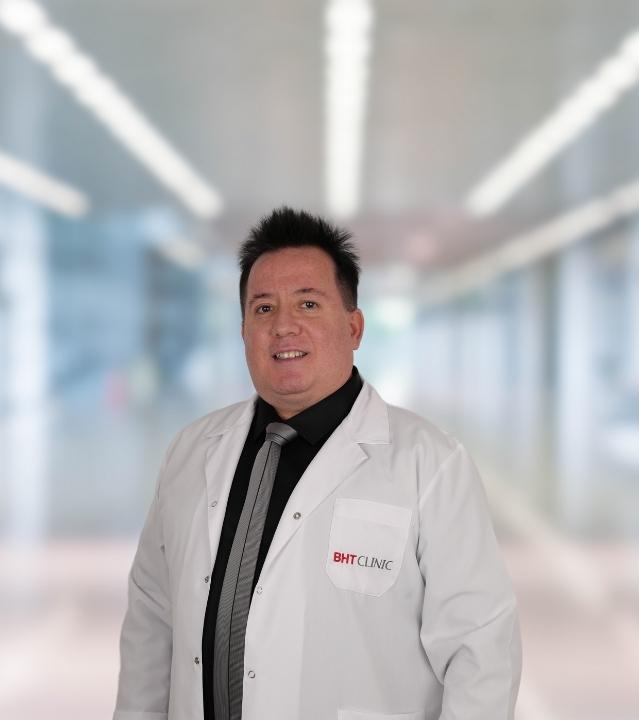 Dr. Selcuk Gozcu is a Brain and Nerve Surgery Specialist who has gained extensive experience working in both public and private hospitals in Turkey. He started his career at the Okmeydanı Training and Research Hospital, where he provided his expertise as a Brain and Nerve Surgery Specialist. He later worked at the Agrı State Hospital where he continued to excel in the Brain and Nerve Surgery field.
Dr. Gozcu received his medical education at Karadeniz Technical University Faculty of Medicine, and later received specialized training in Brain, Nerve, and Spinal Cord Surgery at the Okmeydanı Training and Research Hospital.
Dr. Gozcu is a member of the Turkish Neurosurgery Association, demonstrating his commitment to staying up-to-date with the latest developments in his field and maintaining his high level of expertise. Overall, Dr. Selcuk Gozcu is a highly skilled and experienced Brain and Nerve Surgery Specialist who has made significant contributions to the medical community in Turkey.
Contact Dr. Gozcu to discuss your medical treatment options today.

Prices
| BHT CLINIC Istanbul Tema Hastanesi Prices in Istanbul Turkey | Prices | Enquire |
| --- | --- | --- |
| Follicular Unit Extraction FUE in Istanbul, Turkey | $2645 | Enquire |
| Mommy Makeover in Istanbul, Turkey | $10300 | Enquire |
| Tummy Tuck Surgery in Istanbul, Turkey | $5600 | Enquire |
| Brazilian Butt Lift in Istanbul, Turkey | $5600 | Enquire |
| Gastric Bypass in Istanbul, Turkey | $7500 | Enquire |
| Penile Augmentation in Istanbul, Turkey | $19950 | Enquire |
| Urethra or Penile Surgery in Istanbul, Turkey | $19950 | Enquire |
---
BHT CLINIC Istanbul Tema Hastanesi reviews
Oksana B

I'm very happy with my result!Ty everybody who take part in my trip!Special Konul …she help me and explain me everything!

Feb 14 2023

Daniel B

Hospital with perfect service, doctor, nurse available at any time, staff who never come bored, but always smiling, correct people, everything in perfection, cleanliness, food, communication, service, success in your work

Google

Feb 13 2023

Yousuf A

As a foreigner in Turkey, I try to find a hospital that provides good service, modern and do have English speaking doctors or translators.
I tried many other hospitals in Istanbul, but wasn't satisfied as I am with BHT.
The hospital is clean, staff are friendly and welcoming, translators are all over the place, and they also have some English speaking doctors.
They provide valet parking service that was very convenient and they also have a huge affordable paid parking area.
I consulted a doctor and made few tests, until my test results are out, I stayed at the hospital cafe, it was Starbucks... so they served very good coffee and good food as well.
The only negative point that I have is that I was required to wait for almost 2 hours just for the doctor to check my tests result and confirm a suspension that he has, while they could have sent me home and notified me by phone if I required to come back or not.
Generally, the hospital is clean, modern and do have excellent capabilities.
I highly recommend it for foreigners and locals.

Google

Feb 01 2022

Henok G ( H B

Clean clean clean very clean clinic/ Hospital feels like you are checking in a 5star hotel, the rooms are new and clean and equipped with the art of state health equipment, the nurses and doctors are very friendly and very helpful. The food is very good and fresh. Has shopping at the lobby. A little bit hard to understand win English but trust me you will communicate somehow.
I highly recommend it

Google

Mar 05 2022

Betül V G

Hospital that deserves more stars. My doctor Neslihan Bahat is a wonderful doctor. Midwives, nurses, floor supervisors are likewise the same. Although this hospital, where I gave birth 3 weeks ago, is 2-3 times more expensive than other hospitals, it is definitely worth it. I would still pay the same amount again. We paid 8.500 TL for normal delivery. We stayed in a standard room. If you want a suite room, you have to pay an extra 750 TL, but it is not necessary, the standard room is also very nice and clean. The only difference is that the suite room is bigger. They always come for cleaning during the day. The food is pretty good too. Even though I stayed for one night, they came to check me and the baby day and night and took care of me. Everyone is very friendly and understanding. It is definitely a hospital that can be preferred to get through your difficult moments in the best way. The best part is that the birth takes place in your own room. All equipment and employees come to the room and then you do not stay away from your baby even for 2 minutes. Your baby is always in front of your eyes and all the procedures are done with you. The hospital also attaches importance to skin-to-skin contact and applies it. If you wish, your spouse can also go into labor with you. This was a very important issue for us and it was our reason for preference. Thank you very much to the hospital, our doctor and all the staff.

Google

Feb 14 2022

Gulendam P

Extremely caring, friendly and expert staff in their field... I highly recommend it...

HEC Turkey (Health Education Center)

Jun 24 2022
---
Neurology Related Packages
PlacidWay.com provides information and travel related services. We do not provide health care services. We provide information solely for informational purposes and do not endorse any particular health care provider or facility or any particular health care service or treatment. We are not affiliated with any health care provider or service and we are not responsible for any health care service. Please consult with your own domestic licensed health care provider before seeking the services of any health care provider you learn about via our site.
---