Stem Cell Therapy for Autism in Mexico - PlacidWay
Cost Effective Regenerative Therapy for Autism in Mexico
It is hard to cope with autism. You would like to know if there's only a bit of hope that your child can improve his social and emotional behavior. With Stem Cell Therapy for Autism in Mexico, you can help your child perform normal daily activities in a long term. Mexico clinics provide high-quality stem cell treatment that is science-based. Keep reading this guide to know how to help your child fight autism with effective cell-based therapy. 
Our Recommendation:
• Clinic: Progencell, MexStemCells, Immunotherapy, Stem Health, Cmcells and Holistic Care
• Location: Mexico
• Procedure: Stem Cell for Autism
• Package Price: Starts at $3,900 - $8,500
• Cost in Other Countries: $15,000 - $18,000
• Doctor: Dr. Jose Alejandro Robert, MD David Uribe Rodriguez, Dr. Nayeli Vega Salais, Dr. Ernesto Romero Lopez, Dr. Angelica Duran, and Dr. Suye Suenaga
• Top Tourist Attractions: Famous Summer Resort in Puerto Vallarta, Chichen Itza, and Mayan Ruins Tower in Tulum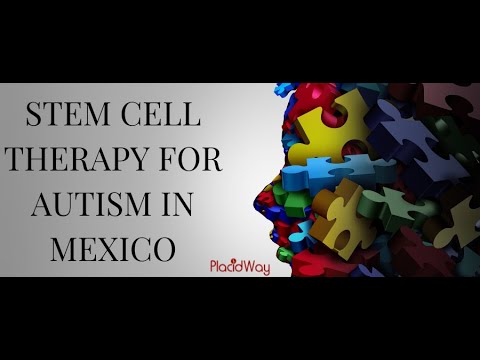 ---
Most Popular Packages for Autism Treatments in Mexico Using Stem Cell
Many clinics in Mexico offer affordable packages for autism stem cell therapy you will not be able to resist. Including accommodation in a clinic, transportation, and translation services, the package price will perfectly fit your budget. Prices range between $4,900 and $8,500 for stem cell therapy in Mexico.
However, you must take into consideration the type of stem cell used for the treatment, as well as the clinic location. For these reasons, prices may vary, but after all, it is still more affordable to treat autism with stem cells in Mexico than in America, or Canada. In the next section, you will have the chance to compare the cost in other countries.
---
Cost of Stem Cell Treatments for Autism in Mexico Vs. Other Countries
Regenerative Medicine Center in Mexico are offering treatments for a variety of conditions at low prices. You can expect to pay around $6,400 for Stem Cell for Autism in Mexico. In North America, the same treatment will cost you from $15,000 which is far less expensive than in Mexico. The following table shows the costs of Autism Regenerative Therapy in America and Canada.
Stem Cell Treatment for Autism Centers Cost Comparison in Mexico
| Provider | Procedure | Price |
| --- | --- | --- |
| Progencell - Stem Cell Therapies | Stem Cell Treatment for Autism , Stem Cell Therapy | $8300 |
| MexStemCells Clinic | Stem Cell Treatment for Autism , Stem Cell Therapy | $6400 |
| Cmcells Centro Medico Celular | Stem Cell Treatment for Autism , Stem Cell Therapy | $3900 |
Stem Cell Treatment for Autism Cost Comparison in Mexico

| Country | Procedure | Price |
| --- | --- | --- |
| United States | Stem Cell Treatment for Autism , Stem Cell Therapy | $18000 |
| Canada | Stem Cell Treatment for Autism , Stem Cell Therapy | $15000 |
| Austria | Stem Cell Treatment for Autism , Stem Cell Therapy | $12000 |
---
Top-Rated Clinic for Stem Cell in Mexico with the Latest Technology
There are many stem cell clinics across Mexico, offering stem cell therapies for a variety of conditions. The clinics are equipped with the latest technology and use a science-based approach to treating autism. You will find below some of the best clinics we recommend that already work with international patients who suffer from autism.
---
Watch Most Trending Videos about Cell Therapy for Autism in Mexico
Here you can watch interesting videos that explain Stem Cell Treatment in Mexico in detail. Check the videos below and find out more.
---
Positive Patients Reviews about Alternative Treatment for Autism Using Stem Cell in Mexico
Are you looking for former patient reviews to learn about their experience with alternative therapy for autism using Stem Cell in Mexico? Then you came to the right place because we also provide you with positive reviews that other patients share with you. Read them below.
---
Top Questions and Answers about Cell-Based Therapy for Autism in Mexico
Which clinics does Mexico have and how much is stems cell therapy for autism there? On these questions we already have answers. You can read them below.
---
Experienced Doctors for Regenerative Therapy in Mexico
Board-Certified Cell Therapy Doctors in Mexico are experienced medical professionals who are passionate about stem cell therapy. They are committed to providing the best care to their patients. These Regenerative Medicine doctors specialize in treating autism conditions with cell-based treatments. They are trained in prestigious institutions and have the knowledge and experience to administer the therapies most effectively. Your child will get the best care to cope with autism in a long-term.
---
Popular Tourist Attractions to Discover in Mexico Before Getting Stem Cell Treatments
When you think of Mexico, images of ancient ruins, spice-filled villages, and sunny beaches come to mind. But Mexico is much more than this. In fact, Mexico is a vast country with many different regions, each with its own unique attractions.
Adrenaline-pumping activities like skydiving and deep-sea fishing, relaxing spa treatments and massage, and cultural experiences in Mayan ruins, are popular tourist attractions worth discovering.
• Puerto Vallarta - Famous Summer Resort
• Chichen Itza - UNESCO Herittage Site
• Mayan Ruins Tower in Tulum
---
Fight Autism with Stem Cell Therapy in Mexico - Book Now at PlacidWay!
In this article, you've found which clinics in Mexico offer the best price for effective stem cell treatment. For only $4,900 your child will be able to fight autism on daily basis with ease. Ready to start preparing for a life-changing trip to Mexico? Then contact our PlacidWay team to help you with planning.

---