Stem Cell Therapy for Autism in Mexico
Hope for Autism - Explore Regenerative Medicine in Mexico
In recent years, there has been a growing sense of hope for individuals and families affected by autism, thanks to the promising strides made in the field of stem cell therapy. Stem cell therapy offers a novel approach to addressing the challenges associated with autism spectrum disorder (ASD), focusing not just on managing symptoms but aiming at the root causes. Stem cells possess the incredible potential to regenerate and repair damaged neural connections, potentially leading to improved cognitive and behavioral outcomes in individuals with autism.
This breakthrough avenue of treatment has captured the attention of the medical community worldwide and has given rise to exploration in various medical centers. Mexico has emerged as a notable destination for individuals seeking advanced stem cell therapy for autism. The country boasts top-notch clinics and accomplished doctors who specialize in providing cutting-edge stem cell treatments tailored to address the unique needs of each patient.
These clinics offer comprehensive packages that include thorough assessments, personalized treatment plans, and follow-up care to ensure the best possible outcomes. Beyond the medical expertise, Mexico also offers a supportive environment that emphasizes patient comfort and well-being. By exploring stem cell therapy for autism in Mexico, individuals and families affected by autism are tapping into a realm of possibilities that hold the potential to reshape lives, instill newfound hope, and unlock brighter futures for those living with ASD.
• Clinic: Stem Health, CMCELLS Centro Medico Celular, Holistic Care, Clinica MER, Sportmed Centro Medico, and Immunow Oncology Center.
• Location: Mexico
• Procedure: Stem Cell Therapy for Autism
• Package Price: starts at $4,000
• Cost in Other Countries: $15,000 - $25,000
• Doctor: Dr. Jose Alejandro Robert Montenegro, M. Sc. David Uribe Rodriguez, Dr. Nayeli Vega Salais, Dr. Cythia Guadalupe Leon Adriano, Dr. Adriana Gudino, and Dr. Fernando Estrella.
• Top Tourist Attractions: Chichen Itza, Tulum, Museo Nacional de Antropologia, and many more!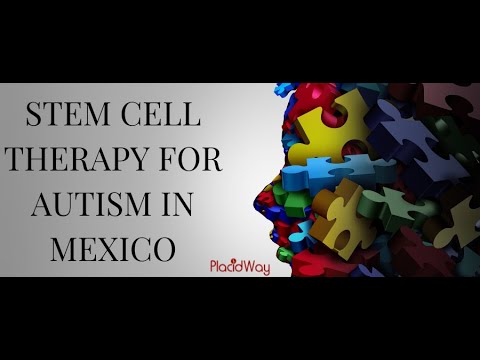 ---
Popular Packages for Autism Treatments in Mexico Using Stem Cell
Mexico has been gaining attention for its innovative approaches to autism treatment, and stem cell therapy is one of them. Stem cells have the potential to support neurological development and function, which makes them an intriguing option for addressing the challenges associated with autism. Many families have been exploring these treatment packages because of their holistic approach and potential benefits. However, it's important to note that while stem cell therapy shows promise, it's still considered an emerging field and research is ongoing. As you consider your options, be sure to gather comprehensive information, consult with medical professionals, and make informed decisions that best suit your individual needs and circumstances. Remember, personalized care is essential when it comes to autism treatment, and finding the right approach for your loved one is the top priority.
---
Cost of Stem Cell Treatments for Autism in Mexico
Well, I'm here to give you a bit of insight. The cost of stem cell treatment for autism in Mexico can vary based on a few factors. Generally, it's more affordable compared to many other countries, but the final price can depend on the clinic you choose, the type of stem cell therapy offered, the extent of the treatment plan, and any additional services or accommodations. While costs can differ, many people find that opting for treatment in Mexico can be a more budget-friendly option without compromising on the quality of care.
Stem Cell Treatment for Autism Centers Cost Comparison in Mexico
| Provider | Procedure | Price |
| --- | --- | --- |
| Stem Health | Stem Cell Treatment for Autism, Stem Cell Therapy | $4000 |
| Cmcells, Centro Medico Celular, (Stem Cells Medical Center) | Stem Cell Treatment for Autism, Stem Cell Therapy | $6500 |
| Holistic Care | Stem Cell Treatment for Autism, Stem Cell Therapy | $10000 |
| Immunow Oncology Concierge | Stem Cell Treatment for Autism, Stem Cell Therapy | $4025 |
| Clinica MER | Stem Cell Treatment for Autism, Stem Cell Therapy | $5100 |
Stem Cell Treatment for Autism Cost Comparison in Mexico

| Country | Procedure | Price |
| --- | --- | --- |
| United States | Stem Cell Treatment for Autism, Stem Cell Therapy | $25000 |
| Canada | Stem Cell Treatment for Autism, Stem Cell Therapy | $15000 |
---
Top 6 Stem Cell Clinics in Mexico for ASD Patients
If you're on the lookout for the best stem cell clinics, Mexico might just be your destination of choice. The country boasts some exceptional clinics that have been making waves in the field of regenerative medicine. Imagine combining a top-notch medical experience with the allure of Mexico's vibrant culture and picturesque landscapes – it's truly a win-win! These clinics, equipped with cutting-edge technology and staffed by experienced professionals, are dedicated to harnessing the incredible potential of stem cells to help you achieve better health and improved quality of life.
---
Video about Stem Cell Therapy for Autism in Mexico - Patient Testimonials
If you're considering exploring the world of stem cell therapy for autism, I've got something pretty fascinating to share with you. Imagine being able to watch video testimonials straight from former patients who've experienced this treatment firsthand. Picture this: real people sharing their real stories about how stem cell therapy in Mexico has impacted their lives or the lives of their loved ones with autism. These testimonials aren't just words on a page; they're heartfelt accounts of experiences, progress, and hope. You'll hear about the challenges they faced, the improvements they witnessed, and the journey they undertook towards a better quality of life. These videos provide an inside look into the journey of those who have taken the path of stem cell therapy, giving you insights that no brochure or website can truly capture.
---
Stem Cell Therapy for Autism in Mexico - Reviews from Verified Patients
Hearing directly from people who've been through the experience can provide valuable insights and help you make an informed decision. These reviews might offer heartfelt stories of improvement and progress, sharing personal journeys that shed light on the potential benefits and outcomes of the therapy. Reading about real-life experiences can give you a sense of hope and possibility, while also helping you understand the challenges that some patients may have faced.
---
FAQs About Stem Cell Therapy for Autism in Mexico
If you're curious about the potential of stem cell therapy for autism and considering options like those in Mexico, you're on the right track! The FAQs about stem cell therapy for autism can provide you with valuable insights into what this treatment involves, how it works, and its potential benefits. Whether you're a parent researching for your child or someone exploring options for yourself, delving into these FAQs could give you a clearer picture of what to expect.
1. What is stem cell therapy for autism, and how does it work?
Stem cell therapy involves the use of specialized cells, called stem cells, to repair and regenerate damaged neural connections in individuals with autism. Stem cells have the unique ability to differentiate into various cell types, promoting healing and potentially improving cognitive and behavioral functions in autistic individuals.
2. Why consider stem cell therapy for autism in Mexico?
Mexico has become a sought-after destination for stem cell therapy due to its advanced medical facilities, experienced doctors, and regulatory environment conducive to innovative treatments. Clinics in Mexico offer personalized treatment plans and comprehensive care packages that cater to the specific needs of individuals with autism.
3. Is stem cell therapy safe for individuals with autism?
Stem cell therapy for autism is considered relatively safe, as it typically involves using the patient's own cells (autologous) or cells from compatible donors (allogeneic). However, like any medical procedure, there are risks and potential side effects. Clinics in Mexico adhere to rigorous safety protocols and guidelines to ensure patient well-being.
4. What benefits can stem cell therapy offer for autism treatment?
Stem cell therapy aims to target the underlying causes of autism by promoting neural repair and regeneration. While individual responses vary, potential benefits may include improved communication, social interaction, behavior regulation, and cognitive functioning in autistic individuals.
5. How are stem cell therapy treatments administered in Mexico?
Stem cell therapy procedures in Mexico typically involve extracting stem cells from the patient's bone marrow or adipose tissue, processing and isolating these cells in a lab, and then reintroducing them into the patient's body. The process is minimally invasive and performed by experienced medical professionals.
6. Are the results of stem cell therapy for autism guaranteed?
Results of stem cell therapy can vary depending on factors such as the severity of the individual's condition and their response to treatment. While significant improvements have been reported in some cases, it's important to approach therapy with realistic expectations and a focus on potential benefits rather than guaranteed outcomes.
7. What support and follow-up care can be expected after stem cell therapy in Mexico?
Clinics in Mexico that offer stem cell therapy for autism typically provide comprehensive post-treatment care, including regular check-ups, therapy sessions, and monitoring of progress. The medical teams work closely with patients and their families to ensure ongoing support and adjustments to treatment plans as needed.
---
Best Stem Cell Doctors in Mexico for Autism Spectrum Disorder
When it comes to finding the best stem cell doctors in Mexico, you're in luck because this vibrant country is home to some truly exceptional medical professionals. These doctors have not only mastered the latest advancements in stem cell therapy but also bring a level of compassion and dedication that sets them apart. They understand that every patient's journey is unique, and they approach each case with a personalized touch, tailoring treatments to suit individual needs.
---
7 Top Reasons of Choosing Mexico for Autism Stem Cell Therapy?
When considering options for advanced treatments like stem cell therapy for autism, Mexico emerges as a compelling destination that combines medical expertise, cutting-edge facilities, and a supportive environment. Here are seven reasons why Mexico stands out for those seeking effective and personalized autism treatment through stem cell therapy:
Advanced Medical Expertise: Mexico boasts a pool of experienced medical professionals who specialize in stem cell therapy for autism. These experts have a deep understanding of the intricacies of the treatment, ensuring the highest quality care for individuals with autism.

Cutting-Edge Facilities: Mexican clinics offering stem cell therapy are equipped with state-of-the-art facilities and advanced technology. This enables precise and effective administration of stem cell treatments, enhancing the potential for positive outcomes.

Tailored Treatment Plans: Clinics in Mexico understand that each individual with autism has unique needs. They offer personalized treatment plans that are meticulously crafted to address the specific requirements and challenges of each patient.

Comprehensive Care Packages: Beyond the treatment itself, Mexico's stem cell therapy clinics provide comprehensive care packages. These packages encompass thorough assessments, follow-up consultations, and supportive therapies to ensure holistic well-being and progress.

Regulatory Environment: Mexico's regulatory environment supports innovative medical treatments like stem cell therapy. This fosters an atmosphere of exploration and advancement, attracting leading experts in the field to contribute to the evolution of autism treatment.

Affordability: Mexico offers a cost-effective option for stem cell therapy, making this advanced treatment more accessible to a broader range of individuals and families seeking alternatives for autism care.

Cultural Sensitivity: Mexican medical professionals approach their work with cultural sensitivity and compassion, ensuring that patients and their families feel understood, respected, and well-cared-for throughout their treatment journey.
Popular Tourist Attractions to Visit in Mexico
If you're dreaming of a Mexican getaway, get ready to be blown away by the enchanting array of tourist attractions that this vibrant country has to offer. Here's a personalized guide to some must-visit spots:
Chichen Itza: Prepare to be transported back in time as you marvel at the ancient Mayan ruins of Chichen Itza. The iconic Kukulkan Pyramid will leave you in awe, and the rich history behind this archaeological wonder is bound to captivate your imagination.
Tulum Beaches: If you're a beach lover, Tulum's stunning coastline is your slice of paradise. Imagine powdery white sands meeting crystal-clear turquoise waters, all set against a backdrop of ancient ruins. Snorkel, swim, or simply soak up the sun – the choice is yours.
Mexico City's Historic Center: Get ready to dive into the heart of Mexico's culture in the bustling streets of Mexico City's Historic Center. From the grandeur of the Metropolitan Cathedral to the artistic flair of the Frida Kahlo Museum, you'll be surrounded by a kaleidoscope of sights and sounds.
Cancun's Nightlife: Calling all party animals! Cancun's nightlife scene is legendary. Whether you're dancing the night away in world-class clubs or sipping cocktails by the beach, the energy and excitement are infectious.
Palenque Jungle Ruins: Embark on an Indiana Jones-esque adventure as you explore the mystic ruins of Palenque. Hidden within the lush jungles, these ancient structures will ignite your sense of discovery and leave you awe-struck.
---
Fight Autism with Stem Cell Therapy in Mexico - Book Now at PlacidWay!
PlacidWay is here to guide you every step of the way in booking a life-changing opportunity to fight autism through stem cell therapy. Mexico's innovative approach to this therapy combined with the warmth of its people makes it an ideal destination for hope and healing. So why wait? Take the first step toward a brighter future today by booking through PlacidWay. Your loved one's journey towards progress and happiness starts now!
---