Dental Crowns in Puerto Vallarta, Mexico
Cost-Effective Dental Crowns in Puerto Vallarta
Searching for an affordable smile makeover in Mexico? Today, we'll guide you to choose Dental Crowns in Puerto Vallarta at only $270! You can save around 70% on the cost of dental crowns at home.
In addition, Vallarta is a popular summer resort visited by millions of tourists annually. Therefore, you will not only regain your beautiful smile and new teeth but also experience a relaxing vacation.
Instead of putting off your dentist visit due to high costs in USA and Canada, now you have the chance to save over $1,000 on a single tooth crown in Puerto Vallarta. Let's find out more about available options.
Clinic: Smile Vallarta
Procedure: Dental Crowns
Package Price: $270
Cost in North America: From $1,000
Savings: Up to 80%
Top Tourist Attractions: The Malecon, Zona Romantica, Our Lady of Guadalupe Parish, etc.
---
Affordable Package for Dental Crowns in Puerto Vallarta
The affordable, comprehensive packages for dental crowns in Vallarta can help you save thousands of dollars plus enjoy a lovely vacation with your family or friends. Our top package deal cost only $270 and includes
All clinic fees
Pre and post-operative consultations
All medical fees and doctor fees,
If you are interested in booking this or another package, reach out to us anytime. Our dedicated team will help you create the best package that suits your needs and budget.
Are you exploring your options for Dental Crowns in Puerto Vallarta? Let us present you with the hig
---
Cost of Dental Crowns in Puerto Vallarta
Dental Crowns cost in Puerto Vallarta around $270 at a world-class dental clinic. Compared to the US price of over $1,750 per single tooth crown, Vallarta is a substantially cheaper option. The type of material used can affect the final cost, but you'll generally find crowns in Vallarta that are around 70% less expensive.
By the way, you have a chance to indulge in the amazing resort of Puerto Vallarta and recover faster from the dental procedure in its pleasant climate.
Look at the cost comparison table below to know the prices.
Dental Crowns Centers Cost Comparison in Puerto Vallarta, Mexico
| Provider | Procedure | Price |
| --- | --- | --- |
| Smile Vallarta | Dental Crowns, Dentistry | $270 |
Dental Crowns Cost Comparison in Mexico

| Country | Procedure | Price |
| --- | --- | --- |
| Canada | Dental Crowns, Dentistry | $1000 |
| United States | Dental Crowns, Dentistry | $1750 |
---
Best Dental Clinic in Puerto Vallarta for Dental Crowns
The dental clinics in Puerto Vallarta offer the same quality services as the clinics at home. They provide the same treatments, have modern facilities, and use brand materials. A highly trained medical team in Vallarta clinics ensures outstanding quality treatment.
You can be confident that the teeth crowns in Puerto Vallarta will be made from the same material as crowns at home but at a more reasonable price here.
Below is a profile of a top dental clinic in Puerto Vallarta that has worked with international patients for many years. See clinic photos, read patient reviews, and meet certified dentists.
Top Center
Smile Vallarta is a modern dental office located in the beautiful Mexican resort of Puerto Vallarta. The clinic is in business for 15 years and offers a full range of affordable general and specialist dental care.
---
Interesting Videos on Dental Tourism in Mexico
Discover why thousands of dental tourists from America and Canada go to Mexico for dental work and which are the best clinics in Mexico where you can have a smile makeover. Watch the following videos to learn more.
---
Dental Work in Puerto Vallarta Reviews
---
Best Dentists in Puerto Vallarta for Dental Crowns
Best dentists in Vallarta to provide same-day teeth crowns using CAD/CAM technology. Getting a dental crown in Puerto Vallarta takes 2-3 days. Your dentist will schedule two appointments.
The dentist will thoroughly clean and shape the tooth on your first visit using a drill. He makes teeth impressions so the lab can produce the crown to fit your tooth. The dentist will fit a temporary crown while the lab work is carried out.
On your last visit, a dentist removes the temporary crown and prepares a tooth to receive the new dental crown. When you and your dentist are happy with the new crown, he will firmly cement it in place.
Therefore, if you are ready to schedule your consultation with a certified Vallarta dentist, contact us and we will connect you.
---
Explore Dental Tourism in Puerto Vallarta
Just a few hour's flight away from the USA, Puerto Vallarta is an accessible destination for dental tourists. The city provides sun, sea, and eye-catching natural scenery, making it the perfect place to unwind.
Dental tourism in Puerto Vallarta is increasing every year, which benefits patients in several ways. You get savings of up to 80% on various dental procedures. Another advantage is that you can save on travel time since Vallarta is close to the US.
And last but not least, you can enjoy a relaxing getaway in this beautiful city on the Pacific Ocean coastline. Therefore, we suggest you take some time to explore Puerto Vallarta's main attractions such as:
Malecón Boardwalk
Zona Romántica
Centro Histórico
Our Lady of Guadalupe Parish
Puerto Vallarta Beaches
5. Bay of Banderas
Mirador Cerro de La Cruz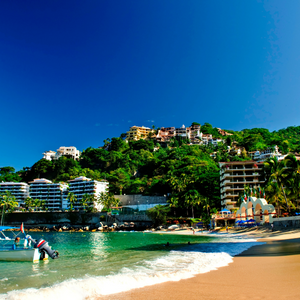 Puerto Vallarta Beach
---
Choose Dental Crowns in Puerto Vallarta Today!
Interested in having Dental Crowns in Puerto Vallarta? You can easily book your dentist appointment via our Customer Care team or get a FREE quote by submitting the form on the right.
We will be happy to guide you on your dental trip to Vallarta, Mexico!
---