Best Dental Veneers in Los Algodones, Mexico
Package price starting from:
$395
Treatment:
Dentistry, Dental Veneers
Focus Area:
Best Dental Veneers in Los algodones Mexico | Zirconia Veneer | Dental Care | Porcelain Veneers | Cosmetic Dentistry | Sani Dental Groups |
---
High Quality Veneers in Los Algodones Mexico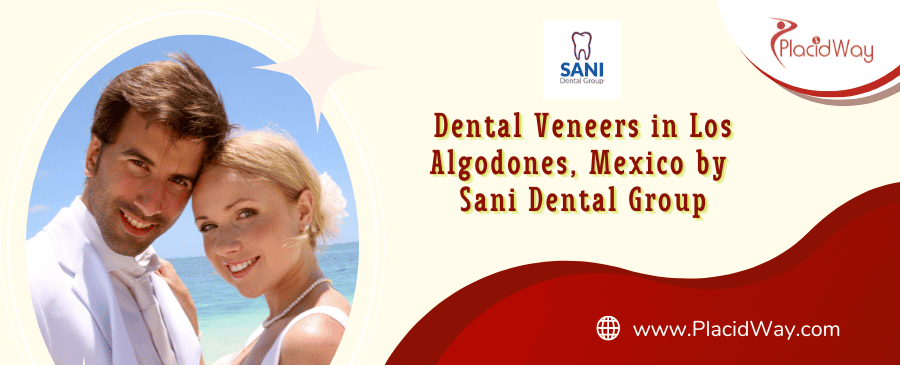 Dental veneers are an effective cosmetic dental solution that can transform your smile by correcting issues like chipped, stained, or misaligned teeth. If you're looking for affordable and high-quality dental veneers, Los Algodones, Mexico is an ideal destination for you. SANI Dental Group, one of the most reputable dental clinics in the region, offers comprehensive dental veneer packages that can restore your smile to its former glory.
Cost of Dental Veneers in Los Algodones, Mexico
You can get dental veneers packages in Los Algodones, Mexico by SANI Dental with the price starts at $395. Check our price list table below to learn more:
| | |
| --- | --- |
| City, Country | Cost in USD |
| Los Algodones, Mexico | $395 |
| United States | $2,500 |
| Canada | $2,000 |
Note: price may change and vary depends on complexity of procedures and patient conditions. Click FREE QUOTE button below to learn more:

What is a Veneer?
Dental veneers are a thin sheet of porcelain to cover the front of your teeth providing a great look. It can be done in four days. These wafer-thin shells of porcelain which are bonded onto the front side of teeth can be an excellent cosmetic solution for teeth that are stained, chipped, or slightly misaligned.
In addition to being made of thin, porous porcelain, veneers:
Cover only the visible portions of teeth

Repair minor tooth imperfections

Straighten and lengthen teeth

Conceal stained or discolored fillings, and

Are stain proof, natural in appearance and highly resilient
Veneers, also known as "dental porcelain laminates," are wafer-thin shells that bond to teeth. They are permanent, custom-shaped and require the removal of roughly .5 mm of the original tooth to allow space for the new veneer.
Advantages of Choosing Dental Veneers in Los Algodones, Mexico
Cost-effective treatment: Dental veneers in Los Algodones are significantly cheaper than in the US or Canada. You can save up to 70% on the total cost of your dental veneers.
Experienced dentists: Sani Dental Group is home to some of the most skilled and experienced dentists in the region. Their expertise ensures that you receive top-notch dental care during your treatment.
State-of-the-art facilities: The clinic is equipped with the latest dental technologies, which ensures that your treatment is comfortable, precise, and efficient.
Convenient location: Los Algodones is easily accessible from the US and Canada, making it an ideal destination for dental tourism.
Personalized care: Sani Dental Group offers personalized care to each patient. They will work with you to create a treatment plan that meets your unique dental needs.
Dental Veneers Packages Inclusions:
Ground transportation from airport to clinic and back

For Hotel accommodation, we offer the best hotel in town Hacienda Los Algodones and CielitoLindo – rates as low as $60.00 per night exclusively for our patients

Free shuttle service between the clinic and hotel
Dental Veneers Packages Exclusions:
Airfare: The dental veneer packages do not include airfare. However, the clinic can help you with travel arrangements and provide you with a list of recommended accommodations.
Local transportation: Transportation to and from the clinic is not included in the package. However, the clinic can arrange for transportation upon request.
Additional treatments: If you require additional dental treatments like root canals or extractions, they will be charged separately.
Medications: Any medications prescribed during your treatment will be charged separately.
Food and entertainment: The packages do not include food and entertainment expenses.
Dental Veneers Pre-Op Tests:
Dental exam: The dentist will conduct a thorough dental exam to determine if you are a good candidate for dental veneers.
X-rays: The dentist will take x-rays of your teeth to evaluate the condition of your teeth and identify any underlying dental issues.
Dental impressions: The dentist will take dental impressions to create custom-made dental veneers that fit your teeth perfectly.
Cleaning: Your teeth will be professionally cleaned to remove any plaque or tartar.
Consultation: You will have a consultation with the dentist to discuss the treatment plan and any concerns you may have.
Board Certified Dentists in Los Algodones, Mexico
​Why Choose Sani Dental Group for Veneers?
Extensively trained Doctors with more accumulated experience that any other clinic in Los Algodones.

Member of the ADA (American Dental Association).

We do not have a single doctor that does everything, if necessary,your dental treatment can be performed by one, two, three or more doctors. You will be seen by a specialist for each treatment you require.

Unlike other clinics or private practices, we rely on-site laboratory that gives us a great advantage, because you have your dentist and your lab technician in the same place and between them determines the most appropriate way to carry out the treatment.

Computer Aided Design and Computer Aided Manufacturing in dental Laboratory (Cad Cam Technology).
Frequently Asked Questions (FAQ):
Q: Are dental veneers painful to get?
A: Getting dental veneers is generally a painless procedure. Your dentist will use local anesthesia to numb the area and ensure your comfort during the treatment. Some patients may experience mild sensitivity or discomfort after the procedure, but this typically subsides within a few days.
Q: How long do dental veneers last?
A: Dental veneers are designed to be a long-lasting cosmetic solution. With proper care and maintenance, porcelain veneers can last anywhere from 10-15 years. However, it's important to keep in mind that veneers can be damaged by excessive force, so it's important to avoid biting down on hard objects or using your teeth as tools.
Q: Can dental veneers fix all cosmetic dental issues?
A: While dental veneers can be an effective solution for many cosmetic dental issues, they may not be suitable for all cases. Veneers can help to improve the appearance of stained or discolored teeth, chipped or broken teeth, gaps between teeth, and slightly misaligned teeth. However, if you have severe misalignment or bite issues, your dentist may recommend other treatment options such as braces or orthodontic treatment.
Q: Is it safe to get dental veneers in Los Algodones, Mexico?
A: Yes, it is safe to get dental veneers in Los Algodones, Mexico, provided that you choose a reputable dentist or dental clinic. Look for a dentist who is licensed and experienced in performing cosmetic dental procedures, and read reviews from previous patients to ensure that you are choosing a trustworthy provider.
Get FREE CONSULTATION for Dental Veneers in Los Algodones, Mexico at PlacidWay!
Ready to restore your smile with dental veneers in Los Algodones? Book your consultation at PlacidWay Medical Tourism today and start your journey towards a brighter smile. Click contact us button below to get started:

Related Experiences:
Get Affordable Dental Veneers in Los Algodones
Dental Veneers in Juarez, Mexico
Dental Veneers in Puerto Vallarta Mexico
Dental Veneers in Mexicali
Dental Veneers in Cabo San Lucas
Choose Safe and Cheap Dental Veneers in Tijuana
---