BPS Gender Reassignment Surgery Male to Female Package in Bangkok Thailand
Package price starting from:
$13000
Treatment:
Cosmetic/Plastic Surgery, Sex Change Operation
Location:
422-426/1 Indramara Soi, 20 Soothisarn Road Dindaeng District, Bangkok, Thailand, 10400, Thailand
Focus Area:
BPS Clinic | Bangkok | Thailand | Sex Change Surgery
---
All-Inclusive Male-to-Female SRS in Bangkok Thailand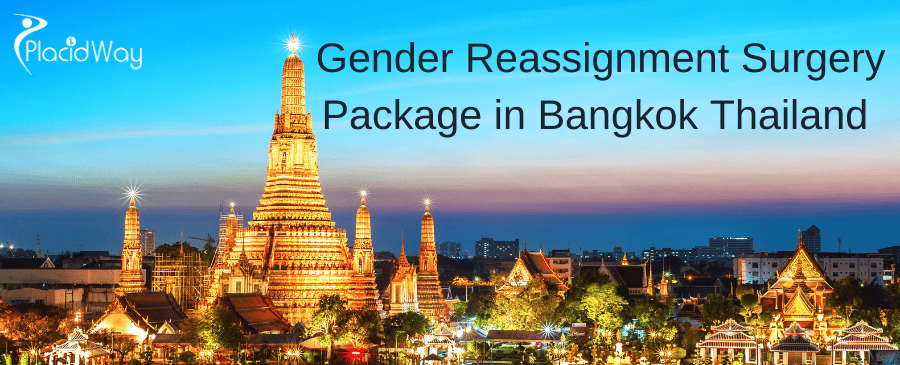 Embracing your true identity can be a life-changing experience, and gender reassignment surgery can help you achieve a body that aligns with your gender identity. If you're considering gender reassignment surgery, you want to ensure you receive expert care and support every step of the way.  In Bangkok, Thailand, you can find world-class medical facilities and experienced surgeons specializing in gender reassignment surgery. With their expertise and compassionate care, you can take the first step towards living your best life.
Sex Reassignment Surgery Cost in Bangkok, Thailand, is around $13,000 to $14,000. Sex change is done with a scrotal skin graft or penile inversion vaginoplasty.
| | |
| --- | --- |
| Location | Cost |
| Thailand | $13,000 - $14,000 |
| United States | $30,000 |
| United Kingdom | $20,000 |
Note: This cost covers a 4-day stay with me. However, you should stay in Bangkok for 14 days. The price can differ or change depending on the complexity of the procedure. Please contact our customer representative for a free quote:
Sex reassignment surgery refers to procedures that help people transition to their self-identified gender. It is also called gender affirmation or confirmation surgery. For those undergoing Male to Female SRS, the surgery typically involves procedures such as vaginoplasty, breast augmentation, facial feminization, and voice modification. This comprehensive process not only transforms the physical appearance but also contributes significantly to the emotional and psychological well-being of transgender individuals. SRS is a deeply personal and empowering choice, providing individuals with the opportunity to live authentically in their true gender.
Embrace your true gender identity

Improve the quality of life

Increase comfort in your body

Gain greater social acceptance

Experience more fulfilling relationships

Improve physical health

Open up greater career opportunities
Amazing and Fabulous SRS with Breast Enlargement Surgery

Hello Dr. Pichet and potential clients:
Itis not as if I did not do my research, (as Dr. Pichet can testify) I looked at surgeons all over the world and was in constant contact with Dr. Pichet and many others for 2 solid years before my decision was made to fly to Bangkok. When I met Dr. Pichet face to face, he had every e-mail and letter in which I sent him. Glad he did not have tapes of the calls I made to him at very strange hours of the day and night. His beautiful wife is also so very patient and understanding. (A mental note to all of you that are reading this).
I have had the pleasure of being able to pick and chose the surgeons in which I wished to work on me. I understand that many of your work very hard and very long to get to this point in your life where itis time to invest what you sweat for years to achieve. But knowing what I know now, seeing what I can see, and have experienced first hand the skill, determination, drive, professional yet friendly attitude and superb surgical skill of Dr. Pichet, his results, not only with the SRS portion of my surgery, but with the breast augmentation as well, I can easily say is AMAZING and breathtaking. In my opinion ladies, (and this is only mine), Dr. Pichet is the very, very best.
It was a very quick 15 days. Mind you, a great many of you will spend the entire month in Bangkok, so I would really plan on staying the full 30 days. For me, I am a quick healer; I am a pain is weakness kind of women. I am in the belief that the outcome of this surgery not only depends on the surgeon in which you chose, but it greatly depends on the attitude in which you take with you on this mind blowing adventure of starting life brand new. And if you think I am kidding, look at the results when the packing and tape are removed. When you are handed that little red mirror and you look at your new vagina for the very first time, oh the rush of happiness! I was very fortunate to have no bruising or horrible swelling, so when you take your first look, your results will more then likely vary. I can only give you my experience. Your eyes will ill with tears and you will then know that this was the road for you.
When it comes to pain, in my case, the only thing that hurt after surgery was my breasts. I had no pain at all in the SRS Surgical area, until they came to remove the tape and packing. I forgot to advise them that I have a little reaction to the sticky on the tape, so I had some tender areas, but only because of my skin and not the surgery. So make sure the doctor knows everything he needs to know about any types of reactions that you may have. Rest assured the most painful part of the surgery is when the drain is removed from the buttocks area, (it hurt like hell for a sec) but after that, all is wonderful.
The other difficult area was getting up to walk after the surgery. Itis just hard to motivate yourself to do it, as being in bed is nice, but walking when it is time to walk is extremely important and necessary. If you have to walk and cry, walk and eat, walk and talk on a phone, no matter what, get it done. Just make sure that you listen to everything that is told of you to do. Make sure to following all instructions and never second guess those that are there to help you. They will not lead you down a road to failure, they will take you down the road of success.
To sum it all up, 1 am 50 happy to have researched as well as I had to make certain that the most qualified surgeon was going to do my operation and after care, of which Dr. Pichet is the very best I have encountered. He as a surgeon, his wife and staff are without question very courteous, caring, enjoyable and above all professional. Having traveled as much as I have, and having met some of the best plastic surgeons there is out there, Dr. Pichet ranks up there in the top 5. As far as SRS is concerned, there is no other surgeon in my belief that could ever come close to Dr. Pichets results. Dr. Pichet has made me the happiest woman alive today. He can count on me to advise all those that inquire, to contact him if they want the best no matter the procedure. And he is my angel! He has changed my life and given me new direction.
Audra from USA - Fitness Consultant
Surgery Went Well with Dr.Pichet: Real Patient Testimonial

Dear Dr. Pichet,
1 just wanted to let you know how much I enjoyed meeting you and your staff and hope to see you again in the future, you have made me a very happy and complete woman and for that I am eternally greatful, I enjoyed my stay in Bangkok and miss you and the staff, I have never met such nice hospital staff in any of the hospitals or clinics I have been in here in the U.S. Again I want to say Thank You very much for making my dreams come true.
Your Friend,
Mary from USA
Operating room

Recovery room or standard inpatient room

Nursing service

Package food

Medicine

Medical equipment

Medical supply which requires for the specific operation

Home medication

Consultation fee

Surgeon team and anesthesiologist team

Garment 

Follow check-up with or without local transportation from the hotel or your place to a clinic.
Documents Required
Such a document, like the one below during your operation:
1) A certificate from a licensed psychologist stating that you are a suitable candidate for sex change surgery. Or I would also like, although not an absolute requirement, a personal reference from one such as a friend, family member, or employer, supporting your desire to make this change. How long have you been taking hormones and wearing female clothes? We provide this service to those who feel they can only live as females. If you feel this way, I will do the surgery for you.

2) Documentation (prescriptions or other documentation) that you have been taking hormones for at least 1 year or any one can support you have to take this hormone.

3) or both.
Additional costs will be charged if you do not wire deposit in time and do not undergo surgery within this period.
1. Overweight: this surgery is for a weight over 225 lbs; the cost will be charged as an extra 1,000 USD.
2. Additional skin graft: if your scrotal skin graft is not enough, you will have to pay an extra $1,000 USD for abdominal skin grafts.
3. Additional disease: if you have an additional disease such as DM, asthma, high blood pressure, etc., you have to pay an extra $1,000 USD to cover the internal medicine doctor's fee to take care of you during surgery.
4. The age is over 60 years; you have to pay an additional charge of 1,000 USD.
Serious warning
1. Do not take aspirin or an anti-inflammatory around 7 days before surgery.

2. If you smoke, stop or reduce it at least 1-2 weeks pre-op (and anticipate no smoking for the recovery). Smoking greatly increases your risk).

Length of stay: This cost covers 4 days of my stay. However, you should stay in Bangkok for 14 days.
Accommodation

Airfare

Payment Options: Cash, credit card, wire transfer

Note: The center may require a money deposit once a patient decides to book the surgery.
One of the most respected and sought-after surgeons in Bangkok is Pichet Rodchareon M.D, who has over 30 years of experience in gender affirmation surgery. Dr. Rodchareon has performed numerous sex change procedures throughout his careery. He is known for his meticulous attention to detail and ability to achieve natural-looking results that enhance his patients' physical and emotional well-being. In addition to his extensive experience and expertise, Dr. Rodchareon is also known for his warm and compassionate approach to patient care. He takes the time to understand his patients' unique needs and concerns, and works closely with them to develop a customized treatment plan tailored to their individual goals and preferences.
GRS Male to Female Doctor in Bangkok, Thailand

M.D., Faculty of Medicine, Chulalongkorn University, Thailand, 1984​

Diploma of the Thai Board of Plastic Surgery, 1991

Specializations in Aesthetic and Crafannicial Surgery and Transgender Surgery
What is male to female Sexchange surgery?
Male-to-female sex change surgery, also known as gender reassignment surgery, is a surgical procedure that involves altering the genitalia of a male to resemble those of a female. This is done to help transgender women feel more comfortable in their bodies and achieve a more feminine appearance. During the procedure, the surgeon will remove the penis and testicles and construct a neovagina.
What is male-to-female surgery called?
Male-to-female surgery is commonly referred to as gender reassignment surgery or sex change surgery. It is a surgical procedure that helps transgender women achieve a more feminine appearance and feel more comfortable in their bodies.
How is male to female bottom surgery done?
Male to female bottom surgery typically involves removing the penis and testicles and constructing a neovagina. The procedure can be performed using a variety of techniques, including the penile inversion technique, sigmoid colon technique, or the peritoneal pull-through technique. The surgeon will select the best technique based on the patient's anatomy and individual needs.
What is the recovery after sex change surgery?
Recovery time can vary, but most patients can return to work and other activities within a few weeks to a few months after the procedure. With expert care and support, transgender women can achieve the body they've always wanted and live life with newfound confidence and happiness.
If you're ready to take the next step in your journey towards gender reassignment, Bangkok, Thailand offers top-notch medical facilities and skilled surgeons who are ready to help you achieve your goals. With their expert care and support, you can experience the transformation you've been dreaming of and live the life you were meant to live. 
Don't let anything hold you back from embracing your true self. Contact a Bangkok gender reassignment surgery specialist today and begin your journey to a happier, healthier you.

Related Experiences:
Female to Male Gender Reassignment Surgery in Bangkok Thailand
Gender Reassignment Surgery Male to Female in Bangkok, Thailand
Gender Reassignment Surgery in Thailand
Gender Reassignment Male to Female Surgery in Thailand
Gender Reassignment Male to Female Surgery in India
Plastic Surgery in Bangkok, Thailand
---