Total Hip Replacement by Kardiolita Vilnius Lithuania
Package price starting from:
$7838
Treatment:
Orthopedic/Knee Surgery, Hip Replacement Surgery Partial or Total
Focus Area:
Total Hip Replacement Lithuania | Hip Replacement Europe | Total Hip Replacement | Orthopedic Surgery | Kardiolita Private Hospital | Vilnius, Lithuania
---
Orthopedic Surgery Lithuania, Total Hip Replacement Eastern Europe, Hip Surgery Treatment, Total Hip Replacement Procedure, Kardiolita Private Hospital, Vilnius, Lithuania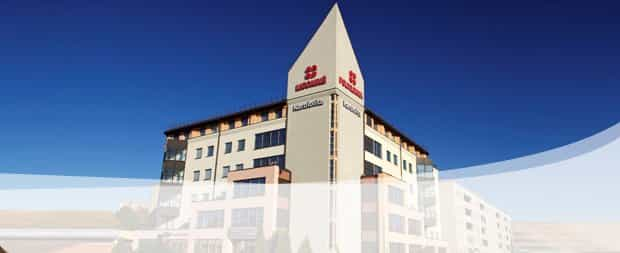 Total Hip Replacement by Kardiolita Vilnius, Lithuania

Hip Replacement Surgery Overview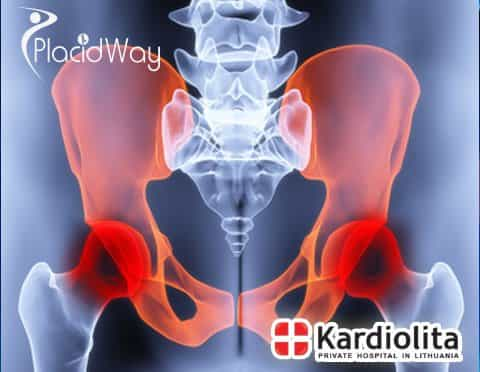 The hip is one of our body's largest joints, completely covered with articular cartilage, a very peculiar tissue. The hip's most important function is to support the weight of the body no matter what posture it is. The hip joints are vital as well in keeping our body's balance.
This means that if your hip has been damaged, the most usual / daily activities are not possible, or simply NOT enjoyable anymore due the discomfort and pain. You cannot walk, take runs, put your shoes on… probably you even feel difficulties while resting.
There are many reasons why your hip may be stiff and inflexible, such as osteoarthritis, rheumatoid arthritis, post-traumatic arthritis, an injury in the hip, such as a dislocation or fracture, or hip disease in your childhood. Regardless of the reason, if you decide to undergo a total hip replacement, the damaged bone and cartilage will be removed and replaced with prosthesis, and you'll feel better once again!

Who can benefit from Hip Replacement Surgery?
People with chronic pain and reduced mobility,
Patients that find NO relief from medications,
Patients with difficulty walking,
People with trouble standing from a seated position,
In general, all patients who are suffering pain or discomfort, therefore an inability to enjoy quality of life due the symptoms.

How much does Hip Replacement Surgery Cost in Lithuania?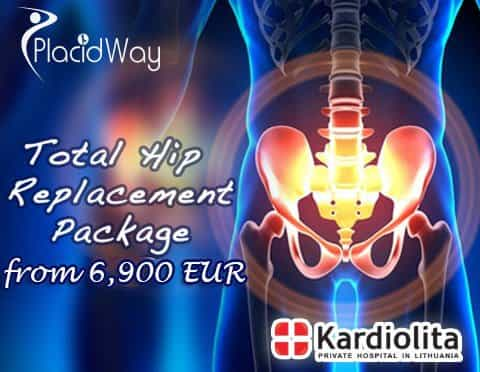 Package Details
Recommended number of days at the hospital is 10 Days, but we are always evaluating the situation and it may be shorter or longer accordingly.
Our Total Hip Replacement fully covers:
All the tests needed prior to the surgery,
Doctor consultations,
Medications,
The surgery itself,
Intensive care,
Hospital stay with full medical care,
5 daily meals,
Help with organizing the trip (flight tickets, pickup at the airport etc.)
The price does NOT include the trip expenses and medications after leaving the hospital.
Our hospital employs the most advanced surgery methods, anaesthesia and post-operative care as well as prostheses of the world's best manufacturers such as BIOMET, ZIMMER, Jonson&Jonson and others.

Why choose Kardiolita Medical Center in Vilnius for Orthopedic Surgery?
In Kardiolita there are no waiting lists.

Our English speaking staff will help you with anything you need.

Our State of the art medical equipment and Specialized Medical Doctors.

Personal managers and coordinators will guide you with the arrangements for your treatment

.

Modern and comfortable facilities for you and accommodation for the accompanying person, with the possibility to accompany the patient

.

We provide you assistance with travel documents and visa

.

Our prices are lower compared to the US or Western Europe

.


At Kardiolita, we take good care of all our orthopaedic patients.

Contact Kardiolita Private Hospital to benefit from Hip Replacement in Lithuania, by clicking the button below!

Related Experiences:
Hip Replacement in Tijuana - Improve Your Hip Health
Total Hip Replacement in Mexicali Mexico - Restore Your Hips Function
Total Hip Replacement in Johnstown USA - For Your New Hips
High Success Rate Hip Replacement Surgery in Cancun Mexico
Hip Replacement in India - Find Effective Hip Surgery Package
Hip Replacement in Mexico - Affordable Hip Surgery
---