Package Details


Lithuania is two to four hours away from many destinations in Europe and Scandinavia. Being in such good location, medical tourism in Lithuania is prospering due to inexpensive costs and top notch quality of medical service and rehabilitation facilities. Doctors undergo a lengthy period of training and education until they receive a doctor's certification, ensuring services provided by highly trained medical teams. Medical tourists to Lithuania receive the same health care they would have received in their country but with savings of about 50% off.
This is the case of Kardiolita Private Hospital in Vilnius where patients enjoy state of the art medical treatment. Kardiolita holds a highly specialized medical staff of 190 Lithuanian doctors with extensive experience when it comes to international patients, with expertise in more than 45 medical areas.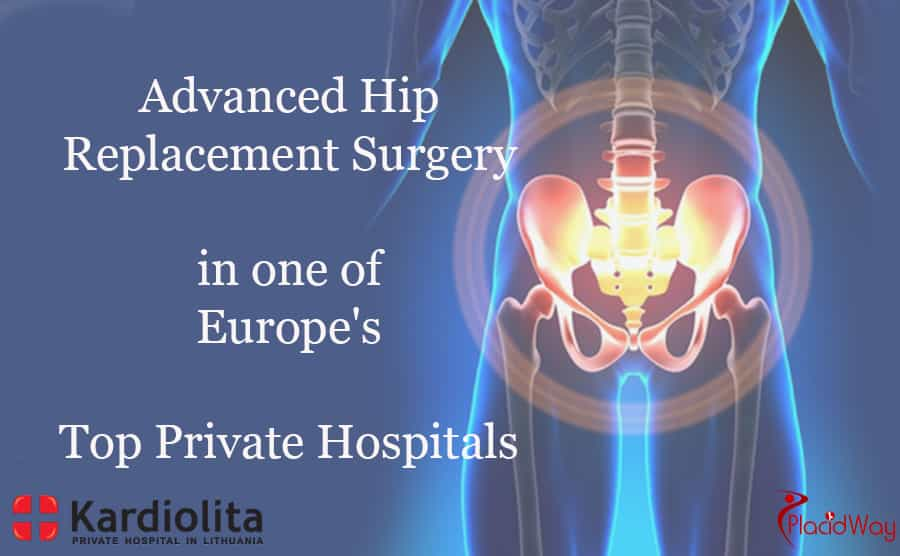 One of the most successful surgical procedure performed at Kardiolita Private Hospital is the orthopedic procedure of hip joint replacement.
The hip replacement surgery becomes necessary when cartilage is severely damaged, smooth surface is lost and the bone is left exposed due to the inflammation of the joint. As cartilage wears off patient suffers from extremely intense pain and discomfort which limits the range of motion making it difficult to walk, take stairs and perform regular activities.

The most common disorders leading to the hip replacement:
Osteoarthritis
Rheumatoid arthritis
Traumatic arthritis
Avascular necrosis
Hip replacement is seen as highly effective solution to fix physical joint damage when physical therapy or other non-surgical methods do not help.
Recommended number of days at the Kardiolita Private Hospital is 10, but the situation is always evaluated and it may be shorter or longer accordingly. Patients generally recuperate within a few weeks and may return to normal activities within six to eight weeks. Depending on health, physical stamina and strength, many hip replacement surgical patients are able to fully recover range of motion and movement within a couple of months.

Benefits of a hip joint replacement surgery:
Reduced hip pain.
Increased mobility and movement.
Correction of deformity.
Equalization of leg length (not guaranteed).
Increased leg strength.
Improved quality of life, ability to return to normal activities.
Enables you to sleep without pain.
Price for hip replacement in Lithuania
The main reason one might choose medical care in Lithuania is because prices for excellent medical services can be up to four times less than in Western or other European countries.

The price includes:
all the tests needed prior to the surgery
doctor consultations
medications
the surgery
intensive care
hospital stay with full medical care
5 daily meals
assisstance organizing the medical trip (flight tickets, pickup at the airport etc.)
The prices does not include:
the trip expenses
medications after leaving the hospital

Advantages when choosing Kardiolita Private Hospital
Excellent treatment results and post-surgery care
Most advanced surgery methods, anaesthesia and post-operative care
Top prostheses of the world's best manufacturers such as BIOMET, ZIMMER, Jonson&Jonson and others
Specially equipped wards for orthopaedic patients
All of our staff is English-speaking, so you can be sure that Kardiolita will be your home away from home during treatment
Comfortable and modern patient treatment wards
Accommodation for any friends of family accompanying you, with the possibility to share the patient's ward
We have a long term experience in treating international patients
More tourists are drawn to the Baltic countries not only for the sights and attractions but also the excellent medical treatment, Lithuania being no exception. Lithuania draws its medical tourists with its cheap prices and high quality medical care combined with English-speaking staff for comfort and assistance.

There are plenty of reasons to choose Kardiolita Private Hospital for your hip replacement surgery.
Don't hesitate to contact us if you want to know more about the procedures and techniques performed at Kardiolita Private Hospital in Vilnius, Lithuania!
Related Experiences:
Hip Replacement in Tijuana - Improve Your Hip Health
Total Hip Replacement in Puerto Vallarta - Your Solution to Hip Pain Relief
Total Hip Replacement in Mexicali Mexico - Restore Your Hips Function
Total Hip Replacement in Johnstown USA - For Your New Hips
High Success Rate Hip Replacement Surgery in Cancun Mexico
Hip Replacement in India - Find Effective Hip Surgery Package