Hip Replacement Package by Kardiolita Hospital in Vilnius, Lithuania
Package price starting from:
$9329
Treatment:
Orthopedic/Knee Surgery, Hip Replacement Surgery Partial or Total
Focus Area:
Kardiolita Hospital | Vilnius | Kaunas | Lithuania | Hip Replacement Surgery
---
Best Hip Replacement Surgery Partial in Vilnius, Kaunas, Lithuania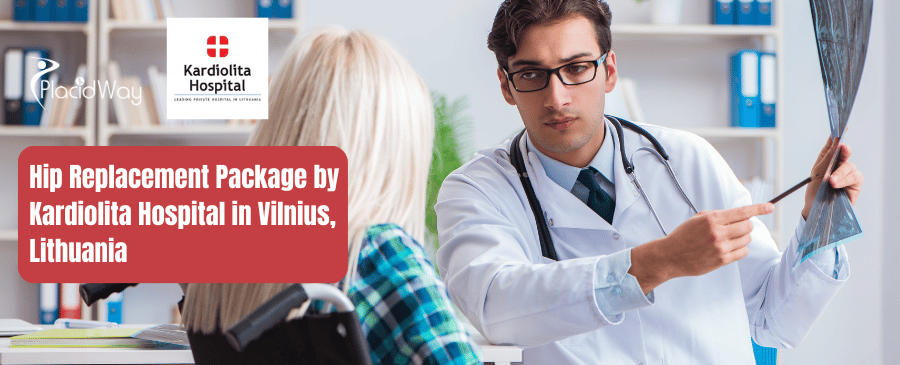 Hip replacement surgery has revolutionized the lives of countless individuals suffering from chronic hip pain and limited mobility. Among the esteemed medical institutions offering this transformative procedure, Kardiolita Hospital in Vilnius, Lithuania, stands out as a beacon of exceptional healthcare. With a commitment to cutting-edge technology, experienced medical professionals, and a patient-centered approach, Kardiolita Hospital has gained international recognition for its hip replacement package.
Lithuania is two to four hours away from many destinations in Europe and Scandinavia. Being in such good location, medical tourism in Lithuania is prospering due to inexpensive costs and top notch quality of medical service and rehabilitation facilities. Doctors undergo a lengthy period of training and education until they receive a doctor's certification, ensuring services provided by highly trained medical teams. Medical tourists to Lithuania receive the same health care they would have received in their country but with savings of about 50% off.
This is the case of Kardiolita Private Hospital in Vilnius where patients enjoy state of the art medical treatment. Kardiolita holds a highly specialized medical staff of 190 Lithuanian doctors with extensive experience when it comes to international patients, with expertise in more than 45 medical areas.
Cost of Hip Replacement in Vilnius, Lithuania
You can get Hip Replacement Package by Kardiolita Hospital in Vilnius, Lithuania with the price starts at €8,500/$9,351.Check our price list table below:
| | |
| --- | --- |
| Location | Price in USD |
| Vilnius, Lithuania | €8,500/$9,329 |
| United States | $31,000 |
| United Kingdom | $16,937 |
Note: price may change and vary depends on complexity of procedures and patient conditions. Click free quote button below to learn more.

Advantages of Choosing Hip Replacement in Vilnius, Lithuania
Excellent treatment results and post-surgery care

Most advanced surgery methods, anaesthesia and post-operative care

Top prostheses of the world's best manufacturers such as BIOMET, ZIMMER, Jonson&Jonson and others

Specially equipped wards for orthopaedic patients

All of our staff is English-speaking, so you can be sure that Kardiolita will be your home away from home during treatment

Comfortable and modern patient treatment wards

Accommodation for any friends of family accompanying you, with the possibility to share the patient's ward

We have a long term experience in treating international patients
More tourists are drawn to the Baltic countries not only for the sights and attractions but also the excellent medical treatment, Lithuania being no exception. Lithuania draws its medical tourists with its cheap prices and high quality medical care combined with English-speaking staff for comfort and assistance.
Hip Replacement Surgery Overview
The hip replacement surgery becomes necessary when cartilage is severely damaged, smooth surface is lost and  the bone is left  exposed due to the inflammation of the joint. As cartilage wears off patient suffers from extremely intense pain and discomfort which limits the range of motion making it difficult to walk, take stairs and perform regular activities. The most common disorders leading to the hip replacement:
Osteoarthritis

Rheumatoid arthritis

Traumatic arthritis

Avascular necrosis
Hip replacement is seen as highly effective solution to fix physical joint damage when physical therapy or other non-surgical methods do not help. Recommended number of days at the Kardiolita Private Hospital is 10, but the situation is always evaluated and it may be shorter or longer accordingly. Patients generally recuperate within a few weeks and may return to normal activities within six to eight weeks. Depending on health, physical stamina and strength, many hip replacement surgical patients are able to fully recover range of motion and movement within a couple of months.
Hip Replacement Package Inclusions
Surgeon consultation,

Preoperative tests,

Anesthesia,

Surgery itself,

6 nights in the hospital with all necessary medication and care,

Daily visits of a physiotherapist,

Medical manager support,

Postoperative checkups,

After the discharge from the hospital,

2–3-week rehabilitation program needs to be completed.
Hip Replacement Package Exclusions
Travel and Accommodation: The package does not include travel expenses or accommodation arrangements for patients and their companions.
Additional Medical Complications: Treatment of any unforeseen medical complications or pre-existing conditions not directly related to the hip replacement procedure may not be covered.
Personal Expenses: Patients are responsible for personal expenses, such as phone calls, internet usage, and additional meals beyond the hospital's standard offerings.
Medication Costs: While the surgical procedure is covered, the cost of post-operative medications and pain relief prescriptions may not be included in the package.
Rehabilitation Equipment: Any specialized equipment or aids required for rehabilitation outside of the hospital, such as crutches or mobility aids, may not be part of the package.
Hip Replacement Surgery Pre-Op Tests
X-rays and Imaging: Radiographic assessments provide detailed images of the hip joint, guiding surgeons in determining the extent of damage and planning the procedure.
Blood Tests: Comprehensive blood tests evaluate the patient's overall health, including factors like blood count, blood chemistry, and potential infection markers.
Cardiac Evaluation: A thorough cardiac assessment ensures the patient's heart health is optimal for the surgery and recovery process.
Physical Examination: A comprehensive physical examination helps the medical team understand the patient's general physical condition and identify potential risk factors.
Bone Density Scan: This test assesses bone health, aiding in the selection of appropriate implants and ensuring the success of the hip replacement procedure.
Orthopedic Surgeon in Vilnius, Lithuania by Hip Replacement Surgery
At Kardiolita Hospital, patients can expect to be treated by a team of experienced orthopedic surgeons specializing in hip replacement procedures. These professionals bring a wealth of expertise and a track record of successful surgeries, ensuring that patients are in capable hands throughout their treatment journey. The hospital's commitment to excellence and patient well-being is reflected in its choice of medical experts.
Hip Replacement Surgeons in Vilnius, Lithuania

Aleksandr Grincuk

Dr. Algimantas Pamerneckas
Is Hip Replacement Right for You?
Suitable Candidates: The hip replacement package is suitable for individuals with severe hip pain, reduced mobility, and compromised quality of life due to hip joint issues.
Pre-Existing Conditions: Patients with certain medical conditions, such as uncontrolled diabetes or severe cardiovascular diseases, may need to address these issues before undergoing the procedure.
Age Considerations: While age is not the sole determinant, the medical team will assess the patient's overall health and the potential benefits of the procedure based on individual circumstances.
Realistic Expectations: Patients should have realistic expectations about the outcomes of the surgery, including improved mobility and pain relief, but not necessarily complete restoration of their pre-condition level of activity.
Medical Consultation: A thorough consultation with the medical team at Kardiolita Hospital will determine if the hip replacement procedure is the right course of action for the patient's unique situation.
What to Expect During the Hip Replacement?
Initial Consultation: Patients will undergo a thorough evaluation, including medical history review and diagnostic tests, to determine the best approach for their hip replacement.
Surgery and Hospital Stay: The surgery is performed under anesthesia, with the duration varying based on the chosen technique. Post-surgery, patients will stay in the hospital for monitoring and initial recovery.
Rehabilitation: Physiotherapy sessions are integral to the recovery process, gradually restoring strength and mobility. The medical team will guide patients through exercises and monitor progress.
Pain Management: Pain relief measures are implemented to ensure patients are comfortable during the recovery period, with medication and other interventions as needed.
Follow-Up Care: Regular follow-up appointments allow the medical team
FAQs (Frequently Asked Questions)
Q: Why should I consider getting a hip replacement in Vilnius, Lithuania?
A: Vilnius offers world-class medical expertise, state-of-the-art facilities, and cost-effective treatment options, making it an ideal destination for hip replacement surgery.
Q: How long does the hip replacement procedure usually take at Kardiolita Hospital?
A: The duration of the hip replacement procedure varies based on factors such as the surgical approach and individual patient needs. Your medical team will provide specific details during the consultation.
Q: What is the typical recovery period after a hip replacement in Vilnius?
A: The recovery period varies, but patients can expect to stay in the hospital for a few days post-surgery. Full recovery and return to normal activities may take several weeks to a few months, depending on individual progress.
Q: Are there any age restrictions for undergoing hip replacement surgery in Vilnius?
A: Age alone is not a strict criterion. The medical team will assess your overall health, medical history, and the potential benefits of the procedure based on your individual circumstances.
Q: Will I need to bring any specific medical records for my hip replacement consultation in Vilnius?
A: It's helpful to bring any relevant medical records, X-rays, or imaging reports related to your hip condition. However, the hospital's medical team can also conduct necessary evaluations and tests during your consultation.
Request a Consultation for Hip Replacement in Vilnius, Lithuania at PlacidWay!
Ready to take the first step towards a pain-free and active life? Book your consultation for the Hip Replacement Package at Kardiolita Hospital in Vilnius, Lithuania, today! Experience top-tier medical care, expert orthopedic surgeons, and a personalized treatment journey. Contact us now to schedule your appointment and embark on the path to improved mobility and well-being.

Related Experiences:
Hip Replacement in Tijuana - Improve Your Hip Health
Total Hip Replacement in Johnstown USA - For Your New Hips
High Success Rate Hip Replacement Surgery in Cancun Mexico
Hip Replacement in Mexico - Affordable Hip Surgery
Hip Replacement Surgery in Turkey
Hip Replacement Surgery in Europe
---