Hip Replacement Package in Zagreb, Croatia by Axis Special Hospital
Package price starting from:
$9878
Treatment:
Orthopedic/Knee Surgery, Hip Replacement Surgery Partial or Total
Location:
Petrovaradinska 1, Zagreb, Zagrebacka Zupanija, 10000, Croatia
Focus Area:
Axis Special Hospital | Zagreb | Croatia | Hip Replacement Surgery
---
Elevating Mobility with Hip Replacement in Zagreb, Croatia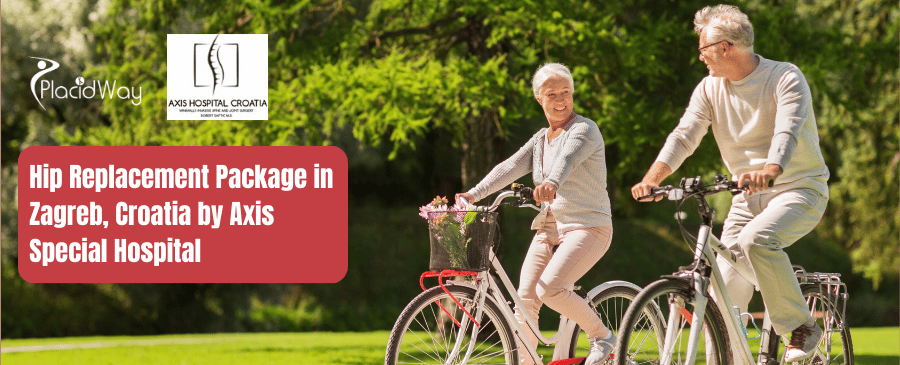 When it comes to orthopedic procedures, particularly hip replacement, finding a reliable and skilled medical facility is of utmost importance. Axis Special Hospital in Zagreb, Croatia, offers a comprehensive Hip Replacement Package that combines top-notch medical expertise with the beauty of the picturesque city. Renowned for its advanced medical facilities and experienced professionals, Axis Special Hospital is your go-to destination for high-quality hip replacement procedures. With a focus on delivering exceptional patient care and utilizing cutting-edge medical technology, Axis Special Hospital provides an all-encompassing solution for individuals seeking effective hip replacement treatments. Check our package details below to learn more.
You can get Hip Replacement Package in Zagreb, Croatia by Axis Special Hospital with the price starts at €9,000/$9,878. Check our price list table below to learn more:
| | |
| --- | --- |
| Location | Cost in USD |
| Zagreb, Croatia | €9,000/$9,878 |
| United States | $31,000 |
Note: price may change and vary depends on complexity of procedures and patient conditions. Click free quote button below to learn more.

Medical Excellence: Zagreb boasts a rich medical heritage and Axis Special Hospital is at the forefront of advanced orthopedic treatments, ensuring you receive world-class care.
Experienced Specialists: Highly-skilled orthopedic surgeons at Axis Special Hospital possess vast experience in hip replacement, ensuring optimal outcomes.
Cost-Effective Solutions: The Hip Replacement Package offers competitive prices without compromising on the quality of care and facilities.
Touristic Charm: While undergoing treatment, explore Zagreb's historical and cultural landmarks, enhancing your recovery experience.
Personalized Care: Axis Special Hospital prioritizes individualized treatment plans, fostering a supportive and patient-centric environment.
Hip replacement surgery, a highly effective orthopedic procedure, involves the meticulous removal of a damaged hip joint and its replacement with artificial components, aimed at alleviating chronic pain, improving joint function, and restoring mobility. This surgical intervention, often chosen by individuals with hip arthritis, fractures, or degeneration, is performed by experienced orthopedic surgeons using advanced techniques. With the goal of enhancing patients' quality of life, hip replacement surgery offers a path to renewed independence and a return to daily activities without the hindrance of joint discomfort.
Consultation: Detailed assessment by an orthopedic specialist to determine the most suitable treatment approach.
Surgery: Skilled orthopedic surgeons perform the hip replacement procedure utilizing state-of-the-art techniques.
Hospital Stay: Comfortable accommodation during the hospitalization period, ensuring a smooth recovery process.
Rehabilitation: Tailored physical therapy sessions aimed at enhancing mobility and promoting speedy recovery.
Follow-Up Care: Post-operative check-ups and guidance to monitor progress and address any concerns.
Travel Expenses: Costs related to travel, including airfare and transportation, are not covered in the package.
Additional Medical Procedures: Any supplementary medical interventions or treatments beyond the hip replacement procedure.
Accommodation Outside Hospital: Expenses incurred for lodging outside the hospital premises during the recovery period.
Personal Expenses: Costs of personal items, telephone calls, and other non-medical expenditures.
Complications: Treatment of unforeseen complications not directly related to the hip replacement procedure.
Hip Replacement Surgery Pre-Op Tests
X-Rays: To assess the extent of joint damage and aid in surgical planning.

Blood Tests: Evaluating overall health and identifying potential risks.

MRI or CT Scan: Providing detailed images of the joint for precise diagnosis.

Electrocardiogram (ECG): Assessing cardiac health and ensuring surgery readiness.

Physical Examination: Comprehensive evaluation of the patient's overall health status.
In the realm of orthopedic surgery in Zagreb, Croatia, two distinguished names stand out as experts in hip replacement procedures. Dr. Robert Saftic and Dr. Mladen Miskulin have garnered reputations for their exceptional skill and proficiency in performing hip replacement surgeries, offering patients a chance to regain mobility and alleviate discomfort. With their extensive experience and commitment to delivering optimal outcomes, Dr. Saftic and Dr. Miskulin represent the forefront of orthopedic care in Zagreb, embodying the city's commitment to providing world-class medical solutions for those seeking effective hip replacement treatments.
Hip Replacement Surgeon in Zagreb, Croatia

Dr. Robert Saftic

Dr. Mladen Miskulin
Is the Hip Replacement Right for You?
Suitable Candidates: Individuals with hip joint degeneration, osteoarthritis, or hip fractures.
Medical Assessment: Consultation with a specialist to determine candidacy and address concerns.
Patient Commitment: Following post-operative instructions and engaging in rehabilitation for optimal results.
Realistic Expectations: Understanding the recovery process and potential outcomes.
Health Considerations: Disclosing medical history and current conditions to the medical team.
What to Expect During the Hip Replacement Surgery?
Preparation: Thorough medical evaluations and pre-operative tests.
Surgery Day: Anesthesia administration, surgical procedure, and immediate post-op care.
Recovery: Hospital stay, pain management, and initiation of rehabilitation exercises.
Follow-Up: Scheduled appointments for wound care, therapy progression, and overall healing.
Q: How long will I need to stay in the hospital after hip replacement surgery?
A: Typically, patients stay in the hospital for 3-5 days, depending on the type of procedure and individual recovery progress.
Q: Will I need physical therapy after hip replacement surgery?
A: Yes, physical therapy is an essential part of recovery. It helps regain strength, flexibility, and mobility in the new hip joint.
Q: Can I travel back home shortly after the surgery?
A: It's advisable to plan for a stay in Zagreb for at least 2-3 weeks after surgery for follow-up appointments and initial recovery.
Q: Are there age restrictions for hip replacement surgery in Zagreb?
A: Age is not the sole factor. Candidates are evaluated based on overall health, joint condition, and medical history by the orthopedic team.
Q: How can I manage pain after hip replacement surgery?
A: Pain management includes prescribed medications, icing, elevation, and adhering to post-operative care instructions provided by your surgeon.
For those seeking a reliable and comprehensive hip replacement solution, the Hip Replacement Package at Axis Special Hospital in Zagreb, Croatia, offers a combination of medical expertise, personalized care, and a unique opportunity to explore the city's charm during recovery. Take the first step towards improved joint health and quality of life by booking your consultation through PlacidWay Medical Tourism today.

Related Experiences:
Hip Replacement in Tijuana - Improve Your Hip Health
Total Hip Replacement in Johnstown USA - For Your New Hips
High Success Rate Hip Replacement Surgery in Cancun Mexico
Hip Replacement in Mexico - Affordable Hip Surgery
Hip Replacement Surgery in Turkey
Hip Replacement Surgery in Europe
---