RENUE Stem Cell Therapy for Knee Injury Package in Mexico
Package price starting from:
$6210
Treatment:
Stem Cell Therapy, Stem Cell Treatment for Knee Osteoarthritis Abroad, Stem Cell Therapy for Knee Arthritis
Location:
Paseo de los Cocoteros Interior 1105, 63732 Nuevo Vallarta, Nay., Mexico, Mexico
Focus Area:
RENUE | Nuevo Vallarta | Mexico | Stem Cell Therapy for Knee Injury
---
Restore Mobility with Regenerative Medicine for Knee Injury in Nuevo Vallarta, Mexico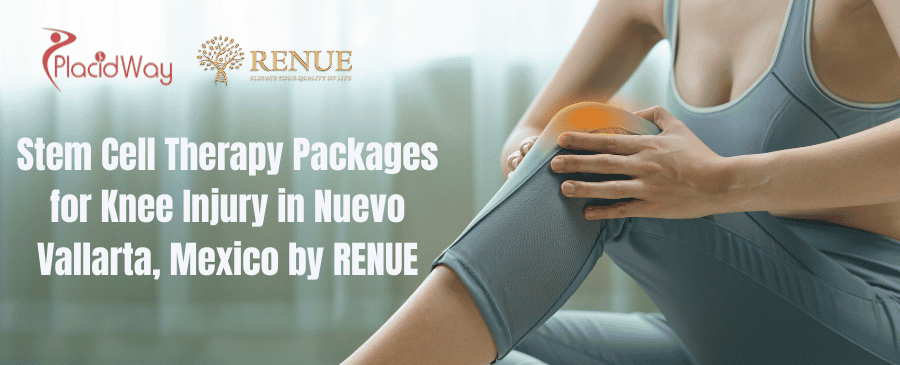 Renue Stem Cell Therapy offers comprehensive and personalized treatment package for knee injuries in Mexico. With a focus on holistic healing, Renue utilizes cutting-edge stem cell technology to provide effective and long-lasting results. The package include pre-treatment assessments, stem cell administration, hyperbaric chamber sessions, and follow-up evaluations to ensure the best possible outcome.
Renue's team of experienced medical professionals and dedicated staff provide top-notch care and support throughout the entire treatment journey. Whether you're seeking relief from chronic knee pain or looking to enhance your mobility, Renue Stem Cell Therapy package offer a transformative solution in Mexico. Check our package detail below to learn more:
Cost of Stem Cell Therapy for Knee Injury in Nuevo Vallarta, Mexico
You can get Stem Cell Therapy Package for Knee Injury in Nuevo Vallarta, Mexico at RENUE with the price starts at $6,210. Check our price list table below to learn more:
| | |
| --- | --- |
| City, Country | Cost in USD |
| Nuevo Vallarta, Mexico | $6,210 |
| United States | $25,000 |
| Canada | $20,000 |
Note: price may change depends on complexity of problems and patient condition. Click free quote button below to learn more:

About Knee Injuries
What is a Musculoskeletal Injury?
A Musculoskeletal Injury (MSI) refers to any injury that impacts the bones, muscles, ligaments, nerves, or tendons, causing pain and discomfort. While the pain can be felt throughout the body, it is commonly concentrated in the hands and wrists due to their frequent use. Acute pain is typically associated with incidents such as falls, sprains, dislocations, or direct muscle trauma.
What causes a Musculoskeletal Injury?
Musculoskeletal Injuries (MSIs) can be caused by any injury that impacts the nerves, tendons, bones, or ligaments. These injuries can affect various parts of the body, including the upper extremities, trunk, and lower extremities. While pathological conditions can lead to chronic pain and internal damage, acute pain is typically the result of direct blows, dislocations, sprains, or falls. Athletes and physically active individuals are more prone to MSIs, but they can also be prevalent among the physically fragile or elderly population.
What are the symptoms of a Knee Injury?
Knee injuries encompass a range of conditions like sprains, strains, bursitis, dislocations, fractures, meniscus tears, and overuse injuries. They often result from twisting or bending forces, as well as direct blows from sports, falls, or accidents. Symptoms vary depending on the specific injury and affected knee area. Common indications of knee injury include pain, swelling, heat, redness, tenderness, difficulty bending, weight-bearing issues, clicking or popping sounds, knee locking, a sense of instability, and bruising. Acute injuries typically manifest with knee pain and swelling, while chronic or overuse injuries may feature clicking, popping, and intermittent pain.
Advantages of Choosing Stem Cell Treatments for Knee Injury
Improved symptoms: Stem Cell Treatment (SCT) can effectively improve all your symptoms, leading to a significant impact on your overall quality of life and daily activities.
Enhanced efficacy: The three Hyperbaric Chamber sessions included in The Renue Difference greatly enhance the efficacy of SCT and stimulate the body's cells to treat musculoskeletal injuries (MSIs) in the knee. These sessions are strategically scheduled one day before treatment, after treatment, and on the day of treatment.
Reduced progression of MSIs: SCT has been proven to help reduce the progression of musculoskeletal injuries, providing a potential halt to the worsening of the condition.
Accelerated tissue repair: One of the notable benefits of SCT is its ability to speed up the repair process of damaged tissues, allowing for faster recovery and healing.
Tissue regrowth and repair: Over a span of six months, SCT has shown positive outcomes in regrowing and repairing tissues affected by MSIs, promoting long-term healing and restoration.
Diagnostic guidance: Following the SCT procedure, an MRI test can provide valuable insights into the specific areas of the body that may require further treatment, aiding in personalized diagnostic and treatment planning.
Consultation opportunities: To explore the potential benefits of SCT at The Renue Centre, don't hesitate to consult with our knowledgeable Patient Advisor, who can provide more detailed information and address any inquiries you may have.
Knee Injury Stem Cell Therapy Package Inclusions
Pre-treatment assessments and evaluations to determine the best course of action
Stem cell administration using advanced and safe techniques
Hyperbaric chamber sessions to enhance the effectiveness of the treatment
Follow-up evaluations and check-ups to monitor progress and make any necessary adjustments
Expert medical professionals and a dedicated support team to provide comprehensive care and guidance throughout the treatment journey
State-of-the-art facilities and equipment to ensure a comfortable and successful treatment experience
Personalized treatment plans tailored to the individual needs and goals of each patient
Access to additional therapies and complementary treatments to optimize the healing process
Assistance with travel arrangements, including airport transfers and accommodation options
Transparent pricing and financial guidance to help make the treatment accessible and affordable.
How is the treatment at The Renue Medical Centre different?
The Renue Medical Centre offers a distinctive approach to Knee Repair through Stem Cell Therapy (SCT). The treatment process at The Renue Centre consists of four phases:
Pre-treatment: The Renue Epigenetic Test, powered by TruDiagnostics, determines your biological age and provides crucial health markers. This test aids your doctor in understanding your health status. Once the test is completed and your medical records are received, a Patient Advisor will assist you in planning your travel to Nuevo Vallarta.
Treatment day: On the day of treatment, a specific amount of blood is collected through apheresis to activate the stem cells for administration. A total of 25 million umbilical cord Mesenchymal Stem Cells are then infused through the intravenous (IV) route.
30, 60 & 90 days follow-up: Regular follow-up appointments are conducted to assess flare-up frequency, improvements, pain levels, and any signs of irritation.
Six months after treatment: Comprehensive evaluations, including laboratory tests, assessment of flare-up frequency, clinical evaluation, mobility, quality of life, and prognosis, are conducted to monitor the progress and effectiveness of the treatment.
The Renue Medical Centre's approach combines advanced technology, personalized testing, and thorough follow-up to provide a comprehensive and tailored treatment experience for Knee Repair with Stem Cells.
Your Treatment Journey
Upon your arrival at Nuevo Vallarta, The Renue Medical Centre ensures a seamless experience. Our professional chauffeur will be waiting for you at the airport, ready to transport you to the hotel in one of our luxurious Mercedes vans. To provide peace of mind, our representative will also review your schedule for the upcoming days, ensuring a worry-free stay at Renue. Check the details below to learn more:
Experience the Renue Difference in Nuevo Vallarta
| | |
| --- | --- |
| Day 1: Enjoy The Renue Difference - A Better Life Starts Now! | |
Count on our dedicated Renue Advisor and staff to ensure a pleasant experience from the moment you arrive. Our Renue chauffeur will pick you up from your hotel and transport you to The Renue Medical Centre in the Joya Hospital. Our staff will welcome and assist you at the Centre, checking you in and providing a tour of the state-of-the-art facilities, including The Renue Laboratory and the Hyperbaric Chamber facility.
Necessary blood work, tests, and an MRI will be conducted, followed by a consultation with your doctor to review your file and adjust your treatment schedule if needed. After your first Hyperbaric Oxygen Therapy session, our Renue chauffeur will take you back to your hotel. For the evening, our chauffeur can assist with plans or provide recommendations for relaxation and enjoyment in Nuevo Vallarta.
| | |
| --- | --- |
| Day 2: Now You're a Pro! Treatment Day & Second Hyperbaric Session | |
Our reliable Renue chauffeur will pick you up according to the schedule and take you to The Renue Centre. The medical team will welcome you and start your personalized treatment for Knee Repair upon your arrival, utilizing 25 million Stem Cells* and 8 billion Exosomes*, adjusted based on your body weight and the severity of the condition. After your treatment and second Hyperbaric Chamber session, our Renue chauffeur will return you to the hotel. In the evening, make the most of your stay in beautiful Nuevo Vallarta by seeking suggestions and enjoying your time with the assistance of our knowledgeable Renue Concierge.
| | |
| --- | --- |
| Day 3: You're Almost Done - The Third Hyperbaric Session Makes a Difference! | |
Our reliable Renue chauffeur will pick you up according to the schedule and transport you to The Renue Centre. Your scheduled treatment for Knee Repair will commence as soon as you arrive. After your treatment and the third and fourth Hyperbaric Chamber sessions, our Renue chauffeur will safely return you to your hotel. In the evening, make the most of your Renue Journey by exploring the wonders of Nuevo Vallarta with the assistance of our knowledgeable chauffeur. Embrace the opportunity to fully enjoy this beautiful city and seek their suggestions for an unforgettable experience.
| | |
| --- | --- |
| Day 4: Departure or Extended Stay? It's Not Over Yet. | |
Post-treatment, our dedicated follow-up care ensures your continued progress. We will conduct comprehensive evaluations at 30, 60, and 90 days to assess the effectiveness of your knee repair, monitoring flare-up frequency and reviewing lab test results. Additionally, at the six-month mark, we will perform a thorough clinical evaluation, including flare-up frequency assessment, lab test results review, X-ray report analysis, and a comprehensive review of the diagnostic criteria. Our commitment to your well-being extends beyond the initial treatment, providing ongoing support and monitoring to ensure the best possible outcomes.
Board Certified Stem Cell Doctors in Nuevo Vallarta, Mexico
Dr. Jorge Chavez and Dr. Jaime Alvarez are esteemed certified stem cell doctors in Nuevo Vallarta, Mexico. Dr. Chavez brings his expertise in internal medicine, while Dr. Alvarez serves as the Medical Director. Together, they play vital roles in delivering exceptional stem cell therapy services, ensuring the well-being and successful treatment of patients seeking regenerative medicine solutions. With their qualifications and dedication, patients can trust in their expertise to provide high-quality care and explore the potential of stem cell therapy for various conditions.
| | |
| --- | --- |
| Dr Jorge Chavez, INTMED | Dr. Jaime Alvarez, Medical Director |
The Significance of Hyperbaric Chambers Post-treatment
The significance of Hyperbaric Chambers post-treatment is attributed to their unique properties, which offer various benefits for the recovery process. These chambers can:
Speed up the healing and repair of body tissues.
Remove or inhibit the entry of toxins inside the body, as patients are more susceptible to pathogens after treatment.
Relax the immune system, allowing it to work in favor of the body.
Stimulate enhanced proliferation and growth of newly administered stem cells.
Prevent unwanted inflammations and infections in the body.
Mobilize stem cells, enabling them to reach their targeted areas and differentiate into the required cell types.
Enhance wound healing and repair processes.
FAQs (Frequently Asked Questions):
How do Stem Cells work on Musculoskeletal Injuries?
Stem Cell Therapy (SCT) taps into the body's natural regenerative capabilities to heal musculoskeletal injuries. It helps modulate the immune response, regenerates damaged tissues, and prevents further tissue damage, addressing the root cause of the problem rather than just treating symptoms.
What are the Musculoskeletal Immune Response Issues?
The immune system and skeletal system are interconnected, sharing common origins and regulatory factors. Treatment options that modulate the immune system can have both positive and negative effects on musculoskeletal health. Understanding the complex relationship between these systems is crucial before pursuing any treatment.
How can Stem Cell Therapy treat Musculoskeletal Injuries?
Mesenchymal Stem Cells (MSCs) used in Stem Cell Therapy possess immunomodulatory properties, aiding in tissue homeostasis restoration. MSCs reduce inflammatory cytokines, such as TNF-a and IL-1B, facilitating an anti-inflammatory response. Clinical studies demonstrate the efficacy of MSCs in treating various musculoskeletal conditions, including joint trauma, osteoarthritis, cartilage defects, and bone non-unions.
What are the risk factors of Stem Cell Therapy for Musculoskeletal Injuries and conditions?
Stem Cell Therapy is generally safe with minimal immune reactions. However, some mild side effects may occur, such as fever, inflammation at the injection site, increased local temperature, allergic reactions, and gastrointestinal symptoms like nausea, diarrhea, vomiting, and headaches. It's important to consult with a medical professional to assess individual risks and benefits before undergoing SCT.
Real Patient Testimonial after Knee Injury Stem Cell Therapy in Nuevo Vallarta, Mexico
Start Your Wellness Journey Today with Stem Cell Therapy for Knee Injury in Mexico at PlacidWay!
Start your wellness journey today and experience the transformative power of Stem Cell Therapy for knee injuries in Nuevo Vallarta, Mexico. At PlacidWay Medical Tourism, we offer top-quality treatments at renowned medical facilities, ensuring the highest standards of care and expertise.
Our dedicated team will guide you through every step, from initial consultation to post-treatment follow-up. Don't let knee injuries limit your lifestyle - take the first step towards a pain-free and active life by choosing Stem Cell Therapy in Nuevo Vallarta. Contact us now to learn more and embark on your path to wellness!

Related Experiences:
Stem Cell Therapy for Knee in Mexico - Choose Knee Treatment Mexico
Regenerative Medicine for Knee Injury in United States
Regenerative Medicine in Nuevo Vallarta, Mexico
Advancing COPD Treatment through Stem Cells in Mexico
Stem Cell Therapy for COPD in Tijuana Mexico
Stem Cell Therapy in Cancun, Mexico
---