Hip Replacement Surgery in Mexico - Cost and Surgeons
Package price starting from:
$12500
Treatment:
Orthopedic/Knee Surgery, Hip Replacement Surgery Partial or Total
Focus Area:
Hip Replacement Surgery in Mexico | Orthopedic Procedures | Compare Hip Surgery Surgeon | Orthopedic Packages in Latin America | Mexican Medical Center | Top Hospitals in Mexico for Hip Arthroplasty
---
Partial and Total Hip Replacement Surgery in Mexico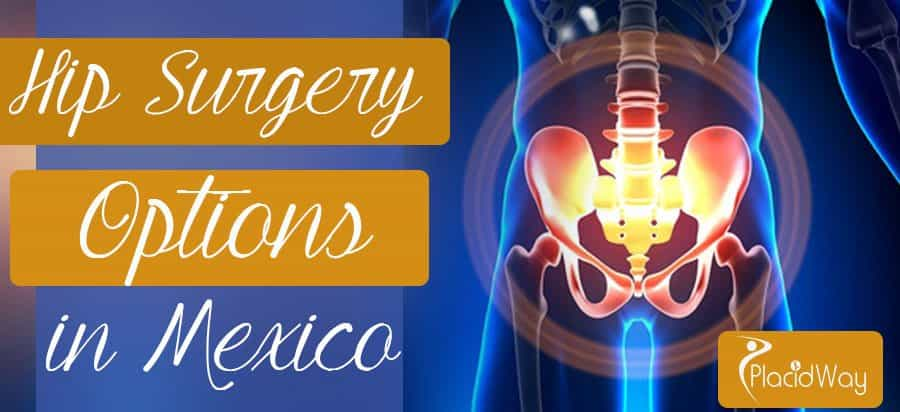 Get relief from pain with partial or total hip replacement surgery in Mexico from board-certified orthopedic surgeons in affordable prices compare to USA and Canada. Have you ever imagined that your next vacation in exotic Latin America may include an orthopedic surgery? Choosing health care services in abroad locations has become such a huge trend that it has a name — medical tourism. Mexico is a great medical tourism destinations since it has sunny locations for a vacation and excellent medical services.
Difficulty standing upright from a sitting position

Incapability to take pleasure in quality of life
Some of the most accessed orthopedic procedures are the total hip replacement surgeries and minimally invasive interventions, usually recommended due to deterioration caused by osteoarthritis or accidents that block a person's range of movement, flexibility, and ease.
What are the Reasons of a Damaged Hip Joint?
There are a number of reasons why a hip joint may become damaged. One common cause is osteoarthritis, which occurs when the cartilage that cushions the hip joint begins to break down. This can happen due to age, weight gain, or repetitive stress on the joint.
Another cause of hip joint damage is rheumatoid arthritis, an inflammatory condition that can lead to the destruction of cartilage and bone.
In some cases, hip joint damage is caused by a traumatic injury, such as a fall or car accident. If the hip joint is not properly treated, it may eventually require replacement surgery.
There are two main types of hip replacement surgery: total hip replacement and partial hip replacement.
In a total hip replacement, the surgeon removes the entire hip joint, including the ball-and-socket. The socket is then lined with artificial material, and a metal or ceramic ball is inserted into the thighbone.
In a partial hip replacement, only the damaged portion of the hip joint is replaced. The healthy bone and tissue are left intact. Partial hip replacements are less common than total hip replacements.
Both types of surgery are typically performed using general anesthesia. The surgeon makes an incision over the hip joint and detaches the muscles and tendons from the bone. The damaged joint surfaces are then removed and replaced with artificial components. The new joint is usually held in place with metal screws or cement.
The incision is then closed with stitches or surgical staples. Recovery from hip replacement surgery can take several weeks or months. Most people will need to use a walker or cane for support during this time. Physical therapy may also be recommended to help strengthen the muscles around the new joint and improve range of motion.
How to determined the right candidates for hip arthroplasty?
A hip arthroplasty success is no longer determined by a person's age, but his or her overall health and activity level. But must keep in mind that hip joint replacement surgery may be problematic for people with some health problems, regardless of their age.
Therefore, hip replacement surgery (unilateral or bilateral ) is not indicated if candidates suffer from:
Uncontrolled high blood pressure levels
Providing patients and travelers all over the world peace of mind, appreciated savings, and top notch technology and training, Mexico is an ultimate medical tourism destination in Latin America.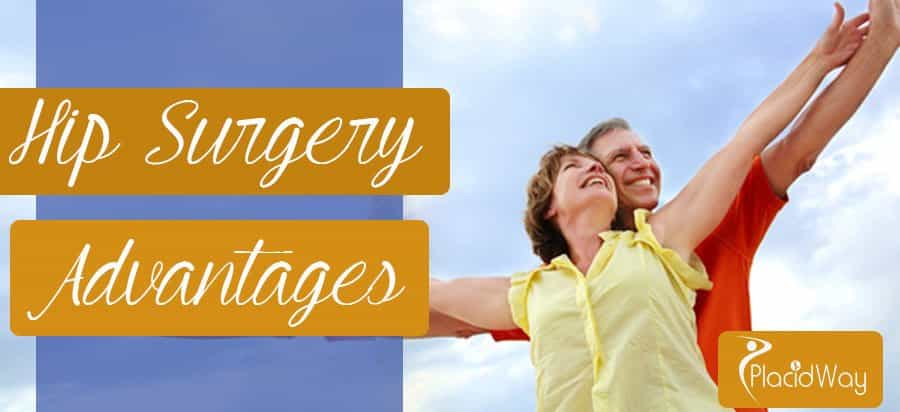 Enables you to sleep without pain.

Equalization of leg length (not guaranteed).

Improved quality of life, ability to return to normal activities.

Increased mobility and movement.
Attracting not only North Americans, but also tourists around the world to historical ruins of Aztec civilizations, pristine white beaches in Puerto Vallarta and Mazatlan, and entertainment for the younger crowd in Cancun, besides being a hub for affordable, yet outstanding medical services, Mexico has long been known as the ultimate tourist destination.
With a cost range starting at approximately $12,500, hip replacement surgery in Mexico presents a financially viable solution for many patients, especially when compared to prices in the United States. Offering savings of 30-50%, Mexico has gained recognition as a leading destination for medical tourism. The country's impressive healthcare system boasts internationally-accredited hospitals and highly skilled surgeons, ensuring patients receive exceptional care that meets or surpasses global standards, all at a substantially reduced cost.
| | |
| --- | --- |
| Countries  | Hip Replacment Surgery Average Cost |
| Mexico | $10,000 - $15,000 |
| Canada | $20,000 - $30,000 |
| United States | $25,000 - $35000 |
Note: price may change and vary depends on complexity of procedures and patient conditions. Click free quote button below for more information:

When considering hip replacment surgery in Mexico, it is important to research your options carefully to find a surgeon and hospital that meets your needs and budget. However, with careful planning, patients can expect to receive top-quality care at an affordable price.
In below table check out some best clinic pricing for the THR surgery in Mexico
| | | |
| --- | --- | --- |
| Clinics  | Total Hip Replacement Cost (THR) | Locations in Mexico |
| Hospital de la Familia | $12,500 | Mexicali |
| Dr. Max Greig Clinic | $15,500 | Puerto Vallarta |
| Cabo Orthopaedics | $14,500 | Cabo San Lucas |
Surgeons

About

Specialization: Knee Replacement, Hip Replacement, Rotator Cuff Repair Surgery, Meniscus Repair Surgery, ACL Repair,Shoulder Dislocations, Arthroscopic Surgical Treatments, Other bone & Joint Surgeries

Mexican Board Certified Orthopedic Surgeon (CMOT)

Fellowships: Sports Medicine visiting Fellowship at Edinburg, Texas 1996 and German Fellowship in Joint Replacement and Shoulder Surgery at Uni-Klinik Muenster 1997-1998

Specialization: Arthroscopic knee and shoulder, Hip and knee surgery, Fractures in general, Sports medicine.

Degrees (certificates): Orthopedics and Traumatology

Memberships: College of Orthopedics Of Mexicali, International Member of American Academy of Orthopedics surgeons.

Certified Orthopedist and Traumatologist with a fellow in Joint Surgery.

Trained as a General Practitioner in the Faculty of Medicine of the Autonomous University of Chihuahua from 2003 to 2010.

Practiced 4 years of Orthopedics and Traumatology (2013-2017) at the National Institute of Rehabilitation (National Autonomous University of Mexico).
Many patients after undergoing hip replacment surgery in Mexican medical facilities, have acknowledged that:
Doctors spent a lot of time with them:

to answer any questions they may have had

to explain your procedures

The medical staff was highly efficient.

They felt that people went out of their way for them.

They never had the feeling of being rushed.

They received a lot of personal attention.

They were treated with warmth, respect and a smile.
What is the survival rate of hip replacement surgery?
Survival rates for hip replacement surgery are generally high, with patients often experiencing a significant improvement in quality of life afterwards. The specific survival rate will depend on the type of surgery being performed and the individual patient's health, but overall, the chances of surviving hip replacement surgery are very good.
In some cases, complications can arise after surgery, but these are usually treatable and do not pose a serious threat to the patient's long-term health. With modern medical care, the majority of people who undergo hip replacement surgery can expect to enjoy many more years of pain-free mobility.
How long is recovery from hip replacement?
The time it takes to recover from a hip replacement surgery varies from person to person. In general, however, most people can expect to be up and walking within a few days of the procedure.
The length of the hospital stay also varies, but is typically between 3-5 days. After being discharged from the hospital, patients will usually need to use a walker or cane for several weeks.
Physical therapy is often recommended to help regain strength and range of motion in the hip. Recovery times can vary depending on age, overall health, and level of activity before surgery. In most cases, people are able to return to their normal activities within 3-6 months.
How painful is hip replacement surgery?
While any surgery comes with some degree of pain and discomfort, hip replacement surgery is generally considered to be a very successful and safe procedure. Most patients report significant pain relief and improved mobility after the surgery.
While there may be some residual soreness around the incision site, this is usually manageable with pain medication. In rare cases, more serious complications can occur, such as infection or blood clots.
However, these risks are typically low and can be effectively managed by your surgeon. Overall, hip replacement surgery is an effective way to relieve pain and improve mobility. With proper care and follow-up, most patients can expect a full recovery.
Book your Appointment for Hip Replacement Surgery in Mexico
Mexico has become a top destination for people seeking high-quality, affordable hip replacement surgery. At our state-of-the-art facility, our experienced surgeons offers minimally invasive hip replacement surgery that can help you get back to your normal activities quickly. Contact us today to learn more about how we can help you achieve your goals.
There are plenty of reasons to choose Hip Replacement Surgery in Mexico as a best destination for your Treatment. Don't hesitate to contact us if you want to know more about the procedures and techniques performed in Latin America!!

Related Experiences:
Hip Replacement in Tijuana - Improve Your Hip Health
Total Hip Replacement in Mexicali Mexico - Restore Your Hips Function
Total Hip Replacement in Johnstown USA - For Your New Hips
High Success Rate Hip Replacement Surgery in Cancun Mexico
Hip Replacement in India - Find Effective Hip Surgery Package
Hip Replacement in Mexico - Affordable Hip Surgery
---