Dr. Metztli Linette Gomez Espinoza - Orthopedic Clinic
Traumatologist & Orthopedic Surgeon Dr. Metztli Linette Gomez Clinic in Tijuana, Mexico
Paseo del Centenario 9480 CP 22010 Zona Urbana Rio Tijuana Tijuana y Ensenada Baja California, Tijuana,Ensenada, Mexico

Specialty:

Orthopedic/Knee Surgery, Spine Care/Surgery, Sports Medicine, Stem Cell Therapy

Focus Area:

Orthopedic Surgery in Tijuana Mexico | Dr. Metztli Linette Gomez Espinoza | Traumatologist | Hip Replacement | Hand Surgery | Knee Arthroplasty | ACL Repair | Ankle Fusion
Dr. Metztli Linette Gomez Espinoza - Orthopedic Clinic Profile Overview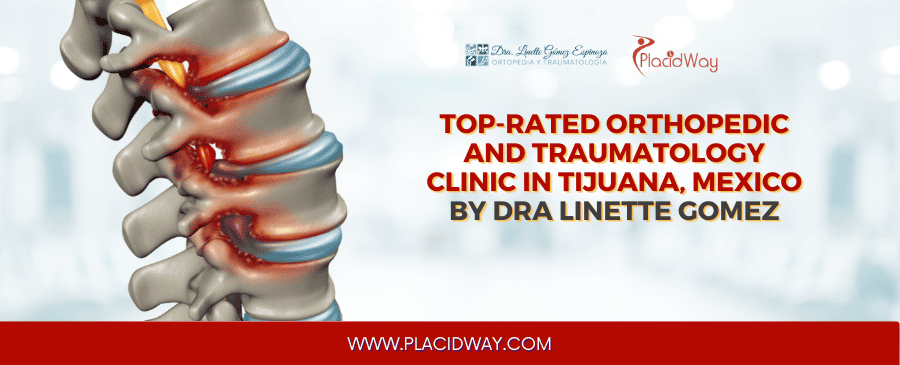 Top-Rated Dr. Metztli Linette Gomez Espinoza Orthopedic and Traumatology Clinic in Tijuana, Mexico
Dr Linette Gomez is located in Tijuana and Ensenada, Mexico. She is a specialist in Arthroscopy, Knee Prosthesis, Hip Prosthesis, and Joint Surgery. Thousands of local and foreign patients visit Dr. Linette in her practices at Hospital Angeles in Tijuana and NewCity Medical Plaza. She treats her patients with compassion and an individual approach in order to help them heal their joint pain and ligament fractures.
Dr Gomez has clinical practicing experience of over ten years in Mexico. Focusing on patients' well-being and orthopedic trauma with advanced technology and dedicated work.
Clinic Name: Dr Linette Gomez Espinoza Clinic

Procedure: Orthopedic and Traumatology

Location: Tijuana and Ensenada, Mexico

Doctor: Dr Linette Gomez
Table of Content
• Cost • Procedures • Advantages
• Doctors • How to Book
There are numerous advantages you gain by choosing orthopedic surgery in Mexico at Dr Linette Gomez clinic, such as:
Safe and effective orthopedic treatment

Professional orthopedic surgeon

Comfortable rooms and modern facilities

English-speaking medical staff

Cost-savings

Vacation in Tijuana along with the surgery
Here are several procedures available at Dr Linette Gomez in Tijuana:
Hand surgery
Hand surgery is an orthopedic procedure deals with problems of the hand, wrist and forearm.
Knee surgery
Knee surgery Knee replacement surgery — also known as knee arthroplasty (ARTH-row-plas-tee) — can help relieve pain and restore function in severely diseased knee joints. The procedure involves cutting away damaged bone and cartilage from your thighbone, shinbone and kneecap and replacing it with an artificial joint (prosthesis) made of metal alloys, high-grade plastics and polymers.
Ankle fusion surgery
Ankle fusion surgery treats arthritis by joining your ankle bones using screws or plates to eliminate the painful arthritic joint. Your surgeon removes the cartilage at the ends of each ankle bone and positions them so they fuse as they heal.
Shoulder Arthroplasty
Shoulder Arthroplasty or shoulder replacement removes damaged areas of bone and replaces them with parts made of metal and plastic (implants). This surgery is called shoulder arthroplasty
Elbow Surgery
Elbow Surgery or elbow arthroplasty removes damaged areas of the elbow joint and replaces them with parts made of metal and plastic.
Knee Arthroscopy
Knee Arthroscopy is a surgical technique that can diagnose and treat problems in the knee joint. A surgeon makes a tiny incision and inserts a tiny camera, an arthroscope, into your knee so he can see the inside of the joint on a screen.
Contact our Customer Care team if you want to know the latest prices for Arthroscopy, Knee Prosthesis, Hip Prosthesis, and Joint Surgery in Tijuana by Dr Linette Gomez. We provide information on orthopedic surgery in Tijuana, so you can get the accurate price for your specific procedure.

Experienced Orthopedic Surgeon in Tijuana, Mexico at Dr. Linette Gomez Clinic
Dr. Linette Gómez Espinoza is a board-certified Traumatologist and Orthopedist with a high specialty in joint replacement, knee surgery, and arthroscopy. She currently offers her services in Tijuana and Ensenada, Baja California. These are her credentials:
Specialties: Joint Replacement, Knee Surgery and Arthroscopy
Languages: English and Spanish
Education:
The Autonomous University of Baja California Mexicali campus (UABC)

The Lomas Verdes Traumatology Hospital in the State of Mexico

Endorsed by LaSalle University
Memberships and Certifications of Medical Societies:
Mexican College of Orthopedics and Traumatology (CMO)

Angeles Group Medical Society

Associate Physician of the ABC Medical Center

Doctor at New City Medical Plaza
Publications:
What does the knee prosthesis consist of?
Highly qualified orthopedic surgeon in Tijuana, Mexico at Dr. Linette Gómez clinic delivers long-lasting results by providing orthopedic surgery principles at high standards for her patients. Book your consultation with a qualified orthopedic surgeon in Tijuana today!

---
---