All Inclusive Facelift Packages in Bangkok, Thailand at BPS Hospital
Package price starting from:
$5500
Treatment:
Cosmetic/Plastic Surgery, Face Lift
Location:
422-426/1 Indramara Soi, 20 Soothisarn Road Dindaeng District, Bangkok, Thailand, 10400, Thailand
Focus Area:
BPS Clinic | Bangkok | Thailand | Facelift
---
Revamp Your Look with Facelift Surgery in Bangkok, Thailand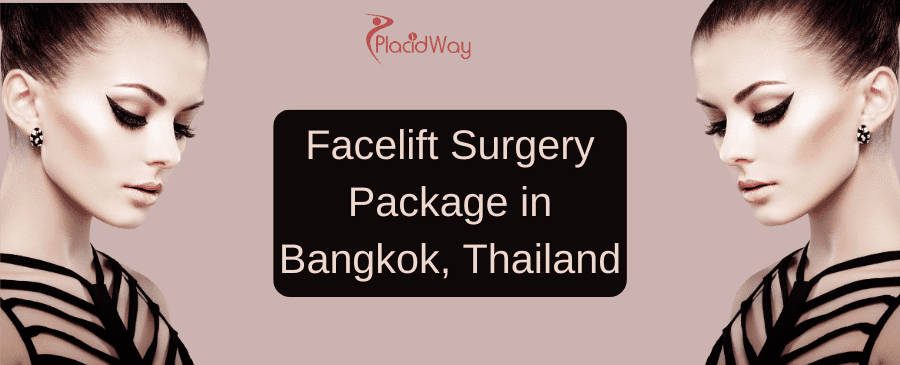 If you are considering a facelift, Bangkok offers a comprehensive and affordable package for this transformative cosmetic procedure. Our facelift surgery package in Bangkok, Thailand provides patients with access to highly skilled and experienced cosmetic surgeons who specialize in creating natural and youthful results.
You'll be treated in state-of-the-art hospitals and clinics equipped with the latest technology and advanced medical equipment. Beyond the exceptional medical care, Bangkok offers a wealth of cultural experiences to enjoy during your recovery period, such as visiting ancient temples, exploring bustling markets, or indulging in authentic Thai cuisine.
With affordable pricing and quality medical care, our facelift surgery package in Bangkok, Thailand offers a fantastic opportunity for those seeking to enhance their appearance while exploring a new culture.
The 

Cost of

 Facelift Surgery in Bangkok Thailand
The package for Facelift surgery in Bangkok cost $5,500 (Surgery includes cheekbone area lift, cheek area lift, lateral side of jowls). Check the prices in the following table.
Note: For more information about the final price, make sure to contact the clinic directly. The price may vary depending on your condition and the complexity of the surgery.

Facelift also called rhytidectomy, is considered part of cosmetic procedures. It improves the evident aging signs in the areas related to the face and neck. A facelift will help you improve aging signs such as the loss of muscle tone and reduce the physical appearance of fat deposits in the jaw or neck region. While a facelift offers many years of benefits, it can not stop the aging process. A facelift is an alternative that incorporates the most practical benefits for physically healthy people and individuals with realistic objectives about the outcomes.
Advantages of the Facelift procedure
Face Rejuvenation

Younger Appearance

Improved face contours

Delays aging of the skin

Strengthening facial muscles

Better self-confidence
Face Rejuvenation Package Inclusions
Operating room

Recovery room or standard inpatient room

Nursing service

Package food

Medicine

Medical equipment

Medical supply which requires for the specific operation

Home medication

Consultation fee

Surgeon team and anesthesiologist team

Garment 

Follow check-up with or without local transportation from the hotel or your place to a clinic
Adding:
1) Free pick up at the round airport trip (You pay your flight ticket fee)
2) Free local transportation from and there to the surgery place, hotel and interesting place in Bangkok every time I check you.
3) The cost of surgery will not cover hotel fee but you can pay my contact rate fee with a nice hotel near to the surgery place during your recovery time.
Please beware of preparing your full payment before surgery.
Serious warning:
1. Do not take aspirin or an anti-inflammatory around 7 days before surgery.
2. If you smoke, stop or reduce it at least 1-2 weeks pre-op (and anticipate no smoking for the recovery; smoking greatly increases your risk.
Length of stay: Around 7 days
Face Rejuvenation Package Exclusions
Payment Options: Cash, Credit and Debit Cards.
Best Plastic 

Surgeon

 in Bangkok, Thailand at BPS clinic
Plastic Surgery in Bangkok, Thailand has become a reference for many patients around the world. BPS has a professional surgeon named Dr. Pichet Rodchareon M.D. He is a board-certified Plastic surgeon providing patients with consultation, guidance, and aesthetic and cosmetic surgery solutions.
Doctor Name
Educations and Experiences

M.D., Faculty of Medicine, Chulalongkorn University, Thailand, 1984​

Diploma of the Thai Board of Plastic Surgery, 1991

Specializations in Aesthetic and Crafannicial Surgery and Transgender Surgery
FAQs about Rhytidectomy Surgery in Thailand
What is facelift surgery, and how is it performed?
A facelift, also known as a rhytidectomy, is a cosmetic surgery that aims to reduce the signs of aging by removing excess skin and tightening the underlying facial muscles. The procedure is typically performed under general anesthesia, and the surgeon will make incisions along the hairline and around the ears to access the underlying tissues. Then, they will lift and reposition the skin and muscles before removing any excess skin and closing the incisions with sutures.
Who is a good candidate for facelift surgery?
Facelift surgery is best suited for individuals in good health, don'tt smoke, and have realistic expectations about the results. Generally, candidates for facelift surgery are over 40 years of age and are bothered by the appearance of sagging skin, deep wrinkles, and jowls in the lower face and neck.
What is the recovery like after facelift surgery?
Patients will experience some swelling, bruising, and discomfort in the first few days after the surgery. The surgeon will provide instructions for caring for the incision sites and managing pain or discomfort. Patients should expect to take at least one week off from work or other activities and avoid strenuous exercise for several weeks after the surgery. Full recovery can take several months.
What are the potential risks and complications of facelift surgery?
As with any surgery, facelift surgery carries risks and potential complications, such as bleeding, infection, scarring, and nerve damage. However, serious complications are rare, and the risks can be minimized by choosing a skilled and experienced cosmetic surgeon and following all post-operative care instructions.
Book All-Inclusive Package for Facelift in Bangkok Thailand Today!
Book an all-inclusive package for Facelift in Bangkok at BPS clinic today! Experienced plastic surgeons will help you look younger again. Contact us for more details!

Related Experiences:
Facelift in Bangkok, Thailand
Facelift in Thailand
Facelift in Croatia
Facelift in Turkey
Facelift in Guadalajara, Mexico
Facelift in Izmir, Turkey
---