Facelift in Thailand
Why Choose Rhytidectomy in Thailand?
If you are unsatisfied with your facial appearance, you should consider having Facelift Surgery in Thailand. One of the world's leading cosmetic surgery destinations offers affordable rhytidectomy at top clinics across the country.
Here you have the chance to save thousands on facelifts in Thailand and spend a fantastic holiday before your surgery. Our guide will help you choose the best clinic, surgeon, and package deal for Thailand facelift.
Clinic: Bangkok Plastic Surgery Clinic
Procedure: Facelift
Package Price: $810 and $4,000
Cost in Thailand: $5,500
Cost in Other Countries: From $8,000
Top Tourist Attractions:  Wat Arun Temple, Bangkok, Phi Phi and Phuket Island, etc.
---
All-Inclusive Facelift Packages in Thailand
If you are interested in more customized services according to your personal needs, you can book affordable packages for facelifts in Thailand clinics. They offer packages with price range between $810 and $5,500 that include transport from the airport to the clinic, bilingual assistance, and doctor fees.
Other inclusions you'll see in the package links below or you can get in touch with our Customer Care team for a specialized quote.
---
How Much Does a Facelift Cost in Thailand?
The facelift cost in Thailand depends on the type of facelift surgery and other factors. However, it is generally around $5,500 in top-rated clinics in Thailand.
This is over 40% less compared to prices in other countries. For example, in the USA, a facelift costs $8,000, in Canada over $11,000, and in Australia $9,000.
This is why patients from these countries visit Thailand and spend half of their price for rhytidectomy.
Face Lift Centers Cost Comparison in Thailand
| Provider | Procedure | Price |
| --- | --- | --- |
| Yanhee Hospital | Face Lift, Cosmetic/Plastic Surgery | $1783 |
| Nirunda International Aesthetic Clinic | Face Lift, Cosmetic/Plastic Surgery | $5500 |
| Dr Siripong Plastic Surgery | Face Lift, Cosmetic/Plastic Surgery | $5540 |
| Bangkok Plastic Surgery Clinic | Face Lift, Cosmetic/Plastic Surgery | $5500 |
Face Lift Cost Comparison in Thailand

| Country | Procedure | Price |
| --- | --- | --- |
| Australia | Face Lift, Cosmetic/Plastic Surgery | $9000 |
| Canada | Face Lift, Cosmetic/Plastic Surgery | $11000 |
---
Best Facelift Clinics in Thailand
Plastic surgery clinics in Thailand rank high compared to developed countries. Some of the facilities here have luxurious rooms, on-site cafes, and modern equipment.
Thai clinics are designed to help you feel relaxed and safe during your stay for cosmetic surgery. Thousands of satisfied patients share their experiences you can find in the following top 6 clinics profiles:
---
Plastic Surgery in Thailand Reviews
---
FAQ for Facelift in Thailand
Learn more about the cost and clinics for facelifts in Thailand with the help of our researched answers below.
How much does Face Lift cost in Thailand?
Show More
The price for Face Lift in Thailand starts at $3329. The final price will be established after the surgeon will examine you and will determine exactly what type of procedure you need, how long the procedure will take and what materials and medical equipment will be used. The price will also depend on the clinic and surgeon's experience that you will choose. Fortunately, most Cosmetic/Plastic Surgery clinics in Thailand offer their international patients attractive packages at affordable prices. Some of them also include accommodation options and transportation from the airport, so the only thing you will have to worry about is how to get to Thailand for Face Lift. For Face Lift each patient will to be treated with care and attention, with a treatment plan developed according to his/her needs and budget. In you can find cutting edge technology, excellent Cosmetic/Plastic Surgery and highly professional teams of experts performing Face Lift. By choosing Face Lift in Thailand you will get the perfect body you have always desired. Forget about hiding your body behind flared clothes or extreme diets and stop daydreaming that one day you will get the looks you wished for! Cosmetic surgery in , Thailand can offer you a perfect look! With latest technology, specialized surgeons, perfect recovery environment and affordable prices you have a variety of clinics to choose from. Finding the right Face Lift surgeon for you in Thailand can be quite a challenge. Here are some questions that you can ask the Cosmetic/Plastic Surgery clinic to make sure that they are the right choice for you. How many years of experience do you have performing Cosmetic/Plastic Surgery? How often have you performed Face Lift? What are the advantages and disadvantages of Face Lift at your clinic? What about the risks and complications? How long should I be staying for recovery in Thailand? Are you certified to perform Face Lift? Are you a member of any Cosmetic/Plastic Surgery association or society in Thailand? How do you address issues when something goes wrong during Face Lift procedure? What if I am not happy with the Face Lift results? What should I expect after the Face Lift surgery? Thailand is one of the best medical and touristic destinations in the world for Cosmetic/Plastic Surgery. Medical tourists from all over the world come here to take advantage of the affordable prices, top surgeons, modern clinics, as well as the beautiful touristic attractions.Find out more about the best Face Lift in Thailand! Contact us and choose the best Cosmetic/Plastic Surgery surgeon!
How to choose from the Face Lift clinics in Bangkok, Thailand the best for me?
Show More
If you need plastic surgery, then you should choose from these top Face Lift clinics in Bangkok, Thailand, which offer attractive cosmetic surgery packages for international patients.Thanks to minimally invasive plastic surgery, performed by top surgeons in Bangkok, Thailand, you will no longer have to hide your body under loose clothes or makeup.Some people wait a long time before they finally decide to choose Face Lift. But when you spend years wishing a physical feature were different or that has a recognizable impact on your daily life or health, this is usually an indication that it is something you truly desire to change. Over the past years plastic surgery in Thailand has dramatically raised the bar thanks to advancements in technology which make the procedures highly successful and accessible.Bangkok, Thailand offers many plastic surgery clinics and renowned cosmetic surgery specialists trained in famous universities and hospitals. These clinics provide attractive Face Lift packages for international patients, which include many services to make the patients medical experience in Bangkok, Thailand as pleasant as possible. The right clinic for you is among these Face Lift centers in Bangkok, Thailand.As with any other type of surgical procedure, you should make sure that you choose a Face Lift clinic that will be able to offer highly successful and safe cosmetic procedures. Here are some questions that you should ask before making your choice: What are the potential risks and complications of Face Lift? How many Face Lift have you performed so far? Where will the Face Lift take place and who will perform it? How safe is the Face Lift? If a problem arises after Face Lift how will you help?If you have realistic expectations, plastic surgery can be the best choice to make. The best thing about Face Lift is that you can see the results almost immediately after surgery. Thanks to minimally invasive procedures there is less scaring, less pain, less bleeding and shorter recovery periods.Finding the best Face Lift clinic for you may be hard, but we can help you narrow down the best choices. Contact us now!
---
The Best Facelift Surgery Doctors in Thailand
With extensive experience and certifications from prestigious institutions, Thailand doctors are among the best in the world. They specialize in cosmetic and reconstructive surgery and have treated thousands of international patients.
Below are the profiles of the top four plastic surgeons in Thailand. You will find their credentials, associations, former patient reviews, and the clinic where they practice.
To know more about your Thai doctor, contact our PlacidWay team.
---
Discover Medical Tourism in Thailand
Thousands of people undergo various cosmetic procedures in Thailand every year, drawn by doctors' expertise, the clinic's standards, and affordable prices. This is why it is one of the world's top medical tourism destinations.
Another great thing about Thailand is the fantastic places enticing you to discover on your extended holiday before the surgery. Here are some of the many other popular tourist spots to explore in Thailand: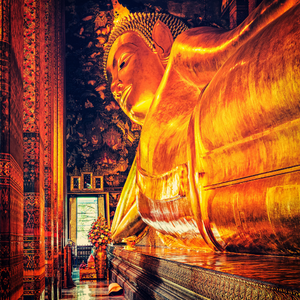 Buddha in Wat Senassanaram Ayutthaya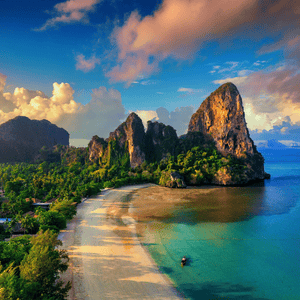 Railay beach in Krabi province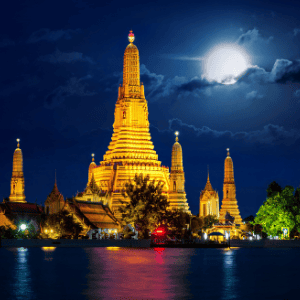 Wat Arun Temple in Bangkok
---
Book a Facelift in Thailand and Save Over 40% Today!
Rejuvenate your face and improve your self-confidence with facelift in Thailand! Explore the country's top tourist locations before the surgery and save 40-60% on American and Australian prices!
You deserve this opportunity so contact our Customer Care Team to know your options.
---