Rhinoplasty Packages in Istanbul, Turkey by BHT Clinic
Package price starting from:
$4650
Treatment:
Cosmetic/Plastic Surgery,ENT, Nose Surgery Rhinoplasty, Nose Surgery
Location:
Atakent, 4. Cd. No: 36, 34307 Kucukcekmece, Turkey
Focus Area:
BHT Clinic | Istanbul | Turkey | Nose Surgery
---
All-Inclusive Nose Surgery Packages in Istanbul, Turkey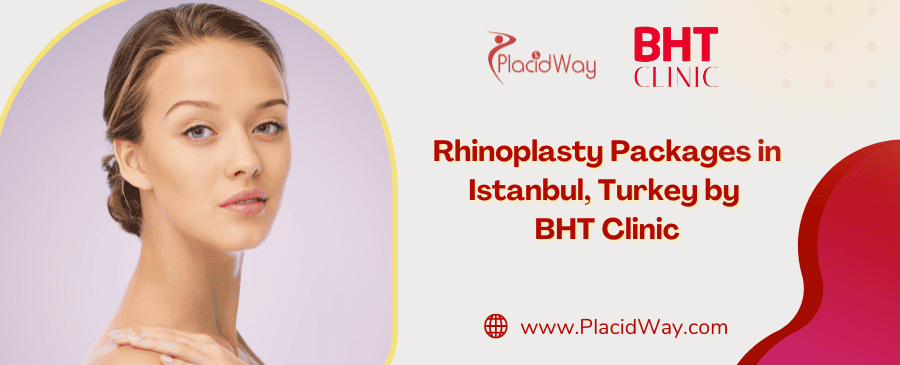 Are you tired of your nose being the center of attention? Let BHT Clinic in Istanbul, Turkey give you a nose job that'll make it a supporting character in your life's story. In recent years, Istanbul, Turkey has become a top destination for individuals seeking rhinoplasty, with BHT Clinic offering comprehensive rhinoplasty packages. These packages include everything from the initial consultation to post-operative care, making it easy and convenient for patients to undergo the procedure.
BHT Clinic has built a reputation as a top cosmetic surgery center in Istanbul, with a team of experienced and skilled plastic surgeons who specialize in rhinoplasty. Their rhinoplasty packages are designed to provide patients with a hassle-free and comfortable experience, ensuring that they receive the best possible care throughout the entire process. Check our packages detail below to learn more.
Cost of Rhinoplasty in Istanbul, Turkey
You can get rhinoplasty packages in Istanbul, Turkey with the price starts at $4,650. Check our price list table below to learn more:
| | |
| --- | --- |
| City, Country | Cost in USD |
| Istanbul, Turkey | $4,650 |
| United Kingdom | $10,000 |
| United States | $10,938 |
Note: price may change and vary depends on complexity of the procedures and patient conditions. Click FREE QUOTE button below to learn more:

What is the Rhinoplasty Surgery
Rhinoplasty, commonly referred to as a "nose job," is a surgical procedure that involves reshaping or reconstructing the nose. This can be done for both cosmetic and functional reasons.
Cosmetic rhinoplasty aims to improve the appearance of the nose, by altering its size, shape, symmetry, or proportion to the face. This can involve removing a hump, narrowing the nostrils, refining the tip, or straightening the bridge.
Functional rhinoplasty, on the other hand, is performed to correct breathing problems caused by a deviated septum, nasal valve collapse, or other structural abnormalities. This may involve reshaping the internal structures of the nose to improve airflow and alleviate symptoms such as congestion, snoring, or sleep apnea.
Rhinoplasty is a complex procedure that requires careful consideration and planning to achieve optimal results. It is typically performed under general anesthesia and may involve incisions inside the nose or on the skin between the nostrils, depending on the extent of the surgery. Recovery time can vary but generally involves a week of downtime, with full recovery taking several weeks to months.
Why BHT? - Quarter-Century Experience in Health
Bahat Health Group established the Istanbul Tema Hospital in 2019 by bringing its quarter-century background and experience in the health sector under the BHT CLINIC brand. Istanbul Tema Hospital, the first hospital of the BHT CLINIC brand; Sultangazi Bahat Hospital is the newest breakthrough of Bahat Health Group in the sector, which includes Private İkitelli Bahat Hospital and Yeni Yüzyıl University Gaziosmanpaşa Hospital.
Bahat Health Group, which provides service in three different locations in Istanbul, continues its investments with the BHT CLINIC brand and started to provide services in Istanbul Tema Hospital, the first hospital of this new brand.
BHT CLINIC Istanbul Tema Hospital provides services in an indoor area of 55 thousand square meters, with 19-storey smart building technology, 450 bed capacity, and 2 of 16 fully equipped operating theaters with hybrid operating room technology. BHT CLINIC aims to grow with its domestic and international investments.
Advantages of Choosing Nose Surgery in Istanbul, Turkey
Rhinoplasty Packages Inclusions:
Full consultation with your doctor before and after surgery

Blood tests pre-operation

General anesthesia

Food While in Hospital

All medical related costs (hospital fees, doctor fees, equipment, nurse care, operating room etc.)

1 nights hospital stay

Your transfer from your hotel to hospital and vice versa

Translator

All required medicines while in the  surgery and hospital

Your 10 nights free hotel accommodation ( include breakfast and wireless )
Rhinoplasty Packages Exclusions:
Travel Expenses: BHT Clinic's rhinoplasty packages do not include travel expenses, such as airfare and accommodation.
Additional Medical Procedures: If a patient requires additional medical procedures, such as blood tests or X-rays, they will need to pay for them separately.
Medications: Patients are required to purchase their medications separately after the procedure.
Food and Beverages: BHT Clinic's rhinoplasty packages do not include food and beverages during the recovery period.
Complications: In the rare case of complications, additional treatment or procedures may be required, which will be charged separately.
Nose Surgery Pre-Op Tests:
Blood Test: Before undergoing rhinoplasty, patients are required to undergo a blood test to check for any underlying health conditions.
Physical Exam: Patients undergo a physical exam to assess their general health and ensure they are fit for surgery.
Allergy Test: Patients undergo an allergy test to determine if they are allergic to any medications or anesthesia.
CT Scan: A CT scan is done to create a detailed image of the nose and surrounding structures, which helps surgeons plan the procedure.
Psychological Evaluation: A psychological evaluation is done to ensure that patients have realistic expectations of the surgery and understand the potential risks and benefits.
Who is the Associate Professor Doctor?
| | |
| --- | --- |
| Doctor Name | Overview |
| Mustafa SAGIT | Assoc. Dr. Mustafa Sağıt is an Ear Nose Throat Diseases - ENT specialist. It provides services in the fields of Nose Aesthetics, Allergies, Upper Respiratory Tract Infection (URTI) and provides services in the fields of Rhinoplasty, Glossectomy, Tonsillectomy, Nose aesthetics (rhinoplasty), Glossectomy, Tonsillectomy diseases. |
Education:
Ankara Diskapi Yildirim Beyazit Training and Research Hospital

Erciyes University Faculty of Medicine
Work Experience:
Erciyes University Faculty of Medicine Department of Medical Histology and Embryology

T.R. Ministry of Health Diskapi Yıldırım Beyazıt Training and Research Hospital Ear Nose and Throat Diseases Clinic

T.R. Ministry of Health Şanlıurfa Training and Research Hospital

T.R. Ministry of Health Kayseri Training and Research Hospital
Memberships:
Turkish Ear Nose Throat and Head and Neck Surgery Association

Turkish Otorhinolaryngology and Head and Neck Surgery Qualification General Assembly

Ankara Ear Nose Throat and Head and Neck Surgery Association

Facial Plastic Surgery Association
Professional Experience:
Start of Service: 01.2009

Experience: 14 Years
Visit Istanbul's Unique Charm!
Istanbul is a fascinating city that uniquely blends its rich history and cultural heritage with modernity. It's a city that bridges two continents, Europe and Asia, and it's the only city in the world that can claim that.
There are so many things to see and do in Istanbul. The city is full of stunning landmarks, like the Hagia Sophia, the Blue Mosque, and the Topkapi Palace. You can take a stroll through the Grand Bazaar and get lost in the labyrinthine streets full of shops selling everything from spices to Turkish carpets. You can also take a boat tour along the Bosphorus and see the city from the water.
In addition to its landmarks, Istanbul is also famous for its delicious food, vibrant nightlife, and warm hospitality. You will have the opportunity to try traditional Turkish cuisine, such as kebabs, baklava, and Turkish coffee, and experience the city's bustling streets at night.
Overall, Istanbul is a city full of life and energy, with a unique blend of old and new, east and west. You will surely have a memorable experience in this magnificent city!
Before and After Images for Nose Surgery at BHT Clinic in Istanbul, Turkey
Frequently Asked Questions (FAQ):
Q1. My nose is too big. Can you make it smaller?
Yes! Dr. Mustafa Sagıt frequently performs rhinoplasty to reduce the size of the nose. He will also carefully address other portions of the nose such as the nasal tip and the nasal bones rather to achieve a result which appears as balanced and natural as possible. Please see our photo gallery for examples.
Q2. What is a standard rhinoplasty?
Because the structure of the nose is quite complex, there is no standard rhinoplasty. Each procedure is unique and custom-designed to address every patient's specific needs and to work within the structure of their specific nose. Because of the huge variation – not only in shape and appearance but also in strength, structure and support of each element of every nose – a careful plan must be created for each procedure and meticulously carried out.
Q3. Is rhinoplasty cosmetic or reconstructive?
Rhinoplasty may be cosmetic or reconstructive but most procedures have elements of both. Dr. Mustafa will always address the functional/breathing component in every procedure, whether it is performed for aesthetics reasons or not. In functional/reconstructive procedures, Dr. Mustafa will specifically review the details of each case with every patient.
Q4 .What is Dr. Mustafa philosophy towards rhinoplasty?
Dr. Mustafa  takes a very conservative approach to rhinoplasty. He believes in achieving a natural-appearing result and does not like an unnatural or "operated" look. Great care is taken to make changes that fit each individual's character. A great effort is made to ensure that the nose retains its individual and unique character and that it fits characteristics of each face to provide a harmonious balance for the best overall appearance possible.
Q5. What is the difference between "open" and "closed" rhinoplasty?
Closed rhinoplasty typically describes a procedure in which all incisions are carefully hidden on the inside of the nose. Open rhinoplasty also involves a small incision across the columella, or bottom portion of the nose which forms the skin and tissue between the nostrils. Dr. Mustafa is well skilled in both open and closed techniques of rhinoplasty and in consultation with the patient will use a technique which will be most likely to produce the most overall result.
Q6. Is it possible to have a rhinoplasty without having that unnatural or "operated" look?
Yes! The goal of every one of Dr. Mustafa's procedures is to achieve a look which appears as natural and unoperated as possible. He takes meticulous care both to shape each individual element precisely and also to blend the elements and bring harmony to the overall appearance of the nose. The overall goal is to produce a result which appears unoperated but is a significant improvement from the preoperative appearance.
Q7. Can you improve the breathing through my nose?
Breathing can be improved significantly in the vast majority of cases. Dr. Mustafa's additional residency in Otolaryngology – Head and Neck Surgery (ear, nose and throat surgery) focused specifically on improvement of the nasal airway and airflow. Dr. Mustafa will investigate each portion of the complex nasal airway and specifically address each area that will allow for improvement.
Q8. What kind of anesthesia is used for surgery?
Almost all rhinoplasty procedures are performed under general anesthesia or heavy sedation, according to the needs and wishes of each patient. We find that most patients prefer general anesthesia in which the patient is asleep during the entire procedure.
Q9. How long does rhinoplasty take?
Rhinoplasty procedures may take one or more hours, depending entirely on the complexity of the case and the meticulous steps required for an optimal outcome. Dr. Mustafa will be able to provide a good estimate for the length of your procedure during your consultation
Q10. Will there be any nasal packing?
Dr. Mustafa carefully closes the incisions with fine dissolving sutures in almost all cases. Therefore, he does not use nasal packing in most cases. Occasionally technical considerations during the procedure will call for nasal packing but this is quite unusual.
Q11. What is recovery like?
Patients tell us that the recovery is typically uneventful. We suggest that patients take about a week off from work. Usually there is very little pain or nausea. The nose will feel stuffy after surgery and a small splint will be left in place for one week after surgery. Dr. Mustafa takes meticulous care to perform the procedure carefully in the proper tissue planes, and most swelling disappears several weeks after surgery. However, some swelling may remain for many months after surgery, and the most subtle changes especially may take up to a year or more to be noticeable.
Q12. Will I have bruising after surgery?
You may or may not have bruising depending upon the details of your specific surgery. Patients who bruise easily, have thin or fair skin, or require repositioning of the nasal bones will be more likely to bruise than patients who do not. Most bruising resolves around 10-12 days after surgery.
Q13. Does Dr. Mustafa perform a lot of this type of procedure?
YES
Q14. I have had a rhinoplasty before and I am unhappy with my result. Can this be fixed?
The revision of a rhinoplasty can be quite variable and depends entirely upon the patient's wishes and anatomy and the procedure which was done before. Sometimes minor touchups are all that is required and in other cases a major revision of the underlying nasal structures is necessary. Revision of a rhinoplasty typically is more complex and takes longer than a rhinoplasty performed for the first time and the expectation for what could be reasonably achieved may be lower. During your consultation Dr. Mustafa will specifically discuss with you what you can and cannot reasonably expect from the revision of your rhinoplasty.
Q15. Can BHT Hospital  guarantee me a result for rhinoplasty?
No physician, no hospital including BHT hospital and Dr. Mustafa, can ever guarantee a result for rhinoplasty or any other medical procedure. However, with that in mind, Dr. Mustafa takes meticulous care with each procedure to perform the elevation and shaping in the precise and natural planes of the inside structure of the nose. He is quite obsessive about shaping each individual portion and significant bleeding is rarely encountered in any of his procedures. Meticulous dissecting and shaping of each portion not only improves the overall chances of a better result but will cause less swelling after surgery and reduce the overall healing time.
Q16. Can I have other cosmetic surgery at the same time as my rhinoplasty?
Yes. Other procedures may be performed at the same time as rhinoplasty. Commonly a procedure which sometimes may be performed is a chin advancement or chin implant to improve the harmony of the face. Other procedures in other portions of the body may be performed as well. However, a decision about each set of surgeries is made on a case-by-case basis
Q17. Why do surgeons sometimes move the chin forward or place a chin implant during rhinoplasty surgery?
Moving the chin forward in specific cases will better balance the relation of the nose to the rest of the face.
Get FREE QUOTE for Nose Surgery in Istanbul, Turkey at PlacidWay!
If you're considering rhinoplasty treatment in Istanbul, Turkey, book your consultation at BHT Clinic today. With their comprehensive rhinoplasty packages and exceptional care, BHT Clinic is the perfect choice for those seeking a hassle-free and comfortable experience. Click contact us button below to get started:

---