Top Package for All on 4 Dental Implants in Izmir, Turkey
Package price starting from:
$5845
Treatment:
Dentistry, All on 4 Dental Implants
Location:
OSMANGAZI MAHALLESI YAVUZ CADDESI NO 310 BAYRAKLI IZMIR, Turkey
Focus Area:
All on 4 Dental Implants in Izmir Turkey | Full Mouth Restoration | Dental Implants | West Dental Clinic | Fixed Hybrid Acrylic Bridge
---
Best All on 4 Implants Package in Izmir, Turkey with Zirconium Crowns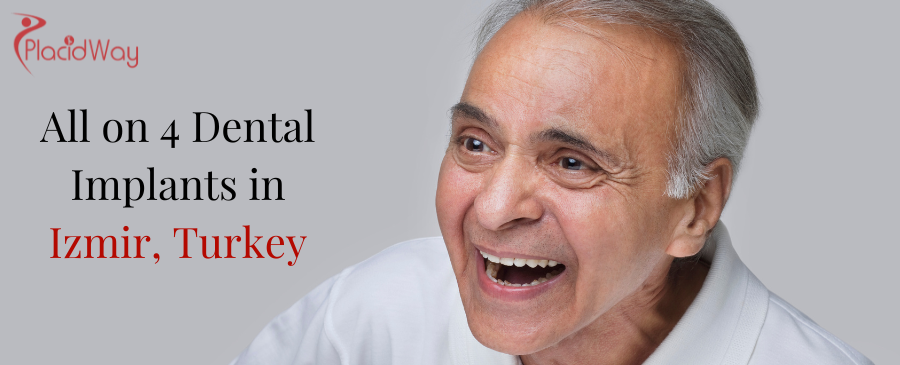 Restore your smile with ALL-ON-4 DENTAL IMPLANTS Package in Izmir, Turkey! West Dental Clinic in Izmir offers an exclusive, pocket-friendly package created for your dental health goals. Keep reading to see package cost, inclusions, benefits, and find best dentists in Izmir.
Package Price: $5,845
Inclusions:
4 Straumann Group Medentika (German Brand)

12 Zirconium Crowns (Per Jaw) 
Dentists: Susana AKDAS, Fatih KARADAYI, Gençer Huniler, Tugçe Bigiz, Tugçe ATES, Onur Akin
Location: Izmir, Turkey
WEST DENTAL CLINIC TURKEY Highlights
Experienced, billingual medical team

Comprehensive treatments for the whole family

Dental Implant procedure with a lifetime guarantee

24/7 Dental Service for all patient's needs

Free Transfer Service

Affordable dental packages for a pleasant medical trip
What is the All-on-4 Dental Implant Procedure?
The All-on-4 procedure is an innovative approach to help patients who have problems with missing teeth. It's an immediately loaded fixed acrylic prosthesis supported by four implants.
All-on-4 improves your oral health as well as smile aesthetics. A dentist will perform this procedure to help you restore your teeth' function.
What is the Cost of All on 4 Dental Implants in Izmir, Turkey?
All on 4 Dental implants in Izmir cost $5,845 or 5,500 € that includes 4 Straumann Implants and 12 Zirconium Crowns (Per Jaw). See our cost comparison table below for more details:
| | |
| --- | --- |
| | All on 4 Dental Implants Cost |
| | |
| | |
| | |
Note: Contact the clinic directly for more information about the final price. The price may vary depending on your condition and the complexity of the procedure.

The patient will be able to eat normally again

No more struggle with uncomfortable dentures

Long lasting results

Minimal recovery time

The patient will achieve an attractive look

The implants look, feel and function like natural teeth

The system doesn't affect neighbouring teeth

Achieve a youthful look and more confidence
All on Four Implants Package Inclusions

​
4 implants,

4 Peek Abutments,

12 Zirconium Crowns Per Jaw,

Temporary Prosthesis for 4-6 Healing Period,

X-ray, Medical Consultation,

Hotel Accommodation with Breakfast, Pool, Spa, Gym for Both Visits (5 Nights for the 1st Visit and 10 Nights for the 2nd Visit),

Transfers Between Airport-Clinic-Hotel,

Translation Services during Treatment (German, English, Turkish, Ukrainian, French, Russian, Arabic),

Tour to Ephesus and the House of Virgin Mary
All on Four Implants Package Exclusions
Travel Costs

Additional tourist costs
Best Dentists for All-on-4 Straumann Implants at West Dental in Izmir, Turkey
Below is the list of top 6 dentists at West Dental Clinic in Izmir who will restore your georgeous smile in minimum time:
Susana AKDAS - COSMETIC DENTIST
Fatih KARADAYI - COSMETIC DENTIST
Gençer Huniler - ORTHODONTICS SPECIALIST
Tugçe Bigiz - COSMETIC DENTIST
Tugçe ATES - COSMETIC DENTIST
Onur Akin - PERIODONTIST
Why Choose Izmir for All on 4 Treatment?
If you choose all on 4 implants in Izmir you'll benefit from numerous things some of which are successful, minimally invasive treatment, comfortable stay, cost savings, and relaxing vacation in beautiful Izmir.
It is easy to reach the city since Izmir Adnan Menderes Airport operates regular daily flights to major European cities.
The best places to visit in Izmir are
The Yali Mosque and the Hisar Mosque,

Kemeralti Bazaar,

The Ataturk Museum, 

The Izmir Museum of History and Art,

Ephesus, a UNESCO Heritage Site,

Bodrum and Kusadasi, along the Aegean Sea.
FAQs about All on Four Implants in Izmir
Am I a good candidate for All On 4 procedure?
You are a good candidate for All-On-4 if you fall into these categories
You have all or most of the missing teeth 

Sufficient jawbone structure and gum tissue in place 

You are committed to proper oral hygiene  
You have bone loss 

Good general health 

You don't smoke.
What should I expect after All-On-4 procedure?
After All-On-4 procedure, you can expect minor discomfort which can be reduced with pain killers. The recovery time lasts only a few days and you'll gain the complete functionality of your jaws. Another benefit of All-on-4 restoration is that you regain your natural-looking smile with artificial teeth.
What is the recovery process after All on 4 procedure?
The recovery process of All-on-4 procedure is minimal. You might feel sore and experience bleeding and swelling in and around the mouth. 
You can reduce these issues with pain medication and apply an ice pack to the outside of the jaw area.
Get All on 4 Dental Implants Package at West Dental Clinic in Izmir Now!
Book this all-inclusive package for All on 4 Dental Implants in Izmir at West Dental Clinic. Save over 60% on costs back home and experience a wonderful dental vacation in this amazing, old Turkish city. 

Related Experiences:
All on 4 Dental Implants in Izmir, Turkey
All on 4 Dental Implants in Antalya
All on 4 Teeth Implants in Istanbul Turkey
All on 4 Dental Implants in Turkey
All on 4 Dental Implants in Mexicali
All on 4 Implants in Cabo San Lucas
---
Dentistry Related Packages
Dentistry Related Experiences