Package Details

Stem Cell Therapy for Autism in Tijuana, Mexico
Do you or a dear one struggle with autism? Are you looking for trying other medical options besides the traditional treatments? There's an alternative solution waiting for you in Mexico!
Stem Cell Therapy for Autism in Tijuana, Mexico is a new and promising treatment option for children with autism. This therapy uses stem cells to help improve the symptoms of autism. The stem cells are taken from the child's own body and are injected into the brain. This helps to improve the communication between the neurons in the brain and can help to reduce the symptoms of autism.
Advantages of Autism Treatment in Tijuana, Mexico by Progencells
This is a new treatment protocol with a low risk of complications.

The stem cells are able to transform and replace the destroyed and/or damaged cells.

Improved Digestion

Improved Self-care skills

Writing skills improvement and development

Better concentration and attention span

Less fear of loud noises

Improved behavior

Improved Verbal skills

Autism Stem Cell Treatment

Cost

in Tijuana, Mexico
At ProgenCell (Tijuana, Mexico), the stem cell therapy for autism package costs $8,300.
| | | |
| --- | --- | --- |
| Country | Procedure | Price |
| Tijuana, Mexico | Stem Cell Treatment for Autism | $8,300 |
| United States | Stem Cell Treatment for Autism | $18,000 |
Stem cell therapy is a new and promising treatment for autism that is currently being studied in clinical trials. The goal of this therapy is to improve the symptoms of autism by using stem cells to repair or replace damaged cells in the brain. The procedure begins with the patient's own stem cells being harvested from their bone marrow. These stem cells are then injected into the patient's bloodstream, where they travel to the brain and begin to repair or replace damaged cells. In addition to improving symptoms of autism, stem cell therapy also has the potential to improve other neurological conditions such as Alzheimer's disease, Parkinson's disease, and stroke. Although more research is needed to confirm its efficacy, stem cell therapy shows great promise as a treatment for autism and other neurological disorders.
Autism Treatment Package Inclusions
Autologous Bone marrow stem cells

Lumbar injection

Paediatric package (paediatrician, anaesthesiologist)

Neurologist consultation-evaluation

Medical Fees (medical committee, doctors, nurses, etc)

Blood work labs

Surgery room, instruments and equipment

Medication and disposable material

Local transportation (Airport - Hotel - clinic, border crossing)

Local Taxes
​Medical Reports Needed:
Confirmed diagnose

Medical questionnaire

Recent MRI or X-rays (optional)

Recent blood work (optional)
Payment Options: Cash, credit card, wire transfer
Note: The center may require a money deposit once a patient decides to book the surgery.
Stem Cell

Doctors 

in Tijuana, Mexico
Co-Founder of ProgenCell - Stem Cell therapies

Certified by the Mexican Board of General Practice M.D., C.A.

Biology and Health science teacher since 1996 at state High school system

Biology Titular Professor of the state system for years.

Specialty: Internist Medical Doctor; Univ. Autónoma de Nuevo León

Ex-president of the internist medical association of Baja California

ATLS instructor

Member of the transplant committee and transfusion medicine committee at ProgenCell- Stem Cell Therapies.
Why Choose

Autism Treatment in Tijuana, Mexico?
Stem cell therapy is a cutting-edge treatment for autism that is showing promising results. Tijuana, Mexico is at the forefront of this medical breakthrough, with a number of clinics offering stem cell therapy for autism. Tijuana, Mexico is an ideal place to receive stem cell therapy for autism because of the high quality of care and the low cost of treatment. Stem cell therapy is still considered to be experimental, and it is not yet available in the United States. However, Tijuana, Mexico is a safe and affordable place to receive this cutting-edge treatment.
Frequently Asked Questions About Stem Cell Therapy for 

Autism

 in Tijuana
What type of stem cells are used to treat autism?
All types of stem cells are harvested from the bone marrow, mesenchymal stem cells, hematopoietic stem cells, somatic stem cells and very small embryonic-like stem cells. Reason why stem cells from bone marrow are initially recommended in our patients, after a medical consultation. Allogenic stem cells may be a good option but are not recommended in all cases due to host-donor cell rejection or reaction. In some selected cases, umbilical cord stem cells could be used.
Is there a possibility of stem cell rejection?
Autologous stem cells have no risk of rejection since they are cells from the same patient. When they're introduced intravenously to the body, they're recognized as the same patients' cells and are not attack due to not being considered a harmful external cell by the immunological system.
Some patients using allogenic stem cells could develop a host-donor rejection. The immunological system doesn't identify them as its own stem cells in the body. They are identified instead as harmful cells that could damage the body. In that way, the system starts a process to destroy the stem cells, hurting and producing more harm to the body.
How many stem cells are used?
Autologous stem cells vary from patient to patient, there is no specific target amount of number of cells to be used, we focus on obtaining enough bone marrow volume which contains high quality stem cells.
Cases where bone marrow is not being used, other sources of stem cells could be an option. Patient goes thru a medical review to determine clinical status, results of a recent blood work and other factors such as availability are considered. Number of stem cells vary from patient to patient.
Why are multiple treatments necessary?
Autism is a chronic disease that progresses through time. Multiple treatments are needed in order to help the body restore and regenerate with this therapy.
How to Reach Tijuana, Mexico
It is quite easy to get in Tijuana, Mexico, as the city is located at the junction of all major highways and railways connecting the country with the rest of the world.  Tijuana International Airport is connected with all major cities across the world.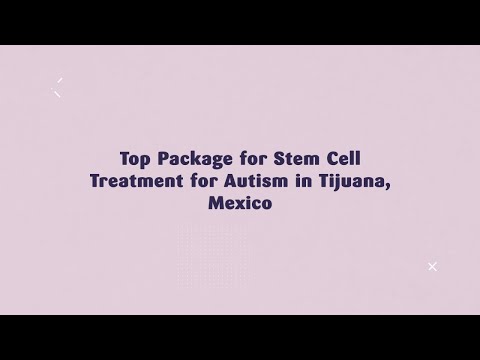 We recommend to have a medical evaluation to review if the patient is a candidate for a stem cell therapy procedure. Schedule an evaluation today by clicking the button below:
Disclaimer
Stem Cell Therapy is still an experimental treatment. Any information related to stem cell therapy provided in this website is for educational purposes only. It is not intended to replace a consultation with a licensed physician nor be construed as medical advice or any emergency health need you may be expecting.
Related Experiences:
Stem Cell Therapy for Autism in Mexico - PlacidWay
Explore Effective Stem Cell Therapy for Autism in Austria
Top and Effective Stem Cell Therapy for Autism in Florida USA
Feel Younger with Stem Cell for Anti Aging in Tijuana Mexico
Stem Cell Therapy in Tijuana, Mexico
Stem Cell Therapy for Knee in Mexico - Choose Knee Treatment Mexico