Package Details

Best Treatment Package for Gallbladder Removal Surgery in Piedras Negras, Mexico
Gallbladder removal surgery otherwise known as a Cholecystectomy is one of the most common procedures to treat gallstones. The gallbladder is a pear-shaped organ that rests beneath the right side of the liver. Its main purpose is to collect and concentrate a digestive liquid (bile) produced by the liver. This procedure is a common treatment for symptomatic gallstones and other gallbladder conditions. When it is carried out, it will relieve pain, treat infection, and, in most cases, stop gallstones from coming back. Mexico is one of the best destinations to consider for affordable and high-quality Gallbladder Surgery.
Finding gallbladder removal surgery clinics in Piedras Negras, Mexico is as important as picking a doctor for the procedure. It is important that the facility you choose is reputable and able to provide excellent care. The clinic should also be certified and qualified to carry out the operation. You also have to check for quality of facilities and technology they offer to make sure they can support the procedure efficiently. It helps to check with previous patients how their experience was.
Factors that Affect Package Price
You may find that the same provider is offering different package prices for Gallbladder Removal Surgery in Piedras Negras, Mexico. This happens due to relative factors such as:
Age of the patient

Gender of the patient

Surgeon's experience and fees

Infrastructure of the operation theatre

Type of anesthesia given

Qualification and experience of the doctor
The doctor at the clinic would ask to go for laboratory tests to ascertain the problem and plan your treatment course of action. Based on that, the doctor may consult over the phone and explain about the plan for Gallbladder Removal Surgery.
Benefits of Gallbladder Removal Surgery in Piedras Negras, Mexico
Freedom from pain

Improved mobility

Improved quality of life

Better treatment response

High success and satisfaction rates

Availability of best medical facilities

Experienced and skilled surgeons

Fascinating climate for quick healing

Complexity Level: High
Cost: The average cost of Gallbladder Removal Surgery in Piedras Negras, Mexico is around $3500.
Note: Final prices are determined after physical evaluation and laboratory reports analysis.
Length to Stay: 7-15 days
Note: The duration may vary depending upon the condition of patient and the chosen procedure of treatment
Inclusions:
All hospital fees with night stay

Pre and post-operative consultations

All medical fees (doctor fees, anesthesiologist and nursing staff)

Post-surgery garment
Exclusions:
Hotel or recovery house

Preoperative lab work

Airfare
List of Required Pre-Op Tests
Blood tests (this includes CBC complete blood count, electrolytes, and kidney tests)

Chest x-ray or electrocardiogram (EKG)

X-rays of the gallbladder

Ultrasound of the gallbladder
Note: The laboratory tests are done at least 7-10 days prior to the procedure. The particular tests are prescribed after a complete physical evaluation of the patient.
Payment Options: Cash, credit card, wire transfer
Note: The center may require a money deposit once a patient decides to book the surgery.
How to Get There
It is quite easy to get in Piedras Negras, as the city is located at the junction of all major highways and railways connecting the country with the rest of the world.  Piedras Negras International Airport is connected with all major cities across the world.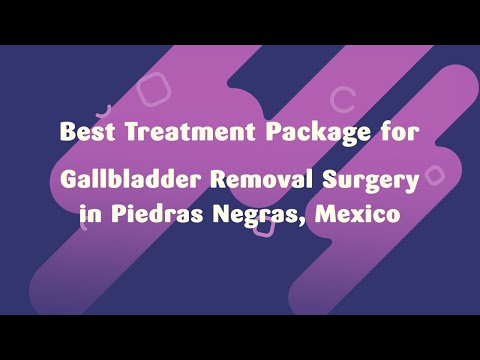 For more information on Gallbladder Removal Surgery in Piedras Negras, Mexico, click the button below:
Related Experiences:
Prevent Pregnancy with Vasectomy in Mexico
Kidney Stone Removal in Mexico - Effective Surgery for Your Kidneys
Kidney Transplant in Turkey - Improve Your Kidney Function
Kidney Transplant in India - Improve Your Kidney Function