All on 4 Dental Implants in Liberia, Costa Rica by Dental Clinic OCI
Package price starting from:
$12075
Treatment:
Dentistry, All on 4 Dental Implants
Location:
Liberia, Costa Rica - In front of Pizza Hut, Liberia, Local Number 3 next to exclusive footwear., Costa Rica
Focus Area:
All on 4 Dental Implants in Liberia, Costa Rica | Dental Clinic OCI
---
All-Inclusive All on 4 Teeth Implants Package in Liberia, C.R.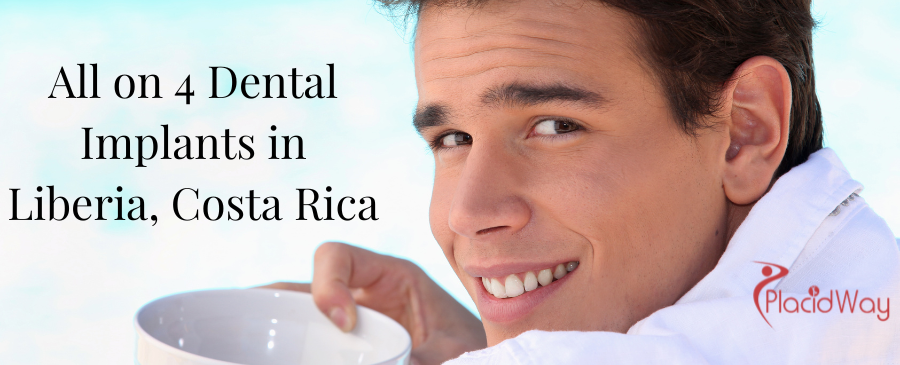 Affordable Package for All on 4 Dental Implants in Liberia, Costa Rica
Restore your smile with affordable All on 4 dental implants in Liberia, Costa Rica and save over 50% on US and Canada prices! All-on-4 dental procedure is an effective solution for your missing teeth and improves your oral health as well as aesthetics.
Package Price: $12,075
Inclusions:
Clinic: Dental Clinic O.C.I.
Dentists: Edgar Pabon, Fabian Fernandez, Karina Malavassi, Luis Granera,  Wendy Villalta and Oscar Cisneros.
Location: Liberia, Costa Rica
Dental Clinic O.C.I. is strategically located in Liberia, Costa Rica surrounded by nature areas and beaches. Here you can gain an excellent dental vacation package, enjoy the beauties of Costa Rica and design your smile at an affordable price. The clinic offers high-quality dental treatments to local and international patients.
Dental Clinic O.C.I. Highlights:
Comply with the highest standards of biosafety and hygiene.

Extensive doctor's experience allows us to provide you with a professional service.

Affordable prices as well as aesthetic packages.

Completely personalized attention according to your needs.
The All-On 4 Dental Implants system is an approach for patients who have lost many teeth or are about to lose their last remaining molars. It's a bridge fitted onto four titanium rod-like structures called "dental Implants" which restore full functionality of your mouth so you can eat whatever food choice suits you best!
All on 4 Dental Implants cost in Liberia are $12,075. Below is a cost comparison table for more details.
Note: Price can be different or change depending on the complexity of the procedure. Please follow the Price Policy at Dental Clinic OCI or contact the Customer Representative.

Payment Options: Cash, Credit Card, Wire Transfer
Note: The clinic may ask you for money deposit once you decide to receive the surgery.
Best Dental Implants 

Dentist

 in Liberia at Dental Clinic OCI
Dentists at Dental Clinic OCI in Liberia offer state-of-the-art dental procedures at competitive prices. They are specialists in smile restoration and dental surgery and members of prestigious dental associations. 
Oscar Cisneros

Wendy Villalta
Why Choose Dental Implants in Liberia, Costa Rica?
If you choose to get dental implants in Liberia, Costa Rica, you'll improve your oral health and smile at a reasonable price. Dental clinics in Liberia provide quality, effective, and low-cost dental treatments and all-inclusive packages to help you recover in the beautiful surroundings of Costa Rica.
As a dental tourist, you'll find interesting things to do and explore in this beautiful historic city such as:
Volcano in Rincón de la Vieja National Park 

Palo Verde National Park 

Coffee Farm tours

Playa Hermosa

Witch's Rock
FAQs about All-On-4 Implants in Liberia
Am I a good candidate for All On 4 procedure?
You are a good candidate for All-On-4 if 
You have all or most of the missing teeth 

Sufficient jawbone structure and gum tissue in place 

You are committed to proper oral hygiene  
You have bone loss 

Good general health 

You don't smoke.
What should I expect after All-On-4 procedure?
After All-On-4 procedure, you can expect minor discomfort which can be reduced with painkillers. The recovery time lasts only a few days and you'll gain the complete functionality of your jaws. Another benefit of All-on-4 restoration is that you regain your natural-looking smile with artificial teeth.
What is the recovery process after All on 4 procedure?
The recovery process of All-on-4 procedure is minimal. You might feel sore and experience bleeding and swelling in and around the mouth. 
You can reduce these issues with pain medication and apply an ice pack to the outside of the jaw area.
Book Today Low-Cost All On 4 Package in Liberia!
Related Experiences:
All on 4 Dental Implant in San Jose Costa Rica
All on Four Implants in Costa Rica
All on 4 Dental Implants in Mexicali
All on 4 Implants in Cabo San Lucas
All on 4 Dental Implants in Dubai UAE
All-on-4 Dental Implants in Nuevo Progreso Mexico
---
Dentistry Related Packages
Dentistry Related Experiences