Abdominal Etching Package in Bursa, Turkey
Package price starting from:
$4500
Treatment:
Cosmetic/Plastic Surgery, Abdominal Etching
Location:
Sirinevler mah, Ankara Yolu Cd. No: 795, 16290 Yildirim/Bursa, Turkey, Turkey
Focus Area:
TURAN TURAN Health Group | Bursa | Turkey | Abdominal Etching Surgery | Liposculpture | Six-Pack Abs
---
Top Liposculpture Package for Six-Pack Abs in Bursa, Turkey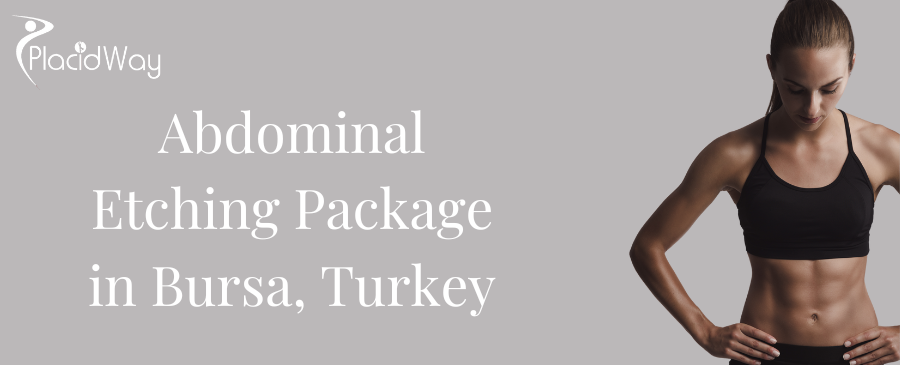 We provide you with all-inclusive Abdominal etching package in Bursa, Turkey to help you achieve high-def stomach muscles. Abs Implants is the least invasive form of body contouring surgery. This procedure will help you get the desired six-pack abs by removing stomach fat, allowing your natural abs to create an attractive 'six-pack appearance.'
Package Price: $4,500
Package Inclusions:
Doctor consultation

Pre-op tests

Nursing services 

Medications related to the procedure

1-day hospitalization for the patient and a companion

Room fees for the patient and a companion (3 times meals, etc.)

Transfers between Airport-Hotel-Hospital
Clinic: TURAN TURAN Health Group
Location: Bursa, Turkey
What is an Abdominal Etching Procedure?
Abdominal etching is a type of liposuction procedure. This outpatient procedure is typically performed under local anesthesia with intravenous (IV) sedation. A surgeon uses a suction technique like liposuction to remove fat deposits underneath your skin.
However, the results that lipoetching aims to achieve differ from those of classic lipo surgery. Abdominal etching molds and shapes your abdominal wall so that your ab muscles look more prominent.
The 

Cost of

 Abs Etching Surgery in 

Bursa Turkey at TURAN TURAN
The all-inclusive package for six-pack liposuction in Bursa cost $4,500. The costs in US and UK include the surgery only.
| | |
| --- | --- |
| | Abdominal etching Surgery Cost |
| | |
| | |
| | |
Note: For more information about the final price, make sure to contact the clinic directly. The price may vary depending on your condition and the complexity of the surgery.

Advantages

 of Abdominal Etching Surgery
Minimally invasive

Performed using local anesthesia on an outpatient basis

Removes stomach fat

Makes your natural abs prominent to create a six-pack appearance

Tightens the abdominal skin

Quick recovery

Reduced risk of post-operative complications

Minimal to no scarring

Minimal pain and discomfort

Washboard abs

Boost confidence

Long-lasting results
Six Pack Surgery

 Package Inclusions
Doctor consultation

Pre-op tests

Nursing services

Medications related to the procedure

1-day hospitalization for the patient and a companion

Room fees for the patient and a companion (3 times meals, etc.)

Transfers between Airport-Hotel-Hospital
Six Pack Surgery

 Package Exclusions
Airfare

Tourist Tours

Hotel acommodation
Why Choose Ab Implants in Bursa, Turkey?
If you want to improve your appearance with abs etching, Bursa, Turkey is a good place to start. Bursa has become a destination for people from all over the world looking for quality care at an affordable price. For those considering cosmetic surgery, the city has several advantages over other countries:
Highly experienced surgeons – Bursa is home to some of the world's most reputable doctors. Many of these surgeons have advanced training and can perform more effective procedures than what is available elsewhere.
Competitive pricing - Compared to other countries, the cost savings associated with treatments in Bursa are significant. Patients can save up to 60% or more on certain procedures while still receiving high-quality results.
Cutting-edge technology - Many clinics in Bursa use cutting-edge technology and other advanced techniques to make procedures more precise and effective.
World-class medical facilities - Bursa's medical facilities are world-class, providing patients with comfort and safety during their treatments.
FAQs about Abdominal Etching Surgery in Bursa, Turkey
Am I a candidate for abdominal etching?
If you are generally fit but lack athletic-looking muscle definition, lipoetching is a good option. Keep in mind that abdominal etching is not a weight loss procedure.
This procedure is recommended for people who:
Eat a healthy diet

Exercise regularly to combat resistant tummy fat'

Have underlying abdominals that are toned

Want to have more defined abdominal lines

Have reasonable expectations.

Non-smoker

Has no life-threatening medical conditions

Obesity does not exist.
Before deciding on this surgery, consult your doctor to see if abdominal etching is right for you.
What are the side effects of Abdominal etching?
Abdominal etching is considered a low-risk cosmetic procedure. But it can have some minor risks and side effects such as:
Infection

Damage to nerves

Bleeding 

Swelling

Bruising 

Anesthesia bruising or headaches
Your doctor should be able to tell you about these side effects so that you know how to prepare for the surgery.
What is the difference between liposuction and abdominal etching?
In terms of preparation for surgery, recovery time, and procedure requirements, abdominal etching is comparable to traditional liposuction. However, there are some distinctions between these two liposuction procedures.
Abdominal etching, for example, produces far more visible results than traditional liposuction. Furthermore, abdominal etching only removes fat from your abdomen, whereas liposuction removes fat from various areas of your body.
Speak with your doctor if you are still unsure about which procedure is best for you.
What is Abdominal etching recovery process?
The recovery period following abdominal etching is relatively brief. Wear a compression garment for three to six weeks after surgery.
You may experience discomfort, swelling, and bruising while recovering. This, however, should pass within a few days to weeks.
Most patients can return to work within a few days of the procedure. It is not advisable to lift heavy objects. After all, everyone's recovery will differ based on their pain tolerance and healing response.
Book Affordable Package for 

Six-Pack Liposculpture

 in Bursa, Turkey Today!
Get an all-inclusive package for Abdominal Etching at the best hospital in Bursa! Experienced plastic surgeons will assist you in achieving the desired six-pack look. Don't hesitate to get in touch with us for more information!
Related Experiences:
Abdominal Etching in Turkey
Abdominal Etching in Mexico
Liposuction in Antalya
Breast Lift in Antalya Turkey
Breast Reduction in Antalya Turkey
Rhinoplasty in Antalya Turkey
---
Cosmetic/Plastic-Surgery Related Packages
Cosmetic/Plastic-Surgery Related Experiences