Eyelid Surgery Package in Istanbul, Turkey by Dr. Zeki Yasar Clinic
Package price starting from:
$3041
Treatment:
Cosmetic/Plastic Surgery, Eyelid Surgery
Location:
Nisantasi Lotus Walk Office, Halaskargazi Road, Floor: 4 Apt. No:61, 34371 Sisli/Istanbul/Turkey, Turkey
Focus Area:
Dr. Zeki Yasar Clinic | Istanbul | Turkey | Eyelid Surgery
---
Discover the Gateway to Beautiful Eyes with Eyelid Surgery in Istanbul, Turkey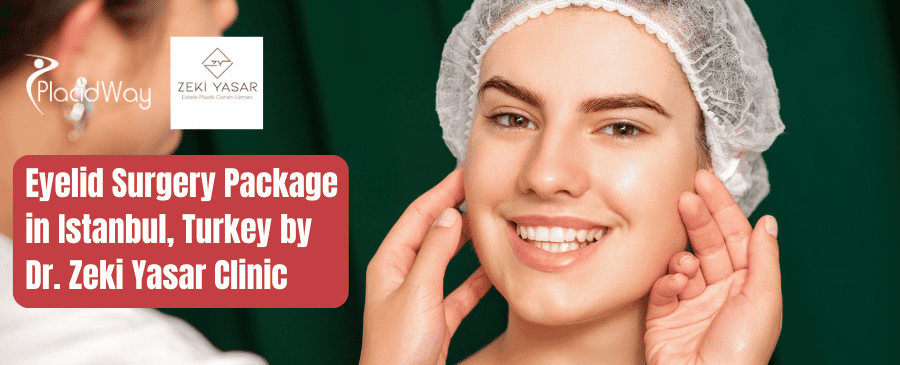 Are you seeking to rejuvenate your eyes and restore youthful charm? Look no further than the Eyelid Surgery Package offered by the esteemed Dr. Zeki Yasar Clinic in Istanbul, Turkey. This exclusive package combines expertise, modern facilities, and affordability, making it an ideal choice for those seeking exceptional results without breaking the bank. Under the skilled hands of Dr. Zeki Yasar, a highly regarded expert in cosmetic and reconstructive surgery, you can discover the gateway to captivating eyes and a newfound sense of confidence.
You can get eyelid surgery package in Istanbul, Turkey by Dr. Zeki Yasar Clinic with the price starts at $3,041 or 2,800 Euro. Check our price list table below to learn more:
| | |
| --- | --- |
| City, Country | Cost in USD |
| Istanbul, Turkey | $3,041 or 2,800 Euro |
| United States | $7,000 |
| United Kingdom | $7,627 |
Note: price may change and vary depends on complexity of the procedures and patient conditions. Click free quote button below to learn more:

Cosmetic Excellence: Istanbul, Turkey, is renowned for its skilled plastic surgeons and cutting-edge medical facilities. Choosing Eyelid Surgery in this city offers access to world-class cosmetic excellence, ensuring a successful and satisfying outcome.
Affordability: Dr. Zeki Yasar Clinic offers an attractive package that includes the surgery cost, anesthesia, and other necessary expenses at a competitive price, making it an affordable option compared to other destinations.
Cultural Experience: Combining your medical journey with the vibrant cultural experience of Istanbul adds an extra dimension to your trip. Discover the rich history, delicious cuisine, and stunning landmarks of this magnificent city.
Tourist-Friendly: Istanbul is a popular tourist destination with excellent transportation and accommodations. From historical sites to modern attractions, the city offers a plethora of activities to make your trip enjoyable.
Safety and Comfort: Istanbul is equipped with state-of-the-art medical facilities and adheres to international healthcare standards. Patients can expect a safe and comfortable environment throughout their treatment journey.
Eyelid Surgery Procedure: The package includes the full eyelid surgery procedure performed by Dr. Zeki Yasar, addressing drooping eyelids, puffiness, and other cosmetic concerns.
Consultation: The package covers an initial consultation with Dr. Zeki Yasar, where he will assess your candidacy for the procedure and discuss your goals and expectations.
Hospital Stay: The package includes a comfortable hospital stay, ensuring you receive the necessary post-operative care and attention from the medical staff.
Anesthesia: The cost of anesthesia, administered by experienced anesthesiologists, is part of the package, ensuring a pain-free and comfortable procedure.
Follow-Up Visits: Dr. Zeki Yasar Clinic provides post-operative follow-up visits to monitor your recovery and address any concerns you may have.
Travel Expenses: The package cost does not cover travel expenses to and from Istanbul, Turkey.
Accommodation: While the hospital stay is included, accommodation outside the hospital premises is not covered in the package.
Medication: The package excludes the cost of medications prescribed during the recovery period.
Personal Expenses: Expenses such as meals, shopping, and local transportation during your stay are not included in the package.
Additional Procedures: If any additional procedures or tests are required beyond the eyelid surgery, they will be billed separately.
Eyelid Surgery Pre-Op Tests:
Physical Examination: Before the surgery, a comprehensive physical examination will be conducted to evaluate your overall health and suitability for the procedure.
Eye Examination: A thorough eye examination is essential to assess the condition of your eyes and determine the extent of the eyelid surgery needed.
Blood Tests: Routine blood tests are conducted to check for any underlying health conditions that may impact the surgery or recovery.
Medical History Review: Your medical history will be reviewed to ensure that you do not have any pre-existing conditions that might interfere with the procedure.
Anesthesia Evaluation: The anesthesiologist will evaluate your suitability for anesthesia, considering factors such as allergies, medications, and previous anesthesia experiences.
Choosing eyelid surgery in Istanbul, Turkey offers a host of advantages, including top-tier medical expertise, affordable pricing, a rich cultural experience, and a safe and comfortable treatment environment. With Dr. Zeki Yasar Clinic's exceptional reputation and the city's reputation for cosmetic excellence, you can confidently embark on your journey to refreshed and rejuvenated eyes.
Dr. Zaki Yasar is a highly skilled plastic and aesthetic surgeon based in Istanbul, Turkey, specializing in eyelid surgery. With years of experience and a strong educational background, including a specialization in Plastic Surgery from Dicle University and a degree in Medicine from Ege University, Dr. Zaki Yasar is renowned for his expertise in delivering exceptional results. Known for his precision, attention to detail, and commitment to patient satisfaction, Dr. Zaki Yasar is considered one of the best eyelid surgeons in Istanbul, Turkey, offering a combination of technical excellence and compassionate care to his patients.
Top Plastic Surgeon in Istanbul, Turkey for Eyelid Surgery

Experienced Plastic and Aesthetic Surgeon in Istanbul, Turkey

Dicle University - Plastic Surgery Specialization Program, 2006 – 2011

Ege University – Medicine, 1998 - 2004
Is eyelid surgery in Istanbul, Turkey a safe procedure?
Yes, eyelid surgery in Istanbul, Turkey is considered safe when performed by experienced and qualified surgeons like Dr. Zeki Yasar. The city has modern medical facilities that adhere to international standards, ensuring your safety and well-being throughout the procedure.
How long does the recovery period for eyelid surgery in Istanbul typically take?
The recovery period for eyelid surgery varies from patient to patient. Generally, you can expect the initial healing process to take about 1-2 weeks, during which swelling and bruising may occur. Complete recovery may take several weeks to a few months, with results continuing to improve over time.
Will there be visible scarring after eyelid surgery?
Dr. Zeki Yasar utilizes advanced techniques to minimize scarring during eyelid surgery. Incisions are carefully placed in the natural creases of the eyelids, ensuring any scars are discreet and easily concealable. With proper post-operative care, the scars will fade over time and become less noticeable.
Are the results of eyelid surgery permanent?
Eyelid surgery can provide long-lasting results. While the natural aging process continues, the improvements achieved through eyelid surgery are generally considered permanent. However, it's important to maintain a healthy lifestyle, protect your skin from sun damage, and follow post-operative care instructions to preserve the results.
Can I combine eyelid surgery with other cosmetic procedures?
Yes, eyelid surgery can be combined with other cosmetic procedures to enhance overall facial rejuvenation. Commonly combined procedures include facelifts, brow lifts, or non-surgical treatments like Botox or dermal fillers. Dr. Zeki Yasar will assess your individual needs and goals to determine the best treatment plan for you.
Ready to take the first step towards captivating eyes? Book your consultation at PlacidWay Medical Tourism today and unlock the opportunity to undergo the transformative Eyelid Surgery Package at Dr. Zeki Yasar Clinic in Istanbul, Turkey. Let this be the start of your journey to renewed self-confidence and natural beauty.

Related Experiences:
Eyelid Surgery in Istanbul, Turkey
Eyelid Surgery in Turkey
Eyelid Surgery in Thailand
Eyelid Surgery in Mexicali
Eyelid Surgery in Mexico
Mommy Makeover in Istanbul, Turkey
---