Endodontics in Turkey- Find the Best Package
Package price starting from:
$175
Treatment:
Dentistry, Root Canal
Focus Area:
Endodontics in Turkey | Root Canal Price in Turkey | Root Canal Surgery | Endodontic Cost | Best Endodontics Package in Turkey
---
Endodontics in Turkey, Root Canal Price in Turkey, Root Canal Surgery, Endodontic Cost, Best Endodontics Package in Turkey

Endodontics in Turkey- Find the Best Package
Endodontics is a root canal microsurgery that helps to prevent the advancement of dental infection. When a tooth is infected, it can take the path of the canal to spread towards the root and the bone tissues surrounding the affected tooth. Endodontics can prevent this easily through a painless procedure.
Turkey is a leading country when it comes to dental tourism. The advanced dental clinics are loaded with the latest tools to treat tooth roots along with the assistance of advanced camera to make the endodontic procedure perfect and swift. Moreover, there are some other factors that you must check while searching for the best endodontic package in Turkey. Take a look.
Factors that Affect Price of Endodontics in Turkey
The cost of Endodontics may vary according to some important factors. Here is the list of some common factors that can affect the price of endodontics in Turkey.
Tools and equipment used for the procedure

Cleaning, disinfecting root canal

Filling the root canal

Tooth nerve removal

Removing damaged tooth

Experience of the dentist
The dentist may suggest some imaging tests to check your dental setup. Based on that, the dentist may consult about the procedure.
Benefits of Endodontics in Turkey
Pain-free procedure

Improves smile

Healthy mouth

Can last lifetime with proper care

Restricts the need of ongoing dental work

Efficient and cost-effective

Trained and certified dentists
Complexity Level: Low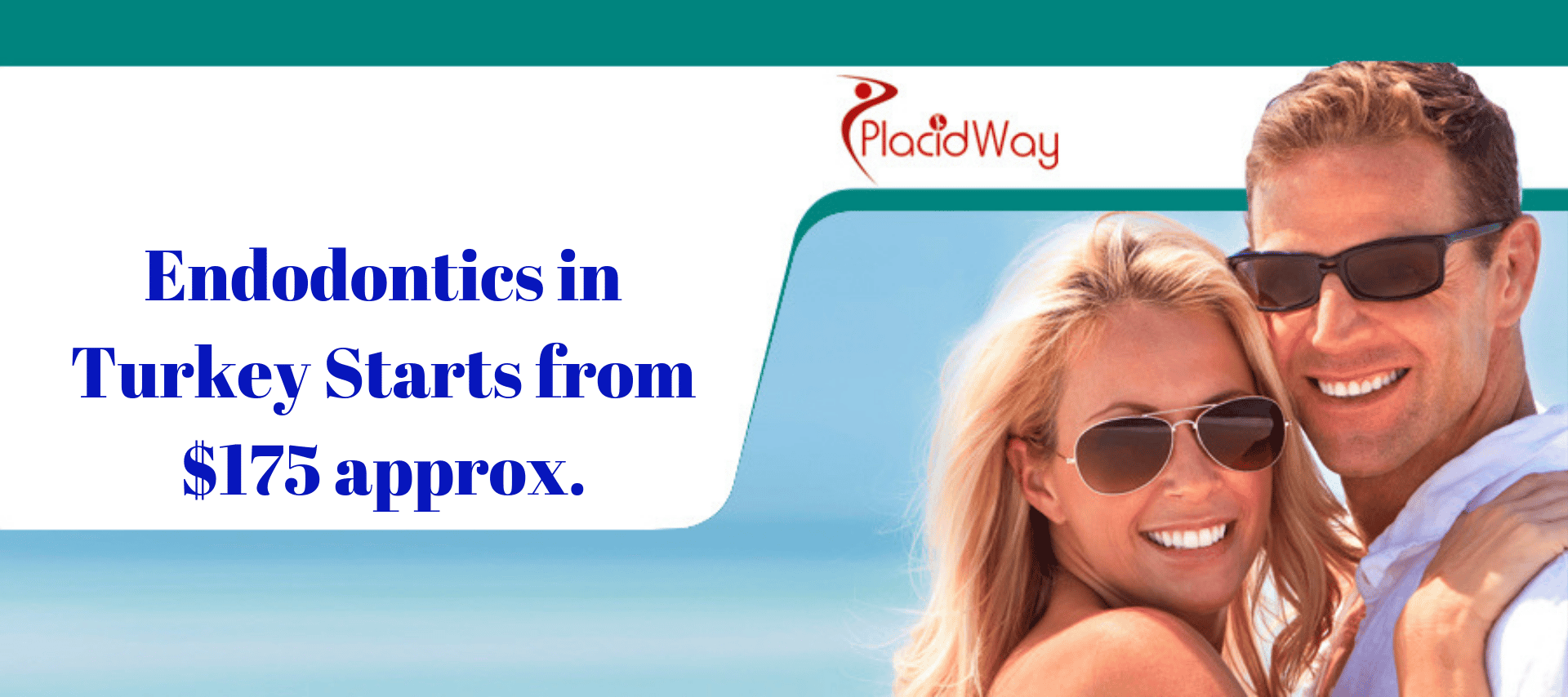 Cost: The price of endodontics package in Turkey is $175 approximately.
Note: The price will vary according to the chosen procedure. Final prices are determined after physical evaluation and laboratory reports analysis.
Length of Stay: Same day procedure
Inclusions:
Pre and post-treatment consultation

All medical fees
Exclusions:
Hotel or recovery house.

Preoperative lab work.

Airfare
List of required pre-op tests:
X-ray of teeth

Complete blood count

Vital Pulp Tests (VPT)

Oral hygiene test

Test for other possible tooth infections, etc.
Note: The laboratory tests are done at least 7-10 days prior to the procedure. The particular tests are prescribed after a complete physical evaluation of the patient.
Payment Options: Cash, credit card, wire transfer
Note: The center may require a money deposit once a patient decides to book the surgery.
How to Get There
It is quite easy to get in Turkey, as the country is connected with the rest of the world by airways, roadways as well as waterways. All major cities of Turkey have international airports that connect all major global destinations.
For more information about Endodontics in Turkey, click the button below:


Related Experiences:
All on 8 Dental Implant in Istanbul, Turkey
Dentures in Istanbul
Dental Crowns in Istanbul
Dental Veneers in Istanbul
Dentists in Istanbul, Turkey
Complete Guide for Dental Implants in Istanbul, Turkey
---