Package Details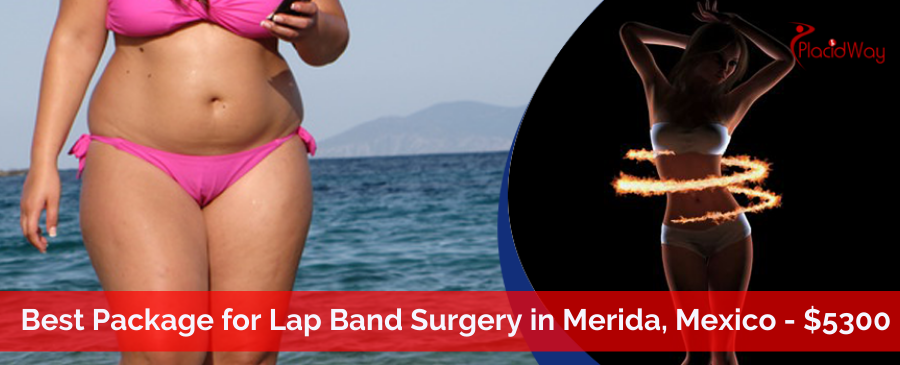 Best Package for Lap Band Surgery in Merida, Mexico
Bypass Gastrico Merida clinic provides a cheap package for Lap Band Surgery in Merida, Mexico. Get top treatment free quotes form top centers. Bypass Gastrico Merida is #1 top clinic that gives the best of Laparoscopy and Corpulence surgery in the Mexican City of Merida. Specialists at Bypass Gastrico Merida are experts in treating obesity and LAP Band Surgery is one of the methods used there.  There are several clinics that provide high-quality LAP Band Surgery with good outcomes.
Definition of Lap Band Surgery Treatment in Merida, Mexico
LAP Band Surgery is one of the often used treatments for obesity. It is a solution for people that have more than 45kg over their ideal BMI.  Obesity can impair the life of people a lot and even threaten life so one of the solutions is gastric band surgery known also as LAP Band Surgery.
Bypass Gastrico Merida offering Lap Band Surgery for just $5,300 in Merida, Mexico whereas, the same procedure average cost in United State is around $14,500
| | | |
| --- | --- | --- |
| | | |
| | Lap Band Surgery | |
| | Lap Band Surgery | |
| | Lap Band Surgery | |
Note: Laparoscopic Lap band removal will cost you extra $3200 and Endoscopic lap band removal will cost you extra $2000.
Note: Price can different or change depends on complexity of the procedure. Please follow Price Policy in Bypass Gastrico Merida Clinic or contact Customer Representative.
The surgical procedure is done using laparoscopy and involves putting a hollow band at the top of the stomach and then is inflated with a saline solution. It has the aim to reduce the size of the stomach in order to restrict food intake.
The band controls and limits the amount of food coming to the stomach of a person and thus induce weight loss. Weight loss is achieved by limiting food intake, reducing appetite, and slowing digestion.
Below are some advantages of selecting Lapband Surgery Package in Merida, Mexico by Bypass Gastrico Merida Clinic:
Possibility of long-term weight loss for those with obesity

Lesser chance of wound infections and hernias after surgery

Relatively rapid recovery

Reduced risk of diabetes, high blood pressure, urinary incontinence, and other conditions related to excess weight

Improved quality of life after surgery

No loss of nutrient absorption
Here you can find inclusions for Lap Band Surgery Package in Merida, Mexico:
Medical and Hospital Fees

Surgeon Fees

Doctor consultation
Check below information of exclusions for Lap Band Surgery Package in Merida, Mexico:
Personal expenses

Preoperative lab work

Airfare
Below are some pre op tests in Lap Band Surgery Package in Merida, Mexico by Bypass Gastrico Merida Clinic:
Abdominal ultrasound

Complete blood count (CBC)

Blood urea nitrogen (BUN)

Test for cortisol, creatinine, electrolytes, prolactin, and thyroid-stimulating hormone (TSH)

Cardiac catheterization

Chest X-ray

Electrocardiogram (EKG)

Flexible sigmoidoscopy

Mammogram

Pap smear

Pelvic ultrasound

Pulmonary function tests

Persantine thallium scan

Colonoscopy

Echocardiogram
Note: The pre-op tests will be suggested after an essential physical check up. The tests are required to be done before 7-10 days of the treatment.
Payment Options: Cash, Credit Card, Wire Transfer
Note: The clinic may ask you for money deposit once you decide to receive the surgery.
Here you can find information about Lap Band surgeon in Merida, Mexico:
Doctor Name: Md. Jesus Nunez Hernandez
Experiences and Certifications:
Specialist Diabetes Obesity Surgery and Laparoscopic
Merida, Mexico is most ideal decision for Medical Tourism objective, as it impacts the recuperating and improvement of the patients. Merida, Mexico is considered as a piece of the most grounded and the best clinical the improvement business regions that welcome you with its amazing climatic conditions and generally standard quality. Patients can get:
Personalized attention to every patient

Treatment will be done by the most recognized and trusted hospital

Hospital is fully equipped

Best medical facilities

Excellent amenities and comfortability of patients and companion

Affordable cost
Here you will find information about FAQ (Frequently Asked Questions) for Lap Band in Merida, Mexico:
Who is Suitable for this Procedure?
Candidates for Lap Band Surgery are those with a body mass index over 40 kg/m2, or people with more than 45 kilograms over their ideal body weight. This procedure is performed on a person with a BMI of 35-40 kg/m2 suffering from problematic medical conditions related to weight, like high blood pressure (hypertension) or diabetes.
How long does it take to lose weight after lap band surgery?
In the first few months following surgery, you'll likely lose weight relatively quickly — up to three pounds a week in some cases. However, as time progresses, the weight comes off more slowly, and after about a year or two, it stops completely.
How long do you stay in hospital after lap band surgery?
Considering that lap band surgery is performed using a minimally invasive technique, you will only have to spend one day in the hospital. It is recommended to take 1 to 3 weeks off work afterward, whereas full recovery is achieved within 4 to 6 weeks.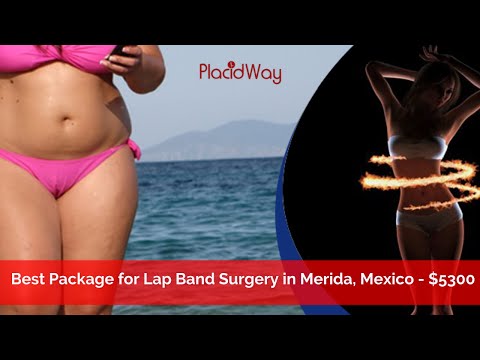 Book now lap band surgery package from #1 best clinic for Obesity Surgery in Merida, Mexico at Bypass Gastrico Merida Clinic. You will acquire top quality of Lap Band at pocket-friendly expenses. Make sure to tap contact us button below to get more information or if you want to book your reservation today:
Related Experiences:
Gastric Sleeve Surgery in Merida, Mexico - Remove Excess Fat!
Gastric Sleeve Surgery in Reynosa - Lose Weight in Mexico
Get Cheap Cost of Gastric Bypass Mexico – Top Clinics, Surgeons & Cost in Mexicali
Bariatric Surgery in Reynosa, Mexico – Starting at $6,500, Book Now!
Gastric Sleeve Surgery in Tijuana Mexico - Improve Your Quality of Life
Gastric Sleeve Surgery in Mexicali Mexico - Safe and Trusted