Affordable Eyelid Surgery in Izmir, Turkey from Just $1,000
Package price starting from:
$1000
Treatment:
Cosmetic/Plastic Surgery, Eyelid Surgery
Focus Area:
Eyelid Surgery | Cosmetic Surgery | Eye Care| Blepharoplasty | Izmir | Turkey
---
Blepharoplasty Eyelid Correction in Izmir, Turkey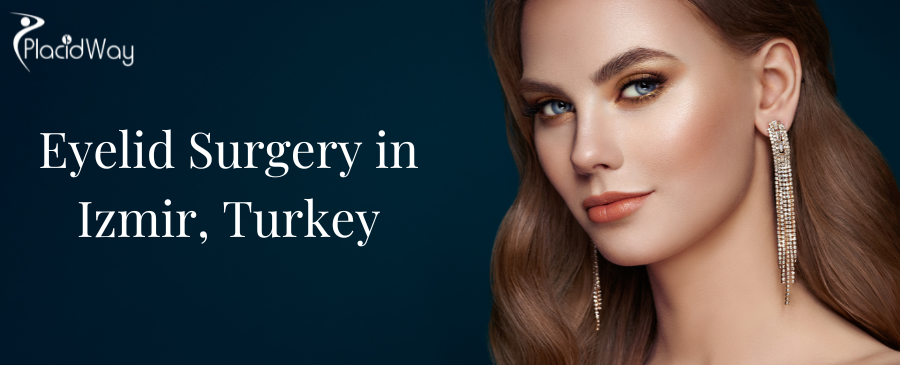 Eyelid surgery is a cosmetic alternative that includes the most effective and attractive benefits for people who definitely are physically healthy and individuals who have realistic objectives about successful outcomes. Blepharoplasty is one of the most sought-after plastic surgical procedures by women all over the world and men too, because they want a younger appearance and boosted self-esteem.
The eyelid surgery is not just a question of aesthetics, it is one functionality. Drooping eyelids can lead to fatigue, eye pain, watery eyes, and headaches. The upper and lower eyelids can be operated separately or simultaneously.

Eyelid surgery is performed to remove excess skin from either the upper or lower eyelids, reduce the appearance of puffiness or darkness under the eyes, or alter eyelid drooping to give an overall refreshing appearance to the eye area.
What are the Benefits of Blepharoplasty in Izmir, Turkey?
Experienced surgeons and medical team

Excellent clinic facilities

Affordable price

Enhances the appearance and shape of the eyelids

Minimal scars

No longer  tired look

The eyes will look brighter and clearer

No longer vision problems related to overhanging eyelids

It's not an invasive procedure

It has an average 2-3 days of recovery time

It can solve several appearance-related issues

Feel and look more attractive

It boosts the patient's self-esteem and self-confidence
Eyelid Surgery Cost in Izmir, Turkey
The cost of Eyelid Surgery in Izmir, Turkey starts from $1,000. However, the treatment cost may vary according to the condition of the patient.
| | |
| --- | --- |
| Country | Blepharoplasty Cost |
| Izmir, Turkey | $1,000 |
| United Kingdom | $7,032 |

Note:
Final prices are determined after physical evaluation and laboratory report analysis.
Length of Stay: 1-2 days
Note: The duration may vary depending upon the condition of the patient and the chosen procedure of treatment
Who are the Best Candidates for Eyelid Surgery?
Have excess skin obscuring the natural fold of the upper eyelids

Have loose upper eyelid skin that impairs your vision

Have a puffy appearance to the upper eyelids, making your eyes look tired and sad

Have excess skin and fine, 'crepe paper' type lower eyelid wrinkles

Have bags and dark circles under the eyes

The upper eye surface is too small or not smooth enough to apply makeup
Blepharoplasty Package Inclusions
Pre and post-operative consultations

All medical fees including doctor fees, assistant, anesthesiologist and nursing staff

All hospital fees with night stay
Blepharoplasty Package Exclusions
Preoperative lab work

Hotel or recovery house

Airfare
List of Required Pre-Op Tests for Eye Lift Surgery
Complete Blood Count (CBC)

EKG

Visual acuity test

Slit-lamp examination

Retinal exam
Note:
The laboratory tests are done at least 7-10 days prior to the procedure. The particular tests are prescribed after a complete physical evaluation of the patient.
Payment Options: Cash, credit card, wire transfer
Note:
The center may require a money deposit once a patient decides to receive the treatment from the clinic.
How to Reach Izmir, Turkey for Blepharoplasty?
Izmir and the surrounding province of the country are served by Adnan Menderes Airport. The airport connects this place with the rest of the world and you won't have any problem to visit the city. Izmir is also connected by highways and you can travel by road as well.
For more details on Eyelid Surgery in Izmir, Turkey please click the button below:


Related Experiences:
Eyelid Surgery in Thailand
Eyelid Surgery in Mexicali
Eyelid Surgery in Mexico
Breast Augmentation in Izmir, Turkey
Facelift in Izmir, Turkey
Rhinoplasty in Izmir, Turkey
---
Cosmetic/Plastic-Surgery Related Packages
Cosmetic/Plastic-Surgery Related Experiences