Stem Cell Therapy for Backache - Best Treatment in Ukraine
Package price starting from:
$5000
Treatment:
Chronic Diseases,Stem Cell Therapy
Focus Area:
Stem Cell Therapy | Stem Cell Therapy Cost | Stem Cell Treatment for backache | Intervertebral disc herniation | Facet joint Syndrome | Backache Treatment | Kyiv | Ukraine
---
Stem Cell Therapy for Backache Ukraine, Stem Cell Therapy Cost, Stem Cell Treatment for Backache, Intervertebral Disc Herniation, Facet Joint Syndrome, Backache Treatment, Kyiv, Ukraine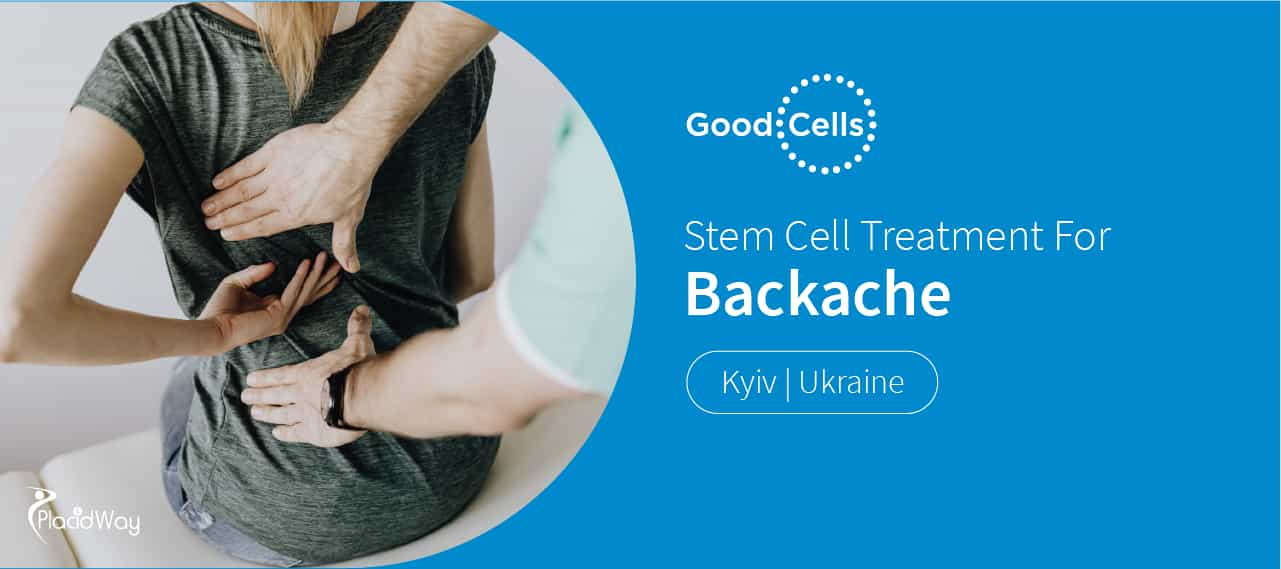 Stem Cell Therapy for Backache, Intervertebral disc herniation and facet joint syndrome in Kyiv, Ukraine by Good Cells
It is vital to maintain physical activity, work/life balance, a healthy diet, and avoid bad habits in today's world. People are trying to seize opportunities the world offers but sometimes overlook when their own balance is disturbed, and various factors begin to depress the body.
During life, the spine is continuously under pressure, and most of us end up with back pain occurring at various frequencies. The human spine helps keep the back straight and protects the spinal cord, which performs vital functions, including reflexes and conduction. Therefore, it is crucial to protect the spine.
The most common manifestations of spinal dysfunction are intervertebral disc herniation and facet syndrome. Each case is accompanied by back pain and sometimes leads to limited mobility.
GOOD CELLS offers cell therapy to reduce pain and improve musculoskeletal function. To do this, the doctor may prescribe a local injection of mesenchymal stem cells from adipose tissue (MSCs of adipose tissue).
About 87% of patients confirm that the mobility is restored, and in 73% of cases, the pain is relieved.
Cell therapy can soothe back pain!
For whom is this treatment?
Indications:

This treatment is indicated for patients over 18 y.o. with diagnosed intervertebral disc herniation or facet joint syndrome.
Contraindications:
cancer, or its history during 5 years;

pregnancy;

mental disorders;

alcohol and drug addiction.
How does it work?
Mesenchymal stem cells from adipose tissue have a broad spectrum of action. Many studies and our observations show that these cells can differentiate into cells of connective tissue, promote tissue regeneration, neovascularization of affected tissues, and inhibit the inflammatory process.
The protocol for the isolation of MSCs from adipose tissue is standardized and used worldwide.
Will this treatment relieve the pain immediately?
Yes, you will feel relief immediately after the procedure.
Can I play sports after treatment?
Moderate physical activity will be required. This will improve back muscles and blood circulation, which is essential for the effective results of stem cell transplantation.
How much does Stem Cell Therapy Cost for Backache?
The price of the program starts from $5,000, and it includes:
 
Stem cell products for the treatment

Consultation of a doctor-coordinator of stem cell program;

Consultation of profile specialists;

Ultrasound scanning;

Blood and urine medical tests;

Other medical tests recommended by the doctor (if necessary);

Follow up after the treatment.
Why Choose Good Cells for Stem Cell Treatment in Kyiv, Ukraine?
More than 10 years of Stem-Cell Therapy

Only scientifically proven methods

High success rate

Highly qualified team

Transparent relationship with the client

Exceptional quality of stem cells

High-level personalized service
 
To learn more about the package, click the button below:

Related Experiences:
IVF Fertility Treatment in Greece - Plan a Happy Family!
All on 4 Dental Implants in India
IVF Fertility Treatment in India - Hope for Family
IVF Fertility Treatment in Colombia - Successful IVF Treatment
Plastic Surgery in Santo Domingo, Dominican Republic
Gastric Sleeve Surgery in Turkey 2023
---