Top Rhinoplasty Package in Dominican Republic by Dra. Silvia Aviles
Treatment:
Cosmetic/Plastic Surgery, Nose Surgery Rhinoplasty
Location:
Manuel Maria Castillo No 20 Santo Domingo 10110, Dominican Republic
Focus Area:
Rhinoplasty in Dominican Republic | Nose Job | Dra Silvia Aviles | Nose Surgery | Cosmetic Surgery | Plastic Surgery
---
Effective Nose Job in Dominican Republic with Best Rates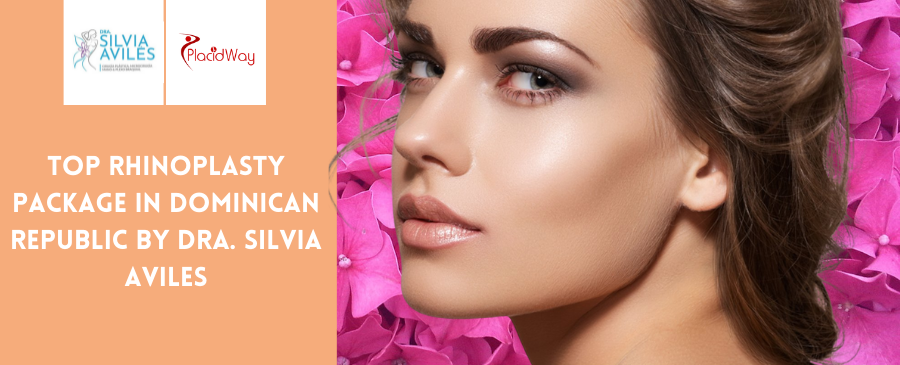 Affordable Nose Surgery in Dominican Republic - By Plastic Surgeon Dr. Silvia Aviles
Rhinoplasty Package in Dominican Republic by Dra. Silvia Aviles presents the best rhinoplasty procedures that restore your confidence and improve your appearance. Rhinoplasty is one of the most popular cosmetic surgical procedures chosen by patients from all over the world, where one of their favorite destinations is the Dominican Republic. The average cost of nose job in the Dominican Republic is around between $2,500 - $3,000.
Rhinoplasty is a surgical procedure also known as Nose Surgery. This procedure is generally used as a solution for patients who want to be dissatisfied with the shape of their nose. Rhinoplasty is also able to not only improve the appearance of the patient's nose, but also correct the structural imbalance and proportion of the patient's nose.
Rhinoplasty is a procedure to change the size of the nose, reduce the width on the bridge of the nose, change the nose profile, the fruit of nose symmetry, as well as the correct size of the nostrils. In the Rhinoplasty Package in Dominican Republic by Dra. Silvia Aviles, you will get direct treatment from experienced cosmetic surgeons who have treated hundreds of patients worldwide.
As the cost for Rhinoplasty Package in Dra. Silvia Aviles is only $2,800, there is no need for you to spend more money upon doing this popular surgery. while going o US or Canada it Cost more then Dominican Republic.
| | |
| --- | --- |
| Countries | Cost in USD |
| United States | $5,000-$10,000 |
| Canada | $5,000-$8,000 |
| Dominican Republic | $2,800 |
Patients who meet the following criteria can try to use the go for nose surgery in Dominican Republic by Dra. Silvia Aviles, so they can be more confident and get the improvements they need for a better nose, here's more:
Patients who have a deviated nose.

Patients with a crooked bridge, middle, or tip of the nose.

Patients with a deviated nasal septum.

Patients with crooked nose.

Improve the appearance of a nose that is problematic due to trauma or accidents.
Yes, you don't need to worry because the Dominican Republic is one of the popular destinations of choice for patients from all over the world who want to undergo Cosmetic/Plastic Surgery. One of them can be found at the Rhinoplasty Package in Dominican Republic by Dra. Silvia Aviles, where you can get reliable Nose Surgery results at friendly prices.
You can find many benefits through the Rhinoplasty Package in Dominican Republic by Dra. Silvia Aviles. All of these benefits will be obtained by any patient without exception. Some of these benefits are:
Get surgery directly from an experienced Plastic Surgeon, Dra. Silvia Aviles.

Relatively affordable price compared to similar procedures in other countries.

Experienced surgeons will try their best so that the surgical results you get do not cause scars at all.

Rhinoplasty in Dominican Republic by Dra. Silvia Aviles uses the latest medical technology so that patients can get the best, comfortable, and satisfying treatment.

Effective solutions to get improvement due to structural defects experienced by patients.

A reliable package to improve the balance of your facial features.
You will get several inclusions when using the Rhinoplasty Package in Dominican Republic by Dra. Silvia Aviles. Prices listed include:
Surgical Insurance

Preoperative evaluation

Post-operative evaluation

Surgeons fees

Expenses of the anesthesiologist's team

Expenses of the cardiologist

Nurses fees

One day stay in the hospital

Medications and pain killers while you're in the hospital center

Food from the center

Cardiovascular evaluation

Electrocardiogram,

Lab tests: (blood count, glycemia, urea, creatinine, tp, tpt, urine test, HIV, hbs ag, typing, HCG, HVC, Rápid test for COVID)

Post-op medication: antibiotics, pain releaser, stomach protector, coagulation shots if needed.

Medical follow-up

The first strip is a quality and soft surgical body post or Brassier
Important things to know about Planning your flight to Dominican Republic 
You must arrive at the Airport (SDQ) in Santo Domingo

Recovery house (Not Included)

Recommendation stay: 2 days before and 10 days after surgery

You have to make your arrangements with them.

Our packages include receiving you at the airport, meals, transportation, massages, etc
You also need to know the exclusions in this Rhinoplasty Package to prepare everything well in advance. These exclusions include:
Hotel or recovery house

Flight ticket

Preoperative laboratory work
List of Pre-Operative Tests for Nose Surgery in Dominican Republic at Dra. Silvia Clinic
Depending on your current physical condition, you will most likely undergo Pre-Operative Tests including:
Hemophilia

Complete Blood Count (CBC)

Anemia

ECG or ECG, etc
Note: Please contact Customer Representative of Dra. Silvia Aviles Clinic to get updated information on Pre-Operative Tests
You need to know several things before using the Rhinoplasty Package in Dominican Republic by Dra. Silvia Aviles. By knowing these things, you can undergo Nose Surgery without experiencing any problems, be it administration, lack of funds, travel plans, or other obstacles. Here are some of those things:
During Rhinoplasty, patients will generally be advised to stay 3 - 5 days. The period of time can vary depending on each patient's health condition and what procedure he chooses.

Fees may vary depending on the results of the physical examination and also the patient's medical examination report.

Generally, the Preoperative Test is done 7 - 10 days before the Surgery is performed. Make sure to prepare well in advance.

Some clinics will ask you to deposit some money, after you confirm that you are willing to accept the operation.

Payment process can be done by various methods, starting from Cash, Credit Card, or Bank Transfer. For more payment information, contact Customer Support.
Some of the reasons that underlie the many patients from various countries who come to the Dominican Republic to perform rhinoplasty and other Cosmetic Surgery are as follows:
Best Destination for Medical Tourism Cosmetic Surgery: The best destination to undergo Rhinoplasty and vacation with family to enjoy the beauty of the Dominican Republic.
Complete and Up to Date Medical Facilities: Complete medical equipment, based on the latest technology, as well as experienced medical staff will guarantee you with satisfactory service.
Thousands of Happy Patients All Around the World: Thousands of patients from all over the world have undergone Rhinoplasty in the Dominican Republic, and many have given great reviews to this destination.
Get the Rhinoplasty Package in Dominican Republic by Dra. Silvia Aviles at the best prices for $2,800 today. Enjoy a variety of conveniences, facilities, and an unforgettable surgical experience for you and your family. Click the button below if you want to inquire further about this Rhinoplasty Package:

Related Experiences:
Get a Rhinoplasty in Dominican Republic – Find Best Clinic & Cost!
Rhinoplasty in Tijuana
Rhinoplasty in Bogota
Nose Job in Mexicali
Best Rhinoplasty in Thailand
Nose Job in Colombia
---
---
---
---