ZYGOMA Dental Implants Package in Izmir, Turkey
Package price starting from:
$12752
Treatment:
Dentistry, Dental Implants
Location:
OSMANGAZI MAHALLESI YAVUZ CADDESI NO 310 BAYRAKLI IZMIR, Turkey
Focus Area:
ZYGOMATIC Implants in Izmir, Turkey | Dental Implants | West Dental Clinic | Fixed Hybrid Acrylic Bridge | Nobel Biocare Implant
---
All-Inclusive Package for Dental Implants in Izmir, Turkey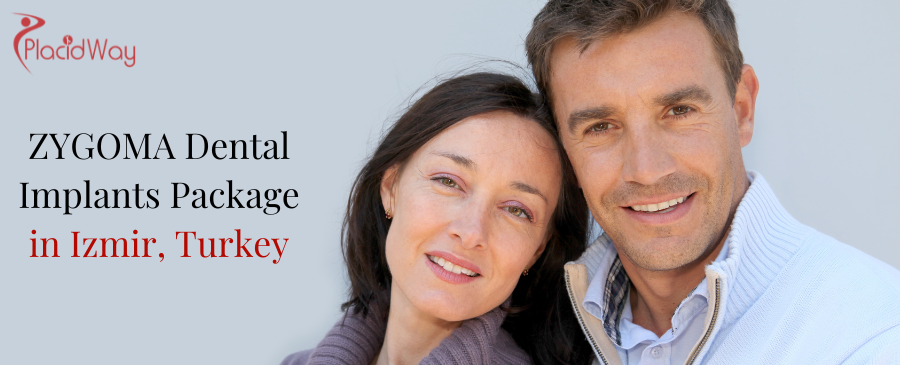 If you're looking for long-lasting solution to your missing teeth, Zygoma Dental Implants in Izmir, Turkey, can be the best choice. West Dental Clinic in Izmir offers an exclusive package tailored to your specific needs as an international patient. Continue reading to find package inclusions, benefits, best dentists and cost.
NOBEL ZYGOMA Implant Package Price: $12,752
Inclusions:
2 Zygoma Implant

2 Nobel Implant (Swiss Brand)

Fixed Hybrid Acrylic Bridge (Per Jaw)
Dentists: Susana AKDAS, Fatih KARADAYI, Gençer Huniler, Tugçe Bigiz, Tugçe ATES, Onur Akin
Location: Izmir, Turkey
WEST DENTAL CLINIC TURKEY Highlights
Experienced team that helps you restore your smile

Comprehensive treatments for the whole family

Dental Implant procedure with a lifetime guarantee

24/7 Dental Service for all patient's needs

Free Transfer Service

Affordable dental packages for a convenient medical trip
What is Dental Implant

Procedure

?
Dental implants are an increasingly popular way to replace missing teeth. Unlike dentures or bridges, which rest on top of the gums, dental implants are surgically implanted into the jawbone. This provides a strong foundation for artificial teeth, which can function and look like natural teeth.
Dental implants can be used to replace a single tooth, several teeth, or even all of the teeth. The procedure is safe and effective, and has a high success rate. If you are considering dental implants, be sure to consult with a qualified dentist to see if they are right for you
Cost of

Dental Implants in Izmir, Turkey
Dental implants cost in Izmir is $12,752 or 12,000 € and includes 2 Zygoma Implants, 2 Nobel Implants (Swiss Brand) + Fixed Hybrid Acrylic Bridge (Per Jaw). Get your FREE quote by filling out the form on your right or contacting the clinic directly.

Advantages

of ZYGOMA Teeth Implants
Support restorative procedures that also allow for immediate loading

Patients with severe bone loss can have a fixed provisional prosthesis fitted immediately after surgery

Avoiding the average nine-month wait and multiple surgeries required with grafting

The post-operative soft tissue is more comfortable for the patient

Improved self-esteem as the immediately loaded prosthesis does not move

More confident speech and enhanced appreciation of foods

Fewer clinical visits

A less invasive intervention compared to grafting procedures
Zygomatic Implants Package

Inclusions
4 implants,

4 Multi Abutments,

Fixed Hybrid Acrylic Bridge Per Jaw,

Temporary Prosthesis for 4-6 Healing Period,

General Anesthesia,

One-Night Stay at the Hospital for Observation Medication,

Tomography (3D X-ray),

Medical Consultation,

Hotel Accommodation with Breakfast, Pool, Spa, Gym for Both Visits (1 Week for Each Visit),

Transfers Between Airport-Clinic-Hotel,

Translation Services during Treatment (German, English, Turkish, Ukrainian, French, Russian, Arabic),

Tour to Ephesus and the House of Virgin Mary.
Zygomatic Implants Package

Exclusions
Travel Costs

Additional tourist costs
Best Dentists

in

Izmir, Turkey for Dental Implants at West Dent Clinic
Here is the list of top 5 dentists at West Dental Clinic in Izmir and their specializations:
Susana AKDAS - COSMETIC DENTIST
Fatih KARADAYI - COSMETIC DENTIST
Gençer Huniler - ORTHODONTICS SPECIALIST
Tugçe Bigiz - COSMETIC DENTIST
Tugçe ATES - COSMETIC DENTIST
Onur Akin - PERIODONTIST
Why Choose

Izmir for Dental Implant Surgery?
Apart from having expert dentists, world-class dental clinics, and cheap dental care prices, Izmir is also a beautiful city worth exploring. If you choose dental implants in Izmir, you'll save up to 75% and have a relaxing vacation along with successful teeth replacement. It is easy to reach the city since Izmir Adnan Menderes Airport operates regular daily flights to major European cities.
With a plethora of places to explore in Izmir, we recommend the following five:
The Yali Mosque and the Hisar Mosque,

Kemeralti Bazaar,

The Ataturk Museum and the Izmir Museum of History and Art,

Ephesus, a UNESCO Heritage Site,

Bodrum and Kusadasi, along the Aegean Sea.
FAQs

about Dental Implant Procedure in Izmir
What is a zygomatic dental implants?
Zygomatic implants are used to replace missing teeth in the upper jaw. They can also replace an entire arch of missing teeth, severely damaged or decayed teeth, or teeth that have become loose due to severe periodontal disease.
Who needs zygomatic implants?
Patients who want dental implants but have severe bone loss in the upper jaw, are a good candidates for Zygomatic implants. This dental treatment doesn't need bone grafting (bone augmentation).
How are zygomatic implants done?
A dentist inserts Zygoma implants through the alveolar crest and maxillary sinus involving the zygomatic bone for anchorage. Access to the maxillary sinus is necessary for dentist to see the right implant position..
What are the risks of zygomatic implants?
The risks of zygomatic implants are rare, but they can appear as with any surgical procedure. The following Zygomatic implant surgery risks include:
Vestibular cortical fenestration

Temporary sensory nerve deficits

Orbital penetration and injury

Oroantral fistula formation

Intraoral soft tissue problems

Moderate nasal bleeding
How long do zygomatic implants last?
Zygomatic implants can last over 10 years because they have high survival rate. This means that these type of implants are safe and effective, especially for patients with significant amount of jawbone lost. Also for those who want to avoid a bone graft or sinus lift procedure, Zygoma implants are the best solution.
How to Book Zygoma Implants at West Dental Clinic 

in

Izmir?
Contact our Customer Care team to book this all-inclusive package for Zygomatic Dental Implants in Izmir at West Dental Clinic. Save over 60% on costs back home and experience a wonderful dental vacation in this amazing, historic Turkish city. 

Related Experiences:
Dental Implants in Izmir Turkey - Your Affordable Oral Health
Dental Implant in Aydin, Turkey
Dental Implant in Alanya Turkey
Dental Implant in Bursa, Turkey
Dental Implants in Ankara, Turkey
Dental Implants in Antalya
---
Dentistry Related Packages
Dentistry Related Experiences