Gastric Bypass Package by ADATIP in Istanbul, Turkey
Package price starting from:
$4200
Treatment:
Obesity/Bariatric Surgery, Gastric Bypass
Location:
Istiklal Mah. Sehit Mehmet Karabasoglu Cad. No:67/A Serdivan – Sakarya, Turkey, Turkey
Focus Area:
ADATIP Hospital | Istanbul | Turkey | Gastric Bypass Surgery | Bariatric Surgery
---
Conquering Obesity: Gastric Bypass Surgery in Istanbul, Turkey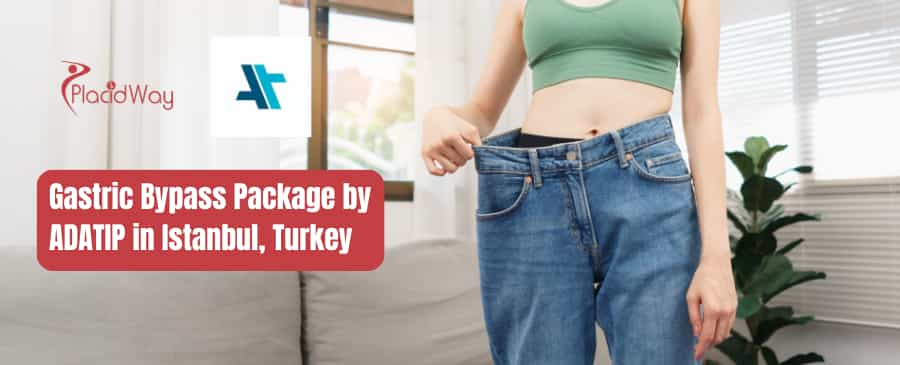 Obesity and its related health issues have become a global concern. For those who have struggled with weight loss through conventional methods, surgical interventions like gastric bypass offer a viable solution. Istanbul, Turkey, has emerged as a leading destination for medical tourism, offering not only high-quality healthcare but also the chance to explore a vibrant cultural hub. ADATIP Hospital, a renowned medical center in Istanbul, specializes in gastric bypass procedures, providing comprehensive packages that cater to international patients seeking effective and lasting weight loss solutions.
Gastric bypass surgery involves the restructuring of the stomach and small intestine to limit the amount of food intake and nutrient absorption, resulting in significant weight loss. ADATIP's expertise in this field, combined with Istanbul's allure, has made the gastric bypass package a preferred choice for those looking to transform their lives through medical tourism.
You can get gastric bypass package by ADATIP in Istanbul, Turkey with the price starts at $4,200. Please refer to our price list table below:
| | |
| --- | --- |
| Location | Cost in USD |
| Istanbul, Turkey | $4,200 |
| United Kingdom | $10,307 |
Note: price may change and vary depends on complexity of procedures and patient conditions. Click free quote button below to learn more.

Medical Expertise: Istanbul houses world-class medical facilities with experienced surgeons who are well-versed in the latest surgical techniques. ADATIP's team of experts ensures that patients receive top-tier care and support throughout their gastric bypass journey.
Advanced Technology: Medical institutions in Istanbul are equipped with state-of-the-art technology, ensuring that patients benefit from the most advanced surgical procedures and post-operative care.
Affordability: The cost of medical treatments in Istanbul, including gastric bypass surgery, is often more affordable compared to Western countries. This makes the procedure accessible to a wider range of patients seeking a long-term weight loss solution.
Cultural Experience: Istanbul's rich history and cultural diversity provide a unique backdrop for medical tourism. Patients can immerse themselves in the city's historical landmarks, vibrant markets, and exquisite cuisine while undergoing their transformational journey.
Comprehensive Packages: Medical centers like ADATIP offer all-inclusive packages that cover various aspects of the medical journey, from consultations and surgery to accommodation and local transportation, ensuring a seamless experience for international patients.
Gastric bypass surgery is a complex procedure that involves dividing the stomach into two parts and rerouting a portion of the small intestine to create a smaller stomach pouch. This restricts the amount of food that can be consumed and alters nutrient absorption, leading to weight loss. ADATIP's approach includes a thorough evaluation of each patient's medical history, current health status, and individual goals to determine the most suitable surgical plan.
Initial Consultation: The package includes a comprehensive consultation where the patient's medical history and weight loss goals are discussed. The surgical team assesses the patient's eligibility and tailors the procedure accordingly.
Surgical Procedure: The core of the package covers the gastric bypass surgery itself, carried out by skilled surgeons at ADATIP using advanced techniques to ensure safety and effectiveness.
Hospital Stay: The package covers the patient's stay in a reputable hospital, ensuring round-the-clock medical care and monitoring during the crucial post-operative period.
Post-Op Care: Following the surgery, patients receive thorough post-operative care, including follow-up appointments, dietary guidance, and support to ensure a smooth recovery process.
Local Transportation and Accommodation: To facilitate a hassle-free medical journey, the package often includes airport transfers, local transportation, and accommodation options for the patient and their accompanying companions.
Travel Expenses: While the package covers local transportation within Istanbul, travel expenses to and from the city are generally not included.
Personal Expenses: Any personal shopping, recreational activities, or additional services availed beyond the medical procedure are not covered in the package.
Complications and Revisions: In rare cases, complications or revisions may be required. Depending on the nature of the issue, additional costs for corrective procedures might not be covered.
Medications: The cost of prescribed medications and supplements needed during the recovery phase is usually not included in the package.
Insurance: Medical travel insurance, if desired, is generally not part of the package and needs to be arranged separately by the patient.
Gastric Bypass Surgery Pre-Op Tests:
Blood Tests: Comprehensive blood tests evaluate the patient's overall health, including blood cell counts, liver function, and other important markers.
Nutritional Assessment: Evaluating the patient's nutritional status helps the medical team design a suitable pre- and post-operative dietary plan.
Cardiac Evaluation: A cardiac assessment ensures that the patient's heart is healthy enough to undergo surgery and anesthesia.
Psychological Evaluation: Understanding the patient's mental and emotional readiness for the procedure is crucial for a successful outcome.
Imaging Studies: Imaging tests such as X-rays and ultrasounds provide insights into the patient's anatomy, aiding in surgical planning.
At ADATIP, gastric bypass procedures are performed by a team of experienced and skilled surgeons who specialize in bariatric surgery. These surgeons have a deep understanding of the complexities of obesity and the various surgical techniques to address it. Driven by a commitment to excellence, the medical team at ADATIP ensures that each patient receives personalized care and attention throughout their journey.
Weight Loss Surgeon in Istanbul, Sakarya, Turkey

 

Education :

Cerrahpaşa School of Medicine, Istanbul University (1987-1993)

Residency, Department of General Surgery, General Surgery Clinic I, Vakıf Gureba Teaching and Research Hospital, Istanbul (1997-2001)

Assoc. Prof, General Surgery Department, School of Medicine, Sakarya University

Biography:

Laparoscopic repair of Inguinal and abdominal hernia

Mammary endocrine surgery

Laparoscopic surgery (Splenic-adrenal surgery, laparoscopic appendectomy, cholecystectomy, etc).
Is the Gastric Bypass Surgery Right for You?
Body Mass Index (BMI): Gastric bypass surgery is generally recommended for individuals with a BMI of 40 or higher, or a BMI of 35 with obesity-related health issues.
Failed Weight Loss Attempts: Candidates should have a history of unsuccessful attempts at sustained weight loss through diet and exercise.
Medical Eligibility: Candidates must be in good overall health, free from medical conditions that could increase surgical risks.
Commitment to Lifestyle Changes: Success after gastric bypass surgery requires a commitment to adopting a healthy lifestyle, including dietary changes and regular physical activity.
Psychological Readiness: Candidates should be mentally prepared for the challenges of the surgical journey, including the physical and emotional aspects of weight loss.
What to Expect During the Gastric Bypass Surgery?
Pre-Surgery Preparation: Before the surgery, patients undergo a series of medical evaluations, consultations, and pre-operative tests to ensure they are physically and mentally prepared for the procedure.
Surgical Intervention: The surgery itself involves creating a small stomach pouch and rerouting a section of the small intestine. This limits food intake and nutrient absorption, leading to weight loss.
Immediate Post-Op: After the surgery, patients are monitored closely in a hospital setting to manage pain, assess the healing process, and address any immediate concerns.
Recovery and Follow-Up: The recovery period involves gradually reintroducing foods, following dietary guidelines, and attending regular follow-up appointments to track progress and address any complications.
Long-Term Lifestyle Changes: Success requires a commitment to maintaining a healthy lifestyle, including regular exercise and a balanced diet, to sustain weight loss and health improvements.
1. What is gastric bypass surgery, and how does it work?
Gastric bypass surgery is a weight loss procedure that involves creating a small stomach pouch and rerouting a section of the small intestine. This limits the amount of food you can eat and reduces nutrient absorption, resulting in significant weight loss.
2. Why choose gastric bypass in Istanbul, Turkey?
Istanbul offers world-class medical facilities, experienced surgeons, advanced technology, and a cultural experience. It's a cost-effective option with comprehensive packages that cover surgery, accommodations, and local transportation.
3. Am I a suitable candidate for gastric bypass surgery?
Candidates typically have a BMI of 40 or higher (or a BMI of 35 with obesity-related health issues), have tried and failed at sustained weight loss, are in good overall health, and are mentally prepared for lifestyle changes.
4. What is included in a gastric bypass package in Istanbul?
A typical package includes an initial consultation, the surgical procedure, hospital stay, post-op care, local transportation, and accommodation. However, details may vary based on the medical center and package chosen.
5. What can I expect during recovery after gastric bypass surgery?
Recovery involves gradually reintroducing foods, following dietary guidelines, attending follow-up appointments, and adopting a healthy lifestyle. Early post-operative discomfort and adjustments to eating habits are common but temporary.
If you're seeking a long-lasting solution to weight loss and considering a gastric bypass procedure, ADATIP's comprehensive package in Istanbul, Turkey, offers an excellent opportunity. To embark on your transformative journey, book a consultation through PlacidWay Medical Tourism. Experience the synergy of medical expertise, cultural exploration, and the chance to achieve a healthier life while immersing yourself in the enchanting city of Istanbul. Your path to a healthier future begins here. Click contact us button below to learn more:

Related Experiences:
Affordable Gastric Bypass Surgery Istanbul – Get Free Quote Now!
Gastric Bypass in Izmir Turkey
Gastric Bypass in Turkey - Cost, Clinics, Reviews, Doctors
Lose Weight with Gastric Bypass in India
Gastric Bypass in Latin America
Gastric Bypass in Merida Mexico
---