Rhinoplasty and Liposuction Package in Chennai India
Package price starting from:
$3500
Treatment:
Cosmetic/Plastic Surgery, Nose Surgery Rhinoplasty, Liposuction
Location:
Global Health Care Tourism, India
Focus Area:
Rhinoplasty with Liposuction procedure | Chennai | India
---
Combination of Liposuction with Rhinoplasty in Chennai India
Nose Surgery and Liposuction Package in Chennai India
What is Liposuction?
Liposuction is a type of cosmetic surgery designed to help remove excess fat deposits from certain areas of the body. Women are more apt to consider liposuction than men, as it helps to improve proportion, body contours, and most importantly, self-image and confidence. Liposuction is also known as lipoplasty and can be performed on an outpatient basis.
What is Rhinoplasty?
Make your nose smaller or bigger, change the shape of your nose, shrink the size of your nostrils or change the angle between your nose and upper lips and improve your appearance
Benefits of Rhinoplasty
Benefits involved with rhinoplasty include not only an improvement to the appearance, but also to breathing and self-esteem. Often times, patients have trouble breathing clearly due to tissue or cartilage blocking airways and rhinoplasty is a quick procedure to fix such issues. Self-esteem also plays a role in a patient's decision to undergo a rhinoplasty procedure, as many feel self-conscience about the size or shape of the nose. Making the nose more aesthetically pleasing is the same as getting dental work done to improve features if one is unhappy with his or her appearance.
Cost of Rhinoplasty with Liposuction
Cost of Rhinoplasty with Liposuction starts from Only 3,500 USD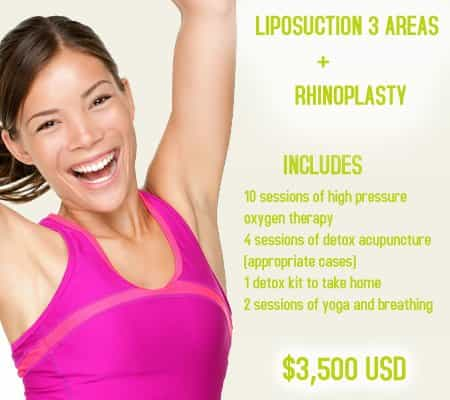 EXTRA SERVICE - $2,200 USD
Airport pick-up to and from hotel

Transport facility for internal use

Arrangements for hotel stay with free breakfast

Last 3 days (post-surgery) stay in a beach resort

Detailed pre-op consultation

Inclusive of blood investigations, medicines, anaesthetist charges and hospital  stay charges for 3 days

Assistance in post-op care by trained staff members

Free compression garments

Escorted sight-seeing in Chennai for patient attenders

Free consultation for age management and skin related issues.

Consultation with dietician for a diet plan post-operatively
If you need more info about the Rhinoplasty and Liposuction Package in India, please contact us!

Related Experiences:
Rhinoplasty in India
Liposuction in India
Rhinoplasty in Antalya Turkey
Rhinoplasty in Croatia
Rhinoplasty in Guadalajara, Mexico
Liposuction in Croatia
---