Joint Replacement Specialist | Dr. Narendra Vaidya


The most renowned surgeon to successfully perform all four major joint replacement surgeries viz., Shoulder, Elbow, Hip & Knee since 1998.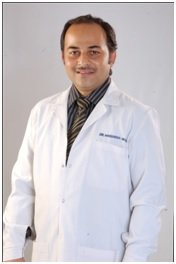 Dr.Narendra Vaidya is an internationally acclaimed Orthopaedic, Joint replacement & Spine Surgeon. He has performed more than 30,000 orthopaedic surgeries, more than 2,000 Spine surgeries in Lokmanya Group of hospitals situated at Nigdi, Chinchwad,Mitramandal Pune and Kolhapur. He has performed more than 5,000 Joint Replacements in India and abroad. He is truly a versatile surgeon and the first in Pune to perform all four major joint replacement surgeries viz Shoulder, Elbow, Hip and Knee on regular basis for more than 20 years.
He did his medical graduation MBBS from the prestigious B.J.Medical College, Pune in the year 1983 .He is a Gold medalist in MS (Ortho) In the year 1994. He stood first in all surgical branches from the B.J.Medical College, Pune .He has completed DNB Orthopedics from Pune in 1995. He has been honoured with Mch Orthopedics . He has followed his academic excellence by doing various fellowships in spine,and Joint replacement from world famous western Institutes like Sweden , Germany, USA etc.
He is a well known authority and faculty in the field of Joint replacement surgeries. He has been the invited faculty in India and globally in large conferences like, ISHKS, Master Knee (Dubai), IAA, Asia Pacific Arthoplasty Society and many more. Under Dr. Narendra Vaidya's leadership, Lokmanya Hospital is a recognized center for DNB (Ortho) and D Ortho degrees , and many doctors from abroad come to Lokmanya Hospital for fellowships.
He is a consultant for Middle East and East African countries and the pioneer of Trauma and EMS in India. No wonder, he has been recognized for his contribution to healthcare by various prestigious awards including the Rastriya Ratna Award, Sanjeevani Puraskar, VIshwa vivek Purskar, Mahindra Navister award etc.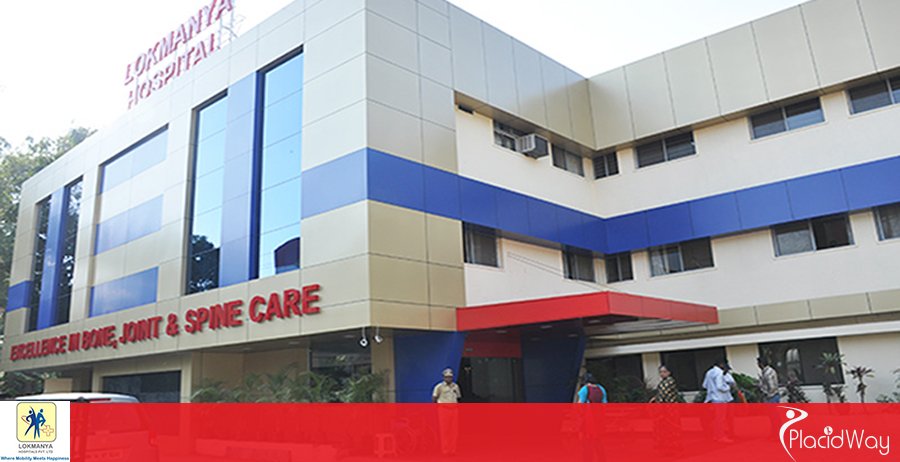 Lokmanya Hospital has received the NABH Accreditation for best Hospital in emergency medical services in India awarded by CIMS and UBM Medica.
In Summary, what Differentiates Dr. Narendra Vaidya is not only his expert surgical and clinical skills but his ability to understand and adapt to the latest technological advancement on an ongoing basis. Thousands of patients in and out of the India would validate this by their personal experience.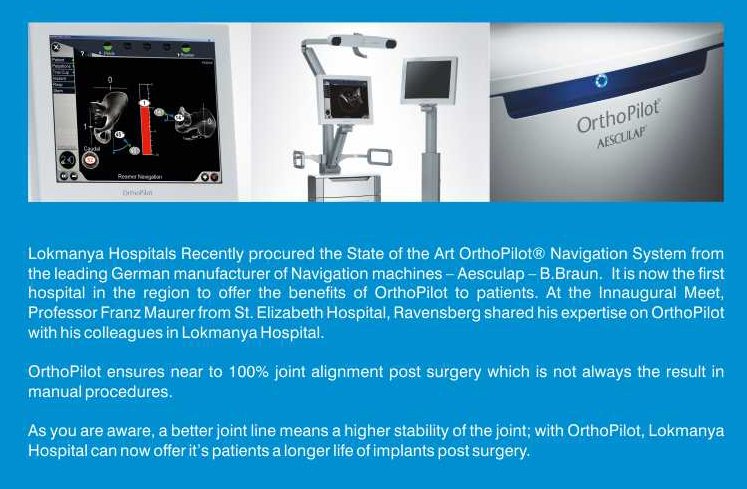 Knee Replacement
Hip Replacement
Shoulder Replacement
Elbow Replacement
Nucleoplasty
Microlumbar Disectomy
PLDD
Laminectomy
Vertebroplasty
Disc replacement
Pedicular screw fixation

REPLACEMENT: The knee joint is among the strongest, largest and most complex joints of the body. Whenever you walk, sit, squat, turn around, drive or perform many other seemingly simple movements, you are depending on the knee for support and mobility.
SPINE: Nucleoplasty is a minimally invasive procedure for percutaneous disc decompression that uses radiofrequency based technology to ablate and coagulate soft tissue to decompress contained herniated discs.
ARTHROSCOPY: Arthroscopy (also called arthroscopic surgery) is a minimally invasive surgical procedure in which an examination and sometimes treatment of damage of the interior of a joint is perform using an arthroscope.

India has always been home to world class medical institutions and best medical professional. It was time that it established itself as a World Health Destination.

Pune based Lokmanya Hospitals which began its operations over three decades ago is a first hospital in pune to launch full fledged Health tourism for NRI's, Asians, Middle East and Foreign Nationals. Lokmanya Health Destination is the brain child of Dr. N. V. Vaidya, a pioneer of Emergency Medical Services in India and Medical Tourism in Pune.

Lokmanya offers unique and complete medical packages that includes pick & drop facility for patient and company family member from the airport/ hotels.Lokmanya have tie up with leading hotels / airlines and transfer services. It also provide interpreters to have better interaction with patients.It also provides accommodation facility for a family member until their relative is admitted in hospital, world class medical treatment as per international protocol and recuperation and also arranges for vacation / site seeing. Further post operating medical monitoring through internet.
Lokmanya has state of the art medical facilities and specialists in various faculties who are excelled in orthopaedics, cardiac care, surgery, medicine and other disciplines of modern and alternative (holistic) medicine. Lokmanya make these facilities available under one roof. Thus putting Lokmanya on the global health care map.
Cardiac Related Treatment & Surgery.
Orthopaedics, Joint Replacements, Spine Surgery.
Minimal Invasive Surgery.
Laser Surgery.
Cosmetic Surgery.
Brain Related complete Treatments.
Cancer Treatment.
Obesity Hypertension, Diabetes.
Holistic Medical Treatment kerla ayurvedic treatment.