Kobinia Med
Dr. Georg Kobinia Stem Cells Clinic - Kobinia Med in Vienna, Austria
Pluddemanngasse 45, 8010 Graz, Austria/EU, Vienna, Austria

Specialty:

Chronic Diseases, Neurology, Orthopedic/Knee Surgery, Spine Care/Surgery, Sports Medicine, Stem Cell Therapy

Focus Area:

Kobinia Med | Stem Cell Therapy in Vienna Austria | Spinal Care | Bone Marrow Treatment | Wound Healing | Autologous Bone Marrow | Dr Georg Kobina
Kobinia Med Profile Overview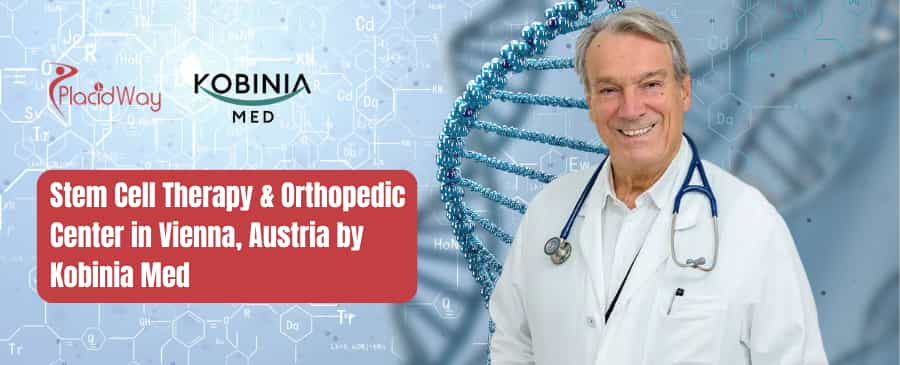 Welcome to the profile page of the Kobinia Med for Stem Cell Therapy in Vienna, Austria! We are a leading institution dedicated to advancing the field of regenerative medicine through innovative research, cutting-edge technologies, and compassionate patient care. With a strong focus on stem cell therapy, we strive to harness the incredible potential of stem cells to revolutionize healthcare and provide hope to patients with a wide range of medical conditions.
Our multidisciplinary team of world-class scientists, clinicians, and healthcare professionals work collaboratively to develop groundbreaking therapies that aim to restore tissue function, promote healing, and improve the quality of life for our patients. We are committed to pushing the boundaries of scientific knowledge, translating discoveries into practical solutions, and making a lasting impact on the future of medicine.
Our institute is supported by the Austrian Society for Regenerative Medicine. Our experts are professors in international renowned universities that contribute to the scientific knowledge in the following areas:
Rare bone metabolism diseases

Cellular metabolic processes in vascular diseases

Basic research regarding transplantation of cell cultures for clinical applications.

For more details, please refer to each researcher profile (see Medical Team) or here.
Experience the numerous benefits of Stem Cell Therapy in Austria, offered by the esteemed Kobinia Med. With over 20 years of experience treating patients from around the globe, including world-class elite athletes, we bring a wealth of expertise to our innovative therapies. In addition to our medical proficiency, we also provide top-notch travel and accommodation services, ensuring a seamless and comfortable experience for our patients.
Our comprehensive package includes:
Transportation: Enjoy a hassle-free transfer from the airport to your hotel in an Ambulance or TESLA vehicle, ensuring your convenience and safety.
Preliminary Medical Examinations: We conduct all the necessary medical assessments to tailor the treatment specifically to your needs, ensuring optimal results.
Medical Interventions: Our range of interventions includes Stem Cell Transplantation and Platelet-Rich Plasma (PRP) therapy, utilizing cutting-edge techniques to harness the potential of regenerative medicine.
Aftercare and Therapeutic Recommendation: We provide attentive aftercare, offering personalized therapeutic recommendations to support your recovery and maximize the benefits of the treatment.
Duration: Our treatment typically lasts between 1 to 3 days, allowing for efficient and effective interventions that fit into your schedule.
Affordable Cost: We strive to make our advanced treatments accessible, offering competitive and transparent pricing without compromising on quality.
Superior Care and Nursing: Experience the utmost level of care and nursing from our highly skilled and compassionate medical professionals, dedicated to your well-being throughout your treatment journey.
Highly Trained and Experienced Team: Our medical and research team consists of experts with extensive training and experience in the field of regenerative medicine, ensuring the highest standards of care and innovation.
Outstanding Results: Benefit from our commitment to excellence, as we continuously strive to achieve outstanding results in improving patient outcomes and quality of life.
Cutting-Edge Technology: We employ state-of-the-art technology and stay at the forefront of scientific advancements, enabling us to offer the most advanced and effective stem cell therapies available.
At the Kobinia Med, we are dedicated to providing you with the best possible experience and outcomes through our holistic approach to stem cell therapy. Trust in our expertise, professionalism, and commitment to your well-being as we embark on a journey of healing and regeneration together.
Experience the transformative power of Stem Cell Therapy in Vienna Austria, offered by the Kobinia Med, where we prioritize both top-quality regenerative therapy and affordability. Our team of leading Stem Cell Specialists is dedicated to providing you with a convenient and exceptional therapeutic experience that instills hope for improvement.
For Stem Cell Therapy at the Kobinia Med in Austria, the cost range typically falls between $7000 and $12600, depending on the specific treatment required. Please note that these are estimated cost ranges and can vary based on individualized treatment plans.
For detailed information about the latest cost for Stem Cell Therapy in Vienna Austria, please refer to the table below:
| | |
| --- | --- |
| Stem Cell Treatment for Neurological Diseases | |
| Stem Cell Therapy for Joints | |
Note: For other stem cell procedures such as anti-aging, autism, ALS parkinson's stem cell please contact with clinic to get all details of the pricing:

At the Kobinia Med, we offer a compelling array of reasons to choose us as your destination for stem cell therapy:
Leading Medical Institution: KOBINIA MED stands as a leading institution in the field of regenerative medicine. Our team of experts comprises highly trained and experienced medical professionals dedicated to providing exceptional care and innovative therapies.

Beautiful Tropical Weather: Located in a region blessed with beautiful tropical weather, Austria offers a serene and pleasant environment for your recovery and rejuvenation. The combination of top-rated medical institutions and an inviting climate creates an ideal setting for healing and relaxation.

Convenience for Families: Many families choose Austria for their regenerative therapy needs due to the convenience it offers. By selecting KOBINIA MED, you can receive world-class treatment without having to separate from your loved ones, providing comfort and support during your healing journey.

Minimization of Pain: Our primary goal is to help you live with less pain. Our team of board-certified doctors is proficient in minimizing the impact of chronic or surgical pains, even in cases where relief may seem impossible. We are committed to improving the lives of our patients by reducing suffering and enhancing overall well-being.

Stay at the Forefront of Pain Management: KOBINIA MED is dedicated to staying at the forefront of the latest advancements and guidelines in pain management. Our commitment to ongoing research and development ensures that we offer cutting-edge techniques and therapies designed to minimize the need for invasive surgical procedures whenever possible.
Q: What is regenerative medicine?
A: Regenerative medicine, also known as stem cell medicine, is a groundbreaking field that utilizes the body's own active ingredients to restore damaged tissue. It has the potential to provide alternatives to prosthetic devices and reduce the need for medications in certain cases.
Q: Where are my stem cells obtained from?
A: We obtain stem cells from the patient's adipose tissue (fat) or bone marrow. These cells are easily obtained under local anesthesia or sedation. Our specialized team selects the appropriate type and quantity of cells for each individual case to achieve the best possible outcomes.
Q: How are my stem cells processed?
A: After extraction, the stem cells are processed using our patented point-of-care method, which adheres to the Medical Devices Act and current regulations. Our closed system approach ensures that the stem cells are not manipulated or modified with additives, such as growth factors or chemicals, minimizing the risk and ensuring patient safety.
Q: When will I get my stem cells back?
A: Thanks to advanced technologies, we can concentrate and return the stem cells to the patient in the same session. The entire process takes place in a sterile operating room environment using a closed system. Our strict patented process minimizes the risk of contamination and adheres to the highest hygiene standards.
Q: Are stem cells from adipose tissue and bone marrow different?
A: Yes, there are differences. Stem cells derived from adipose tissue have a higher proportion of mesenchymal stem cells (MSCs). These cells can differentiate into various tissues, including cartilage and bone, making them the preferred method for certain joint diseases. On the other hand, stem cells harvested from bone marrow have been extensively studied and show better scientific support for conditions such as vascular disease, wound management, and paraplegia.
Q: How safe is the stem cell therapy?
A: Patient safety and providing the best possible care are our top priorities. Our specialized medical center is dedicated to ensuring your safety based on the latest scientific findings. Our method has been widely recognized and published in scientific publications and international conferences within the field of regenerative medicine.
Q: Is the stem cell therapy officially approved at KOBINIA MED Vienna Austria?
A: Yes, our facility is fully certified by the health ministry and authorized to perform this procedure outside of clinical trials. We have met all the government requirements and can provide medical services with proven effectiveness. At KOBINIA MED Vienna Austria, you can be confident that only specialists will be responsible for your health and well-being.
Don't miss out on the opportunity to consult with the Kobinia Med in Vienna Austria for advanced Stem Cell Therapy. Take the first step towards potential healing and a better quality of life. Click below to connect with PlacidWay and start your journey towards regenerative medicine today!

---
Kobinia Med, Vienna, Austria Profile Details
Kobinia Med: Bridging Trust and Expertise for Regenerative Medicine in Vienna, Austria
In an era where personal connections often took precedence, Kobinia Med is breaking new ground by embracing an online platform to cater to the growing demand for information in the realm of regenerative medicine. Established in 2010, our clinic has steadily grown, guided by the belief that medicine is a service rooted in mutual respect. We're here to introduce you to our dedicated team, the backbone of your treatment journey.
Our center profile serves not only as an introduction but also as an invaluable resource for those seeking comprehensive information. While we cannot diagnose or prescribe therapy online, we aim to equip patients with solid information about our treatments. Scientific literature is also available, recognizing the challenges of assessing complex medical publications. We strive to provide transparency and correct any errors promptly, while always being ready to address your questions and suggestions.
At Kobinia Med, we understand the importance of trust and expertise. Our center profile is your gateway to informed decisions, offering insights into our team's professionalism and the wealth of resources available. Join us in exploring the fascinating world of regenerative medicine, where your well-being is at the heart of our service. Start your journey for improvement today, click contact us button below to get started!

---
Kobinia Med Treatments Offered
we are proud to offer a comprehensive range of stem cell treatments that have been approved, certified, and recognized by government institutions as effective therapies. Distinguishing ourselves as the first private clinic in Austria to provide these services as standard care treatment, we are committed to delivering exceptional healthcare without the need for enrollment in a clinical trial.
Regenerative Medicine
Bone Marrow Treatment

Stem Cell for Neurological Disease

Stem Cell for Joints

Autologous Bone Marrow
Orthopedics:
Arthritis / degenerative joint disease

Osteochondral defect

Osteonecrosis

(Delayed) Fracture healing

Long bony defects
Neurology:
Spinal cord injury (SCI)

Stroke

ALS - Amyotrophic Lateral Sclerosis (Lou Gehrig's disease)
Internal Medicine:
Peripheral Arterial Occlusive Disease (PAOD)

Wound healing (Chronic Ulcers)
At our institute, we combine cutting-edge regenerative medicine techniques with the expertise of our skilled medical professionals to address a wide range of medical conditions. Our goal is to provide effective and personalized treatment options that promote healing, improve patient outcomes, and enhance the overall quality of life.

---
Kobinia Med Certificates, Accreditations, Qualifications
Discover the top doctors for Stem Cell Therapy in Austria, affiliated with the prestigious Kobinia Med:
Doctor Name:

Georg Kobinia MD

/ Experience: Surgery and Vascular Surgery / President of the Austrian Society for Regenerative Medicine / Locations: Graz, Vienna

Doctor Name:

Christof Pabinger MD

Doctor Name: Phillipp Heuberer MD

Doctor Name: Michael Matzner MD
At the Kobinia Med , we take pride in offering exclusive services delivered by highly specialized medical doctors who possess extensive experience in their respective fields. Our doctors have undergone comprehensive training and engage in interdisciplinary collaboration, allowing us to provide you with the best possible therapies within the realm of regenerative medicine and classical medicine. We recognize the limitations and boundaries of both approaches but are uniquely positioned to offer a service that combines the expertise of stem cell specialists and classical surgical medicine. This sets us apart from other services that typically focus on either regenerative or surgical therapies alone.
Stem Cell Doctors in Vienna, Austria by Kobinia Med

Univ. Doz. Dr. med. Georg S. KOBINIA

Surgeon, Senior Physician

Specialist in General Surgery

Specialist in Cardio-Thoracic Surgery

Specialist in Vascular Surgery

Specialist in Regenerative Medicine

Priv. Doz. Dr. med Philipp R. HEUBERER

Surgeon, Senior Physician

Orthopaedic Specialist

Specialist in Sports Medicine

Specialist in Regenerative Medicine

Shoulder, Elbow and Knee Specialist

Dr. med. Konstantin TOGEL

Dr. med. Stephanie KAIL

Consultant for general medicine
Within the European Union, our institute stands out for its ability to seamlessly integrate stem cell specialists and surgical experts, resulting in comprehensive and personalized treatment plans. By merging the strengths of regenerative medicine and surgical interventions, we aim to optimize your outcomes and provide you with a unique therapeutic experience.
When you choose the Kobinia Med, you can be confident that you are in the hands of distinguished doctors who are committed to delivering exceptional care and ensuring the highest standards of treatment. Our collaborative approach, combining regenerative and surgical therapies, enables us to offer you a comprehensive range of options tailored to your specific needs.
Our physicians have an immense experience that includes more than 45,000 satisfied patients:
6000 open heart operations

3000 operations on vessels

3000 operations on joints

1000 operations on the spine

30,000 minimally invasive and conservative treatments
We have also contributed to international scientific knowledge through participation in congresses specialized in Regenerative medicine, safety and quality control during and after surgery.
The Kobinia Med is the first Austrian facility to be licensed under the new tissue safety legislation. As a result, we are subject to the medical regulatory authorities' strictest possible control, proving that our therapies are successful.
---
Kobinia Med Awards & Recognitions

Awards Received by Kobinia Med in Vienna, Austria
Kobinia Med in Vienna, Austria, has garnered a prestigious array of awards and accolades, a testament to our unwavering commitment to excellence in the field of regenerative medicine. Our dedicated team's relentless pursuit of innovation and patient-centered care has earned us recognition as a leader in the industry, and we are honored to have received numerous awards that highlight our contributions to advancing healthcare and improving the lives of our patients.

---
Vienna, Austria Destination Overview
Medical Tourism for Stem Cell Therapy in Vienna Austria
Vienna, Austria, known for its rich cultural heritage and stunning architecture, is also emerging as a sought-after destination for medical tourism, particularly in the field of stem cell therapy. Patients from around the world are drawn to this historic city not only for its cutting-edge medical facilities but also for the incredible travel experiences it offers.
Top Tourist Attractions in Vienna
Before or after your stem cell therapy, you can explore Vienna's iconic landmarks. Visit the imperial palaces of Schonbrunn and Hofburg, witness the grandeur of St. Stephen's Cathedral, and indulge in the city's renowned coffeehouse culture. The Vienna State Opera and world-class museums like the Kunsthistorisches Museum are must-visit cultural hubs. Don't miss a leisurely stroll through the historic district of Innere Stadt or a relaxing boat ride on the Danube River.
Getting to Vienna
Vienna is conveniently accessible by various modes of transportation. If you're traveling internationally, Vienna International Airport (Flughafen Wien-Schwechat) serves as a major gateway. Direct flights connect Vienna to many global destinations, making air travel a popular choice. If you're in Europe, you can also reach Vienna by high-speed train, bus, or car. The city's well-connected public transportation system, including trams and subways, ensures easy navigation once you arrive.
Choosing Stem Cell Therapy in Vienna
When opting for stem cell therapy in Vienna, you're not just investing in your health but also immersing yourself in a vibrant cultural experience. With world-class medical facilities and a city teeming with history and beauty, Vienna offers a unique blend of health and leisure that makes it a prime destination for medical tourists seeking cutting-edge treatments amidst a rich cultural backdrop.
Embarking on a journey of healing in Vienna, Austria, promises not just transformative medical care but also a captivating exploration of culture and history, ensuring a truly enriching experience for medical tourists.

---
---