Ortho-Regenerative Medical Center
World-Renewed Regenerative Medicine Clinic in Colombia
Cra. 2 Este - 71 Local 1-104 Centro Comercial Sabana Norte Chia, Colombia. Chia Cundinamarca , Colombia

Specialty:

Alternative Medicine, Anti Aging, Cancer Treatment, Chronic Diseases, Stem Cell Therapy, Yoga/Meditation

Focus Area:

Ortho-Regenerative Medical Center in Chia, Colombia | Homeopathy | Flower Essences | Anti Aging | Alternative Medicine | Regenerative Medicine | Chronic Disease | Cancer Treatment
Ortho-Regenerative Medical Center Profile Overview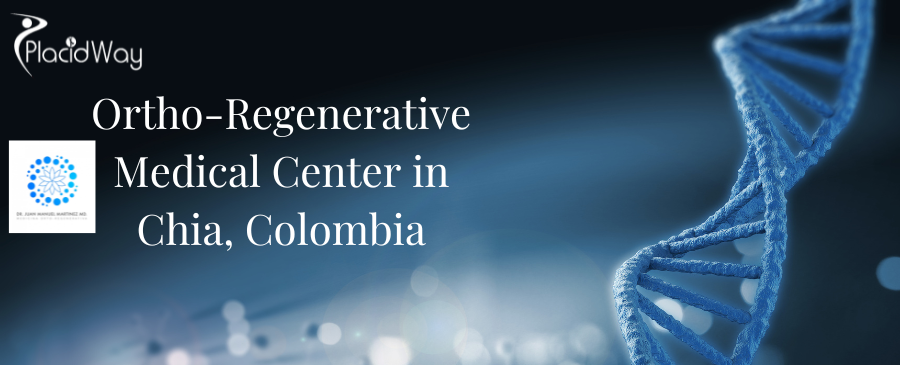 Dr. Juan Manuel Martnez Méndez is the medical director of Ortho-Regenerative Medical Center located in Chia, Colombia. The center is his renewed vision or paradigm: the goal is to empower both the doctor and the patient in order to reunify and reconsider a more human, compassionate, universal, and assertive vision with continuous and escalating work through total reintegration of the Being itself.
It is also an invitation to reflect, weigh, empower, inform, and transform how the practice of multiple approaches, and systems to the different and complex adaptive dysfunctions not only of humans but also of the environments, as well as the co-creative symbiosis and non-disruptive way of life on planet Earth is perceived. A group of doctors and patients has been summoned to participate in a new study.
His three children inspired The Post-Vaccinal Syndrome, which he validated in a homeopathic course before writing a thesis at Fundación Instituto Colombiano de Homeopata Luis G. Páez in 2001. During Biocultura, he published the ebook Vacunación: Mito y Realidad (Vaccination: myth and reality) on May 9, 2015.
After extensive research on hormone disturbances, he developed an integrative approach to acute, chronic autoimmune, and chronic degenerative benign and malignancy illnesses using orthomolecular medicine, homeopathy, medical bioinformatics, nutritional assessment, health qigong, taichichuan, and natural hormone support or restoration (T3, T3/T4), natural desiccated thyroid, triiodothyronine, pregnenolone, progesterone, DHEA.
Such a paradigm implies a new and renewed perception, which is linear models vs. multi-systemic models, going to the roots of the tree or matrix network and seeing the leaves or fruits. It is an integral or holistic approach, working by analogies or neurocognitive holograms.
Today's medicine is insufficient and harmful, like an oiled machine running amok in search of errors or specific pathologies, ignoring the Universal or holistic conception of life, a diagnosis, and allopathic medicine. The self-healing capacity of the human being is infinite and unlimited.
Advantages of Dr. Juan Méndez Ortho-Regenerative Center
Empowerng the self-healing capacity in pacient

Homeopathic and Regenrative treatments

Professional and English-speaking doctor

Human, compassionate, universal, and assertive approach to healing various diseases

Friendly and cozy enviroment that suit patient needs

Successful clinical results
Ortho-Regenerative Medical Center Treatment Services
Orthomolecular Medicine

Body work (shiatsu, orthobionomy)

Injectable Nutrient Therapies

Qigong for Health

Bioresonance Device

BEMER 3000 bioelectromagnetic energy regulation therapy

Medisend Super device

Metronomsolar device
Highly Skilled Doctor at Ortho-Regenerative Medical Center in Colombia
Dr. Martínez is a surgeon and medical director of Alternative Medicine in Chía, Colombia with more than 34 years of professional career serving patients. As a research physician, he is the author of several articles on holistic medicine and infectious diseases.
Educational Background:
1999 - Diploma in Homeopathy by the CEDH, (Center for Teaching and Development of Homeopathy) Boiron - Balcas Bogotá, Colombia IV cycles.

1999 - 2003 - Homoeopathic Course Online, By David Little, Scholar

2001 - Postgraduate Course in Homeopathy, Luís G. Páez Homeopathic Institute, (Degree Thesis: Post-Vaccination Syndrome)

2007 - Diploma in Non-Pharmacological Therapies, Juan N. Corpas University Foundation
Active Memberships:
Member of the Colombian Society of Preventive Medicine

Member of the Life Extension Foundation, Fort Lauderdale, Florida

Member of the CONEM Council for Nutritional and Environmental Medicine.

Scientific Director, Vice-President of The Procure Diabetes Healing Foundation.
Arrange a Consultation with Dr. Martinez for Regenerative Medicine in Chia, Colombia Today!
PlacidWay team can help you get in touch with professional and skilled regenerative medicine doctor Juan Martinez in Chia, Colombia. You can together discuss available options for alternative treatment to recover from a disease, be and feel healthier. Contact us anytime for support.

---
---
Reviews
German G

Great doctor and excellent human being. He really cares about his patient and is always attentive to LISTEN to give the best treatment.

Ortho-Regenerative Medical Center

Dec 15 2022

Adriana S

Human treatment and consideration to the patient.

Ortho-Regenerative Medical Center

Jan 02 2023
---
Alternative-Medicine Related Packages