Knee and Hip Clinic
World-Renewed Orthopedic Surgery Clinic in Nuevo Laredo, Mexico
Chihuahua 2958 Nuevo Laredo Tamaulipas, Nuevo Laredo 88269, Mexico

Specialty:

Orthopedic/Knee Surgery, Sports Medicine

Focus Area:

Orthopedic Surgery Clinic | Nuevo Laredo | Mexico | Knee and Hip Clinic | Stem Cell for Knee | Knee and Hip Surgery | Total Hip Prosthesis | Knee Arthroscopy | Microsurgery | Ligament Surgery
Knee and Hip Clinic Profile Overview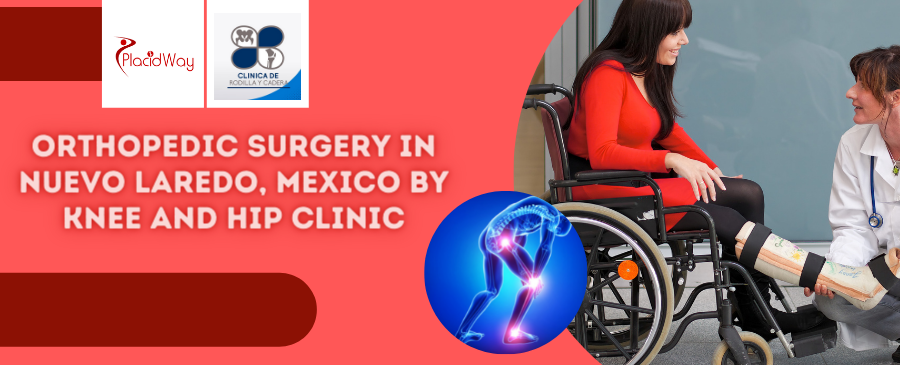 Knee and Hip Clinic provides best Orthopedic Surgery in Nuevo Laredo, Mexico. Book online now Knee and Hip Surgery, Total Hip Prosthesis and Stem Cell for Knee at Knee and Hip Clinic. By selecting the best clinic in Mexico, you will be able to get satisfactory result and high quality medical treatments from reliable and experienced staffs.
Orthopedic surgery can assist patients in halting joint degenerative cycles and fix sports related injuries. Orthopedic surgery can be extravagant in the U.S. without appropriate medical coverage and stand by times in Canada can be as long as 3 years long. Going to Mexico for Orthopedic surgery is simple and save. Moreover, it can save you up to75% on the complete expense of treatment with least to no stand by time.
Here are several benefits that patients can get from Orthopedic Surgery Clinics in Nuevo Laredo, Mexico by Knee and Hip Clinic:
Highly trained and skilled world-class surgeons

Well-equipped hospitals

Multilingual patient coordinators/ Fluent English speaking doctors and staff

Affordable cost

The relaxing and comfortable atmosphere of the hotels and the city

No need to travel to the interior of Mexico, just across the border with Laredo, Texas.

Placed in a safe and secure area.
Check below for list of procedures available at Orthopedic Surgery in Nuevo Laredo, Mexico by Knee and Hip Clinic:
Knee and Hip Surgery are extremely effective at solving pain, amending distortion and working on understanding versatility so patients can recover personal satisfaction and return to the exercises they appreciate.
Total Knee Replacement
Partial or Hemi knee Prosthesis
Total Hip Prosthesis
In a Total Hip Prosthesis (additionally called complete hip arthroplasty), the harmed bone and ligament is eliminated and supplanted with prosthetic components.
Knee Arthroscopy
Knee Arthroscopy is a surgery that allows doctors to see the knee joint without making an enormous incision (cut) through the skin.
Microsurgery
Microsurgery is a procedure performed on pieces of the body that require a magnifying instrument to be seen and worked on.
Ligament Surgery
Arthroscopic ACL reconstruction
In Ligament Surgery, torn tendon is taken out and supplanted with a band of tissue that usually connects muscle to bone (tendon).
Orthopedic Surgery in Nuevo Laredo, Mexico by Knee and Hip Clinic provides you with affordable prices as well as the best medical services based on the latest technology. For information on the Cost of Orthopedic Surgery in Nuevo Laredo, Mexico by Knee and Hip Clinic, please press the button below:

Check below information regarding Orthopedic Surgeon in Nuevo Laredo, Mexico by Knee and Hip Clinic:
Doctor Name:

Heriberto Sastre López
Certifications and Experiences:
Certified as a specialist in Orthopedics and Traumatology

Mexican Council of Orthopedics and Traumatology
Orthopedic Surgery in Nuevo Laredo, Mexico by Knee and Hip Clinic provides the No.1 medical service with experience in treating local and overseas patients. For the latest information on Orthopedic Packages, please press the button below:

---
---
Reviews
Zoila N C

"Thank God I no longer suffered those horrible pains anymore now if I can do it all thanks to God and you doctor."

Knee and Hip Clinic

Sep 24 2021

Lic H

"100% the best doctor."

Knee and Hip Clinic

Feb 03 2022

Yolanda C

"Excellent doctor. God bless him."

Knee and Hip Clinic

Dec 23 2021
---
Orthopedic/Knee-Surgery Related Packages
Orthopedic/Knee-Surgery Related Experiences